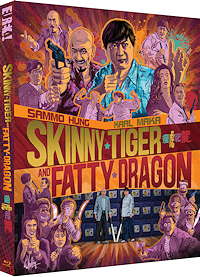 Skinny Tiger and Fatty Dragon is the 1990 action/comedy kung fu film starring Sammo Hung and directed by Liu Chia-Yung. The slapstick adventure with major debts to the films of Bruce Lee in both the action sequences and fighting styles follows a pair of police detectives, Skinny (Karl Maka) and Fatty (Sammo Hung), who end up in hot water with their boss when they ruin a wedding reception while trying to bring down a suspected drug trafficker, Tak (Lung Ming Yan). Pushed out of their jobs and heading to Singapore, the two partners and friends meet two gorgeous lady friends while still hunting Tak, who kidnaps their girlfriends believing them to still be a threat.
This very politically incorrect and zany film features everything from the pair of cops groping women to find what they believe to be a crossdressing drug trafficker, two Thai transgender assassins in a serious brawl with Tak's girlfriend, car chases, and multiple allusions from Hung to the style of Bruce Lee.
This film may not always make the most sense, but who really cares? This is a fun and exciting film to watch given the awesome fight coordination from Ridley Tsui, spectacularly executed by all parties involved.
Skinny Tiger and Fatty Dragon (1990)
The Video
Skinny Tiger and Fatty Dragon comes from a brand new 2K restoration and arrives on Blu-ray from Eureka Entertainment's Eureka Classics imprint in a beautiful new AVC 1080p encodement framed at 1.85:1. The transfer is clean without being scrubbed of its detail or grain structure. There's a thin, organic layer of grain over the image which provides nicely crisp and dimensional detail. The colors of the transfer are also very pleasing, with excellent primaries and flesh tones. We also get a bright image in the numerous daylight scenes that is successful at conveying that sunny, warm look, while the dark scenes have a clear, nuanced look in the shadows and colorful Hong Kong neon lights in the streets as well.
The Audio
Skinny Tiger and Fatty Dragon comes with the original Cantonese mono audio in LPCM 1.0 as well as the English dub in LPCM 1.0 and a new DTS-HD Master Audio 5.1 mix of the English dub. There are also newly translated English subtitles for the Cantonese audio. The Cantonese mono sounds great given the single channel. It's relatively clean and punchy. The actors in the English dub sound silly, but that may work for the better in this over-the-top comedy and the reality is these classic Hong Kong films are dubbed even for the original language, so, you won't really be hearing Sammo Hung when you listen to the Cantonese. I didn't sample the 5.1 mix.
The Supplements
The bonus features are excellent and extensive, with its two audio commentaries, an interview with Mark Houghton, and archival interview with director Lau Kar-wing. I have an issue with these otherwise excellent audio commentaries on one subject and that is how all four of these obviously older men handle the subject of the transgender female assassins in this female. From Djeng and Samuels we get the constant referral to these trans women as "transvestites" even as they also throughout the film, seemingly unaware, lament or make excuses for the very un-PC material in the film due to the era, like the cops groping women to determine their gender. From Leeder and Venema we hear them referring to these trans women as "transsexuals". Okay, this is a dated term and maybe less offensive term that has mostly fallen out of use, but one can let this one slip. "Ladyboys" is culturally acceptable in Asia, especially Thailand and given these are Thai trans women, okay, but then they begin referring to the "male nudity" of the "Thai Ladyboys" and we are also given a story about how a Ladyboy night at a club in Hong Kong where women were allowed in free meant the ID for all the women had to be checked to make sure they were real women. Eureka, Eureka, Eureka…. How anyone at the company let these slip by without a re-recording or edit is astounding to me.
Audio Commentary with Frank Djeng & Bobby Samuels
Audio Commentary with Mike Leeder & Arne Venema
Audio Interview with Mark Houghton – Recorded in 2021 (1080p; 00:06:35)
Archival Interview with Director Lau Kar-wing (1080p; 00:25:47)
Archival Interview with Film's Action Director Ridley Tsui (1080p; 00:19:18)
Extended Taiwanese Fight Scene – Longer version of the film's climactic fight scene (1080p; 00:08:24)
International Trailer (1080p)
Bonus Blu-ray Disc (Limited Edition Exclusive): I Am the White Tiger (1080p; 01:19:47) – 2018 documentary on the career of stuntman, martial artist, and action director Mark Houghton
The Final Assessment
Eureka comes through again with another gorgeous restoration of a kung fu classic on Blu-ray with Skinny Tiger and Fatty Dragon in their Eureka Classics range. This one is recommended to Sammo Hung fans if you're not too easily offended especially.
Skinny Tiger and Fatty Dragon (Limited Edition) is out on Blu-ray in the UK 21 February 2022 from Eureka Entertainment
---
Rating Certificate: UK:15
Studios & Distributors: Cinema Capital Entertainment Ltd. | Eureka Entertainment
Director: Liu Chia-Yung
Written By: Tsang Kwok Chi
Run Time: 105 Mins.
Street Date: 21 February 2022
Aspect Ratio: 1.85:1
Video Format: AVC 1080p
Primary Audio: Cantonese LPCM 1.0
Secondary Audio: English LPCM 1.0 | English DTS-HD MA 5.1
Subtitles: English | English for English Dub Tracks