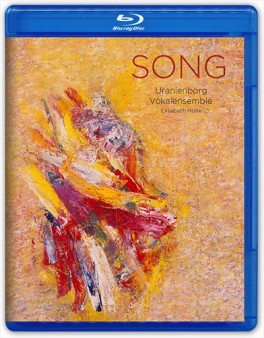 – –

The Album
[Rating:4/5]
The Norwegian group calling itself the Uranienborg Vocal Ensemble presents a program of secular and sacred works written for unaccompanied voice by their fellow Nordic composers.  All tracks on Song are listed below:
Sol-lokk (Sun Call)
Ve no velkomme med aera (Be welcome with honor)
No stig var song (Our song now rises)
Velsignede morgen (Blessed morning)
Varen (The Spring)
Gryande morgen (Day breaking)
Tre dikt a Ebba Lindquist (Three Poems by Ebba Lindquist)
Vokalise (Vocalise)
Smart kisser hun sin venn i rosehagen (Soon she will kiss her beloved in the rose garden)
The Lord is my light and my salvation
Ave Maria d'Acosta
Alt har sin tid (There is a time for everything)
Min Jesus, lat min hjarta fa (Jesus, let my heart receive)
En Smach Aftensang (A beautiful evening song)
Each receives a varying combination of the seven sopranos, five altos, six tenors and five basses.  As I listened to the tracks in succession, there is frequently an other-worldly quality of these voices, literally hanging out in the space of a church. The musical idiom is rather straightforward contemporary choral music that falls quite easily on the ear, sometimes resembling Luciano Berio's "Lux Aeterna" that came to fame as part of Stanley Kubrick's soundtrack for 2001: A Space Odyssey.
Audio Quality
[Rating:5/5]
This is a sonic spectacular, but aren't most of the 2L (Lyndberg Lyd) music Blu-rays? Mastered from a 352.8kHz/24-bit DXD recording and mixed down to 192kHz/24-bit in both LPCM two-channel and 5.0 DTS-HD Master Audio formats, this is truly a demonstration disc. Listening in the "Pure Audio" mode (taking out the video component) was a continuous thrill for my ears. The overhang of the vocals in the Uranienborg Church gives listeners a real sense of location. Lower resolution mp3 and FLAC versions can be downloaded via network to your computer or NAS.
Supplemental Materials
[Rating:4/5]
2L nearly always gives us a great sounding multichannel/two-channel SACD and we get another beauty here. The accompanying booklet provides in-depth descriptions of each musical selection, but no translations.
The Definitive Word
Overall:
[Rating:4.5/5]
Choral music performed and recorded as well as we get in this Blu-ray provides an experience that is both uplifting and spiritually rewarding. This is a demonstration disc that, for a pleasant change, is really worth hearing for its musical values.  A small quibble is Song's rather short playing time. Perhaps, hint, hint, 2L will see fit to give us another helping of this fine choral group in the near future.
[amazon-product]B00DGGGFPY[/amazon-product]