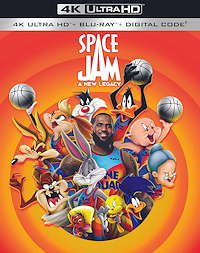 In Space Jam: A New Legacy, LeBron James takes the reins from Michael Jordan in what is basically a copy of the original film from 1996 with a few minor tweaks and some modern updates.
James plays himself, a successful NBA player who is having problems communicating with is youngest son Dom (Cedric Joe) who would rather develop videogames than be the great basketball player that his father is pushing him to be. When an advanced algorithm, Al G. Rhythm (Don Cheadle), at Warner Bros. kidnaps Dom and brings him inside the world of the supercomputer, LeBron follows behind and must compete against his superpowered basketball avatars in a tournament with his son Dom and the Looney Tunes characters as his teammates.
The visual effects have advanced, the music has been updated, and the pacing is even more hectic than the original film from 1996, but this film ultimately fizzles under the weight of being a copycat, and just plain silly. The only story arc is the bond that eventually develops between LeBron and Dom, but that is one that is so obvious from the opening we needn't sit through the entire film to know what's going to happen.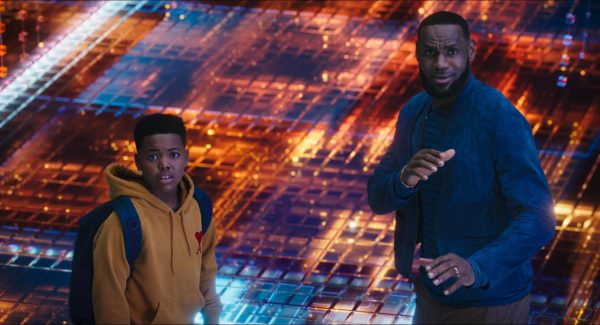 The Video
Space Jam: A New Legacy was shot at 4.5K resolution on various ARRI cameras with some scenes shot on Super 35 film stock.  This arrives on 4K Ultra HD Blu-ray framed at 1.85:1 in HEVC 2160p (4K UHD) w/HDR10. The best transfers minimize the difference in sources, but this transfer does have some areas where there is a noticeable difference in the source, with a softer and/or grittier look and sometimes the black levels appear just a tad washed out. Perhaps the latter is an intentional choice since the overall picture is very bright and colorful. While there is a highly variable bitrate on this disc that drops as low as the low 30s and peaks as high as ~119, lingering around the 45-65Mbps range most of the time, the overall picture will look fine to most people, especially with the vibrant colors and excellent application of HDR10.
The Audio
Space Jam: A New Legacy comes with an English Dolby Atmos mix that isn't quite as aggressive as one would expect but does have good height awareness and movement through the surrounds and overheads, plus some deep extension into the lower frequencies. The various foley effects and the musical soundtrack spread out for a full and encapsulating soundfield.
The Supplements
These bonus features aren't exactly hard hitting, but they do cover the basics of the film's production, plus there are several deleted scenes.
Movies Anywhere digital code
Blu-ray w/feature film and bonus features
First Quarter: Game On (1080p; 00:07:36)
Second Quarter: Teamwork (1080p; 00:07:49)
Third Quarter: Out of this World (1080p; 00:08:09)
Fourth Quarter: The Looniest (1080p; 00:07:08)
Deleted Scenes (1080p; 00:07:38)
The Final Assessment
Kids may love this, especially kids that are big fans of LeBron James and basketball. This one is a fun diversion from the normal Halloween horror films, but one with some quirks.
Space Jam: A New Legacy is out on 4K Ultra HD Combo October 5, 2021 from Warner Bros.
---
Rating Certificate: PG (for some cartoon violence and some language)
Studios & Distributors: Warner Bros. | Warner Animation Group | Proximity | SpringHill Entertainment | Warner Bros. Animation | Warner Bros. Home Entertainment
Director: Malcolm D. Lee
Written By: Juel Taylor (screenplay by) | Tony Rettenmaier (screenplay by) | Keenan Coogler (screenplay by) | Terence Nance (screenplay by) | Jesse Gordon (screenplay by) | Celeste Ballard (screenplay by)
Run Time: 115 Mins.
Street Date: 5 October 2021
Aspect Ratio: 1.85:1
Video Format: HEVC 2160p (4K UHD)
HDR Format: HDR10
Primary Audio: English Dolby Atmos (Dolby TrueHD 7.1 compatible)
Secondary Audio: English DD 5.1 | English Descriptive Audio | French DD 5.1 | Spanish DD 5.1 | Portuguese DD 5.1
Subtitles: English SDH | French | Spanish | Portuguese