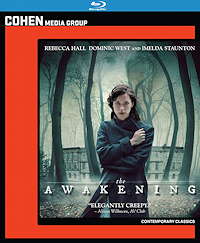 The Awakening is a pure haunted house thriller from director Nick Murphy that owes much to films like The Innocents and The Others.
Set in 1921 in a Britain still reeling from the tragic losses of World War I and as many have turned to spiritualism, Florence Cathcart (Rebecca Hall) is a professional exposer of paranormal hoaxers. When we first meet her, she is interrupting a séance run by a group of charlatans fooling a society woman into believing she can see her dead daughter in a crystal ball. Florence is enlisted by Robert Mallory (Dominic West) to come investigate at the exclusive Rockwood Boarding School, where a boy has died, and several boys have claimed to have seen a child ghost. Florence, more of an academic than one to accept thing at face value, arrives fully equipped with her technological equipment to run tests and sort out what's going on. The first night there she finds a boy pretending to be a ghost and a teacher who left one of the students outside to die. It seems the ghost sighting has been solved – or is it? She continues to suffer strange occurrences in the large, creepy stonewalled boarding school and there may be more to the ghost sightings than originally thought.
The Awakening is very atmospheric and Murphy scores highly on crafting a haunted house horror film that leans into the creepy atmosphere of shadowy rooms, echoing hallways, and shadowy figures. Odd, unexplained occurrences that defy logic or physics also abound. One can easily lose oneself in this creepy concoction.
But, alas, the film does go astray by losing sight of its strengths. Murphy can't avoid throwing in an ill-advised romantic subplot and leading us down another path with another potentially dangerous, and very non-supernatural character, which confuses the story. Still, even with its weaknesses, this is an enjoyable entry into this genre you likely won't want to watch alone in the dark on Halloween.
The Video
The Awakening was shot on Panavision Panaflex Millennium XL2 and Panavision Panaflex Platinum cameras with Panavision Primo lenses on Fuji Eterna 400T 8583 35mm Super 35 (3-perf) film stock. It utilized a 2K DI and arrives on Blu-ray in a 2.35:1 framed AVC 1080p encodement. The transfer looks about as natural as a Blu-ray can get and has the look of Super 35 film grain structure, which I noticed quickly as I began watching this Cohen Media disc. The colors for this film are very desaturated, so nothing is going to 'pop'. It's a drab looking film with a lot of grays and it's almost monotone at times, but this is an artistic choice. The detail is rich, and shadows nuanced, so there are no issues with black crush.
The Audio
The Awakening gets an English DTS-HD Master Audio 5.1 lossless mix alongside a DTS-HD Master Audio 2.0 stereo mix. I used the 5.1 mix as my reference and while this mix wasn't as clean louder passages as I would have liked it to be, there was good use of the channels to spread eerie atmospherics of the school like settling noises, distant voices, and footsteps, plus the score that is balanced well into the mix.
The Supplements
They have packed a lot of bonus features onto this disc as far as the length of these featurettes. You have over two hours to sift through od deleted scenes, interviews, breakdowns of specific scenes, and more.
Deleted Scenes Introduced by Nick Murphy (1080p; 00:28:13)
Anatomy of a Scene: Florence and the Lake (1080p; 00:15:16)
Extended Interview with Nick Murphy (1080p; 00:19:29)
Anatomy of a Scream (1080p; 00:17:11)
A Time for Ghosts (1080p; 00:24:46)
Behind the Scenes (1080p; 00:36:02)
Trailer (1080p)
The Final Assessment
An eerie and atmospheric haunted house horror film brought to Blu-ray in a sold transfer from Cohen Media Group. Recommended.
The Awakening is out on Blu-ray October 5, 2021 from Cohen Media Group
---
Rating Certificate: R (for some violence and sexuality/nudity)
Studios & Distributors: StudioCanal | BBC Films | Creative Scotland | Lipsync Productions | Origin Pictures | Eagle Pictures | Kino Lorber | Cohen Media Group
Director: Nick Murphy
Written By: Stephen Volk (screenplay) | Nick Murphy (screenplay)
Run Time: 108 Mins.
Street Date: 5 October 2021
Video Format: AVC 1080p
Primary Audio: English DTS-HD MA 5.1
Secondary Audio: English DTS-HD MA 2.0 Stereo
Subtitles: English SDH