Video Codec: AVC/MPEG-4

Audio Codec: DTS-HD Master Audio 5.1 (48kHz/24-bit), LPCM 2.0 (48kHz/24-bit), Dolby Digital 5.1

Performer: Stevie Wonder

Studio: Motown

Discs: 1

Release Date: March 10, 2009

List Price:  $24.95
Click thumbnails for high-resolution 1920X1080p screen captures

The Performance

It's impossible to argue against Stevie Wonder being a musical genius. The multi-instrumentalist who is proficient on the harmonica, melodica, drums, various percussion and keyboard instruments and vocalist has been performing professionally as a musician since the age of eleven when Berry Gordy signed him to Motown's Tamla record label. Steveland Morris (born Steveland Judkins) has also been an active songwriter from at least his teens when he began working with Motown's songwriting division, even penning such hit numbers as "Tears of a Clown" for labelmates Smokey Robinson & The Miracles.
Critically speaking, however, Wonder's great musical renaissance came during what is generally considered as his "classic period", from 1972 – 1976, after he had gained complete creative control over his output from Motown. His new found artistic autonomy would reap its first fruits in the March 1972 release of the album Music of My Mind, followed in the autumn of that same year by Talking Book, which would yield the now instantly recognizable Stevie Wonder tracks "Superstition," and "You Are the Sunshine of My Life."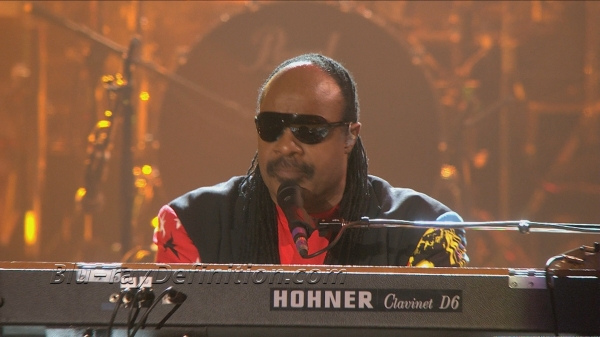 Free to pursue is artistic endeavors unencumbered, Stevie Wonder would mine the territories of various musical styles and bring them all together in a manner that made them unique, fresh new, and wholly his own.  He is often labeled as an R&B artist, but truthfully, his music defies categorization. Stevie Wonder's music melds R&B, Jazz, Blues, Funk, Rock, Latin, Soul, Gospel, Folk, Pop and even Classical elements effortlessly.
The five-year "classic" stretch would yield three more classic albums, Innervisions, Fullfilligness First Finale, and the double-LP plus extra EP Songs in the Key of Life, along with several memorable hit singles such as "Golden Lady," "Living for the City," "Higher Ground," "You and I," and "Boogie on Reggae Woman."
Not only were Wonder's artistic achievements piling up, but so were the Grammys, raking in three Album of the Year awards during the period. But, the "classic" period wasn't the end of the heights Stevie Wonder would achieve. By the 1980's, even with is arguable opus Songs in the Key of Life behind him, Stevie Wonder continued to obtain even more commercial success, first with 1984's ubiquitous hit single "I Just Called to Say I Love You" from the soundtrack to the film The Woman in Red and then the 1985 hit single from Wonder's album In Square Circle.
Stevie Wonder: Live at Last captures this brilliant musician and songwriter in performance live at London's O₂ arena performing hits from throughout his illustrious career with a fourteen-piece backing band that includes his daughter Aisha on background vocals.
All of the expected hits are here, from the aforementioned "Superstition," "Higher Ground," and "I Just Called to Say I Love You" to that get-up-and-make-you-wanna-dance ode to the legends of Jazz "Sir Duke" and Wonder's nostalgic look back at youth, "I Wish."
There is a particularly clever segment during the evening's performance crafted especially for the London crowd, in which Wonder goes through a "UK Medley" while singing through a talk box. Showing his skills and talent in all genres, with a slight Reggae backbeat, Wonder easily blends together "London Bridge is Falling Down," "Hello Goodbye," "Fool on the Hill," "I Wanna Hold Your Hand," "(I Can't Get No) Satisfaction," and "People make the World Go 'Round."
When I was a little boy in the 70's, I wore out my family's LP of Songs in the Key of Life on the family console, so I grew up a Stevie Wonder fan. Thus, when my aunt in the UK informed me that she was actually in attendance for one Wonder's performances at the arena, I can't deny that I was a little jealous. This Blu-ray release from UMG finally allows me to see what I missed and give me a bit of the feeling of being there.
Video Quality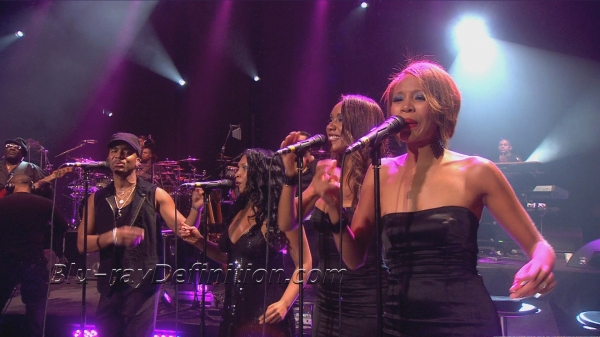 Stevie Wonder: Live at Last arrives on Blu-ray from UMG and Motown with a 1.78:1 AVC/MPEG-4 1080i high definition encoding.  Originally captured in high definition, the Blu-ray transfer shows a rich palette of colors with stable blacks and fine shadow delineation. Foreground detail is excellent, but background detail extension is a little soft. The picture also suffers from a somewhat high presence of video noise, most likely caused by the low-light photography, and there is some occasional blooming noticeable from the stage lights that is to be expected. Otherwise, there are no compression artifacts or post-processing issues, making this a fairly decent high definition sourced concert video.
Audio Quality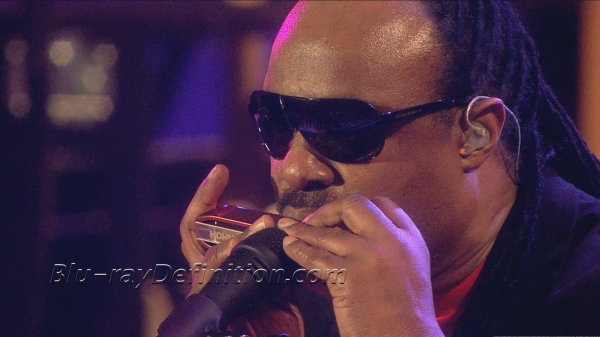 Live at Last is provided with DTS-HD Master Audio 5.1 lossless (48kHz/24-bit), LPCM 2.0 (48kHz/24-bit) and Dolby Digital 5.1 audio options.
The recording, mixing, and mastering engineers have done a fine job on bringing this live performance to Blu-ray in both the lossless DTS-HD MA 5.1 and uncompressed PCM 2.0 mixes. The 5.1 mix is lively, mixed from an audience perspective and abundant with just the right amount of ambience in the surround channels.  High frequencies are smooth, the midrange is punchy without sounding boxy, and instrumental separation across the front channels is clear and distinct. Wonder's vocals are well balanced into the mix, as are the various sounds of his 14-piece backing band.
The PCM 2.0 mix is equally well balanced, without losing the weight of the low frequency extension present in the 5.1 lossless mix. The lack of ambience from the surround channels makes it sound just a bit less open, squeezing the soundtsage, but does subdue the crowd noise a bit more as well.
Supplemental Materials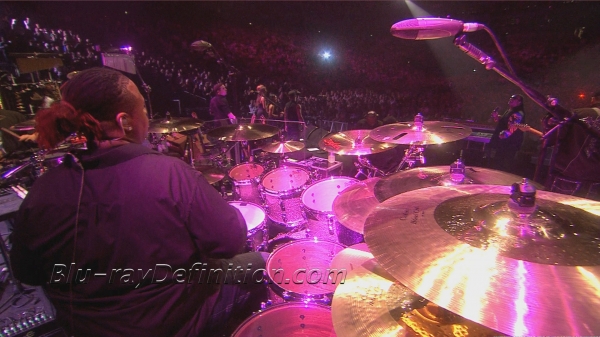 Unfortunately this a barebones release with no extras whatsoever.
The Definitive Word
Overall: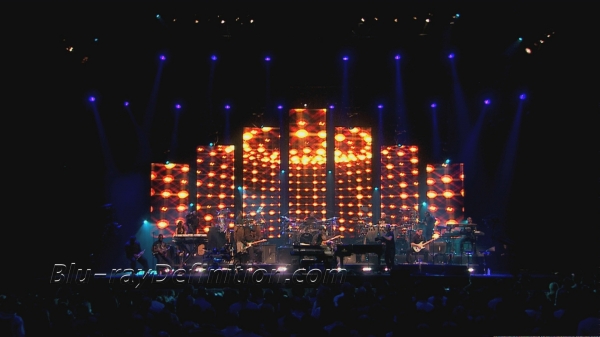 Stevie Wonder: Live at Last —  A Wonder Summer's Night on Blu-ray serves as a fine first concert video release for Stevie Wonder. If anyone had any question whether the man still has any talent they can put their doubts aside after viewing this marvelous performance from London on Blu-ray Disc.
Purchase Stevie Wonder: Live at Last on Blu-ray Disc at Amazon.com
Shop with Us for More Blu-ray Titles at Amazon.com