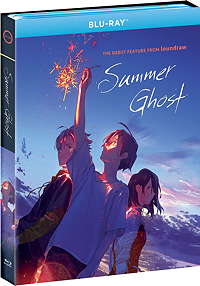 Summer Ghost is the directorial debut from animator and illustrator loundraw. The animated short film produced by Flat Studio follows a small circle of three teenagers who are facing problems of their own who decide to get together and chase the urban legend of a 'summer ghost' who is said to appear when fireworks are set off in the hope she will help them with their problems. To their amazement, a ghost named Ayane does appear to them telling them she is only visible to those who are about to "touch their death." She also reveals a secret about her death and asks them for their help.The forty-minute-long short feature has beautifully spacious and detailed designed, a light touch of color fills, and even in its brief run time, a group of characters one can relate to. Loundraw makes it clear in this directorial debut that he is and will be a director to reckon with in the future.
The Video
The 1.78:1 AVC 1080p encodement for Summer Ghost is crisp, detailed, and free from aliasing or banding. The colors look rich, with strong contrast and good 'pop.' The scenes where the sparklers are set off against the dark background look truly dazzling.
The Audio
The original Japanese-language DTS-HD Master Audio 5.1 audio mix sounds balanced, clear, lush with atmospherics, filling the surrounds with breezes, birds chirping and other sounds and a good amount of extension into the low-end. The English dub sounds equally good but with a bit of a hit performance wise in the acting.
The Supplements
Shout! Factory and GKIDS offer a documentary and interview with loundraw as well as a feature-length animatic of the short. All are worth a look.
To You Before Dawn Documentary (1080p; 01:18:53)
Feature Animatic (1080p; 00:37:12)
Interview with loundraw (1080p; 00:13:36)
The Final Assessment
A powerful statement out of the gate with beautiful visuals and a delightful story behind it, Summer Ghost goes by like a breeze, has eye-catching artwork, and is presented in a lovely reference release from Shout! Factory and GKIDS.
Summer Ghost is out on Blu-ray November 1, 2022, from GKIDS & Shout! Factory
---
Rating Certificate: Not Rated
Animation Studio: Flat Studio | Flagship Line
Distributors: GKIDS | Shout! Factory
Director: loundraw
Written By: Adachi Hirotaka
Run Time: 40 Mins.
Street Date: 1 November 2022
Aspect Ratio: 1.78:1
Video Format: AVC 1080p
Primary Audio: Japanese DTS-HD MA 5.1
Secondary Audio: English DTS-HD MA 5.1
Subtitles: English for Original Language Version | English SDH | Spanish for Original Language