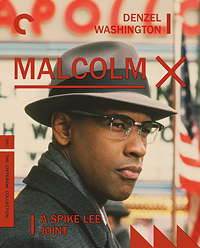 Spike Lee's Malcolm X had a long journey to the screen, originally intended as a project for director Norman Jewison, Spike Lee declared his wishes to direct the film. The feeling being that a film of such a controversial and influential historical Black figure should be overseen by someone who would be more sympathetic to the subject matter (read: someone Black). After a meeting between Jewison, Lee, and Warner Bros., Jewison voluntarily stepped down and Spike Lee was installed as the director at an initial budget of around $30 million. This was way under what Lee already knew it was going to cost him, his intent being to travel on location to Mecca, the Southern United States, Boston, New York, and so forth.
Tensions between Warner, Spike Lee, and a bond holding company would arise until finally production was halted by the bond company causing Lee to reach out to prominent members of the black community to donate to the film's production so the film could be completed in the way he envisioned it. Bill Cosby, Oprah Winfrey, Tracy Chapman, Prince, Michael Jordan, and Magic Johnson are just a few of the people who came to the film's rescue. The bond holding company was later removed from the equation by Warner and the film was completed by Lee, clocking in at a healthy 202 minutes long.
Taken from The Autobiography of Malcolm X (as told to Alex Haley), the film chronicles the life of Malcolm X (Denzel Washington), from his life as a little boy, born Malcolm Little, when his father, the Ku Klux Klan killed a prominent minister. Becoming a gangster on the streets of New York, strung out on drugs and involved with white women, Malcolm would eventually make his way to Boston where he'd eventually get arrested and sent to prison. Converting to Islam in prison, upon his release he would join The Nation of Islam, the radically Black Nationalist movement led by Elijah Muhammad and become the movement's most prominent preacher, but a trip to Mecca would find X changing, softening his position on race, splitting with The Nation of Islam.  He would become embroiled in a heated conflict with his former "brothers" from The Nation of Islam that would only end upon his assassination that is still the subject of many conspiracy theories to this day.
Malcolm X is absolutely elevated to supreme heights by Denzel Washington's Oscar-nominated performance. Although Washington's facial structure and skin tone are completely different from Malcolm X's, the way he captures his voice, mannerisms and style of dress have him personifying X in such a way that one truly believes one is watching the man on screen. Spike Lee pulls out all the tools from his filmmaker's bag to sculpt Malcolm X into an enlightening journey, despite its length.
The Video
This new digital transfer of Malcolm X was created in 4K 16-bit from the original 35mm camera negative and overseen by original cinematographer Ernest Dickerson. It is presented on the 4K Ultra HD Blu-ray Disc in a 1.85:1 HEVC 2160p (4K UHD) encodement with Dolby Vision. This provides a definite upgrade over the previous Blu-ray release, with a stronger sense of detail and fine grain presentation. The various color palettes, which change throughout the film to change with the time periods and dramatic tone, from the early war days in Boston's more sepia-toned nostalgic feel, to the drab, cooler prison colors or the vibrant red 'pop' and rich midtones of the Harlem, New York gangster days to the naturalistic look of Malcolm X's time in Mecca, the colors and contrast are superb and the presentation natural and organic. The Dolby Vision provides excellent specular highlights in the neon signage of the city, or the two major scenes where Malcom's childhood home and his own home with wife and children are set on fire. Shadows are nuanced, with extended details.
The Audio
The original 5.1 surround soundtrack was remastered from the 35mm magnetic track and provided on the 4K Ultra HD Blu-ray in DTS-HD Master Audio 5.1. This is not an aggressive mix with a heavy dose of strong effects moved through the surrounds, but it fits this film well. The score from composer Terence Blanchard really stands out with wonderful expansiveness and dynamic. The dialogue is clean, full, intelligible, and the surrounds carry lots of atmospheric and chatter where necessary. The low-end has a good amount of 'oomph' as well, especially n the dancehall scenes or the during the big orchestral swells.
The Supplements
The 'making of', audio commentary, and deleted scenes were all previously released, but Criterion also includes a lot of new interviews and a 44-page booklet with an essay by Cooper, excerpts by Lee and Washington from the 1992 book by By Any Means Necessary: The Trials and Tribulations of Making 'Malcom X'…, and Davis' 1965 eulogy to Malcolm X. Additionally there are credits, photos, and information on the transfer.
Audio commentary recorded in 2005 featuring Spike Lee, cinematographer Ernest Dickerson, editor Barry Alexander Brown, and costume designer Ruth E. Carter.
Spike Lee in Conversation (1080p; 00:25:49) – A conversation between director Spike Lee and journalist and screenwriter Michael Cooper produced by the Criterion Collection in 2022.
Delroy Lindo (1080p; 00:16:42) – An interview with actor Delroy Lindo, who portrays West Indian Archie in Malcolm X, was produced by the Criterion Collection in 2022.
Terence Blanchard (1080p; 00:18:43) – In this interview, produced by the Criterion Collection in 2022, composer Terence Blanchard reflects on his career-long collaboration with director Spike Lee and his personally resonant experience of composing the Malcolm X
By Any Means Necessary: The Making of "Malcolm X"(1080i; 00:30:27) – Produced by Warner Bros. in 2005, this is narrated by actor James Earl Jones and features director Spike Lee, editor Barry Alexander Brown, cinematographer Ernest Dickerson, filmmaker Martin Scorsese, actor and activist Ossie Davis, Reverend Al Sharpton, Warner Bros. executive Lucy Fisher, producers Preston Holmes and Jon Kilik, production designer Wynn Thomas, composer Terence Blanchard, casting director Robi Reed, costume designer Ruth E. Carter, actor Denzel Washington, and Malcolm X's daughter Ilyasah Shabazz.
Deleted Scenes w/introductions by Spike Lee (1080i; 00:20:41):

Malcolm and Shorty Watch Cagney and Bogie
Sophia and Peg Case a House
Malcolm Reading in Prison
The Evils of Pork
The Pleasures of an Ice-Cream Soda
Malcolm Teaches Benjamin Discipline
The Sphinx's Nose and Lips
Malcolm Must Return to America
A Second Chance to Answer the Question

Malcolm X (1972) (1080p; 01:31:41) – Feature-length documentary, also known as Malcolm X: His Own Story as it Really Happened, was directed by Arnold Pearl in 1972 based on the book The Autobiography of Malcolm X. Assembled from archival interviews and news footage, the film features "biographical narration" by actor James Earl Jones and appearances by a range of Black activists, civic leaders, and sports figures from Malcolm X's lifetime, as well as people who were on the scene when he was assassinated.
Trailer (1080p)
The Final Assessment
A powerful masterpiece about an influential figure who, like all too many in America, came to a tragic end, Spike Lee's Malcolm X comes to 4K Ultra HD from the Criterion Collection in a gorgeous, feature rich reference edition worthy of this epic.
Malcolm X is out on 4K Ultra HD Combo November 22, 2022 from the Criterion Collection
---
Rating Certificate: PG-13
Studios & Distributors: Largo International N.V. | JVC Entertainment Networks | 40 Acres & A Mule Filmworks | Warner Bros. | The Criterion Collection
Director: Spike Lee
Written By: Arnold Perl | Spike Lee | Alex Haley (based on
Run Time: 201 Mins.
Street Date: 22 November 2022
Aspect Ratio: 1.85:1
Video Format: HEVC 2160p (4K UHD)
HDR Format: Dolby Vision (HDR10 Compatible)
HDR10 Metadata:

MaxLL: 1000 nits
MaxFALL: 289 nits

Primary Audio: English DTS-HD MA 5.1
Subtitles: English SDH