–
The Film
[Rating:5/5]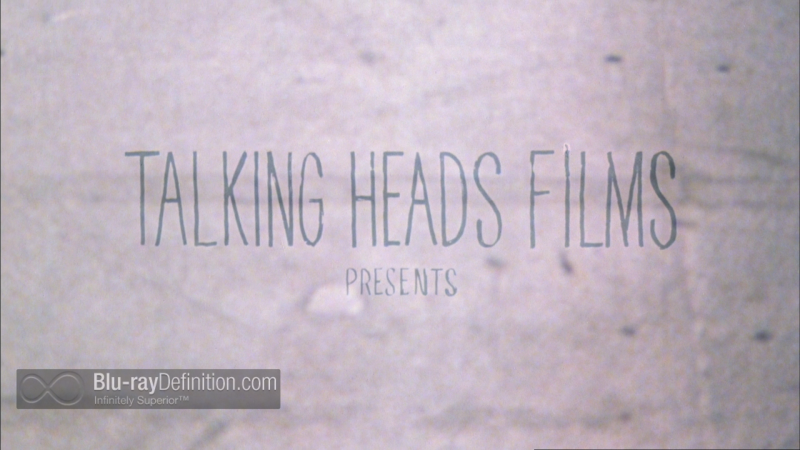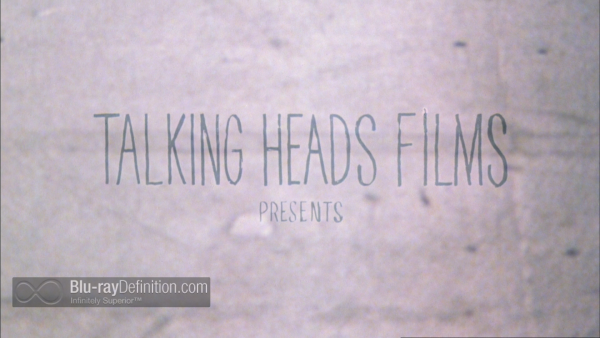 More than thirty-years after its release, the Talking Heads' blistering concert film Stop Making Sense gets a fantastic new restoration that arrives on Blu-ray from Second Sight Films. Many consider this concert film one of the greatest, if not the greatest, concert film of all time. Being a Talking Heads fan, and, furthermore, a fan of great rock music, I'm inclined to go along with that sentiment.
Talking Heads were at the height of their success — both commercially and artistically – when, in 1983, they filmed Stop Making Sense at Hollywood's Plantages Theatre. They were riding the wave of their mega-commercial breakthrough hit "Burning Down the House" from their fifth album Speaking in Tongues, the film was directed by big name Hollywood director Jonathan Demme, and, for a concert film, it had a pretty stylish, high concept. What else would it have? This was the era of MTV after all. The show sees the Talking Heads perform by lamplight and also iconically end with Byrne in a super-large suit. Why? Just because.

David Byrne starts the show on stage by himself, no set behind him at all, with just his acoustic guitar and a boombox. "I've got a tape I want to play you," he says, before launching into a drum machine and guitar rendition "Psycho Killer." Slowly the rest of the band members join, one by one, as each following song becomes more intricate, and the set behind continues to be built. Finally, they are in full on band mode, with accompanying musicians, and they are rocking out to their most ambitious arrangements like "Burning Down the House," "Life During Wartime," and "Making Flippy Floppy."
Even though there is a very stylish, '80s aesthetic to the film, there is less MTV hyper-kinetic editing and more wide shots and steady focus on the performers, and also very little in the way of pans across the audience. This makes for one very easy to watch and thoroughly enjoyable show. What you also don't get here is any filler. Unlike some of the other classic concert films like The Song Remains the Same or Gimme Shelter, this is all about the music, and not about what goes on around it.
Tracklist:
"Psycho Killer" (Byrne, Frantz, Weymouth)
"Heaven" (Byrne, Harrison)
"Thank You for Sending Me an Angel"
"Found a Job"
"Slippery People"
"Burning Down the House"
"Life During Wartime"
"Making Flippy Floppy"
"Swamp"
"What a Day That Was"
"This Must Be the Place (Naive Melody)"
"Once in a Lifetime"
"Genius of Love"
"Girlfriend Is Better"
"Take Me to the River"
"Crosseyed and Painless"

Video Quality
[Rating:4/5]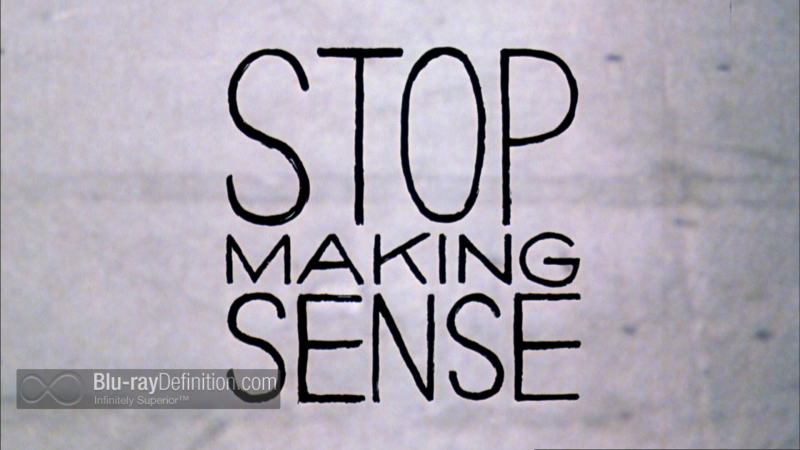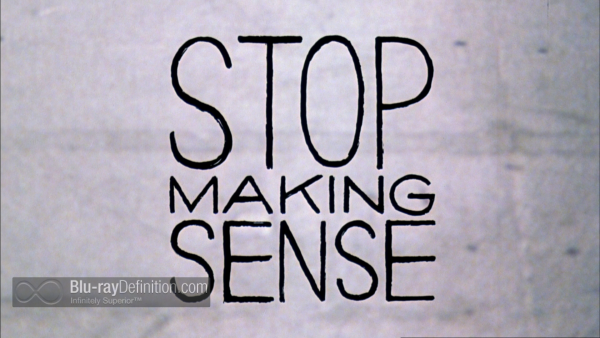 The film has been completely restored with, what Second Sight lists as having "more than 60,000 instances of dirt and scratches removed." While there is still some obvious softness that is perhaps unavoidable given the low lighting, 35mm source and 1984 vintage, this basically looks very satisfactory for a live concert film shot thirty-years ago. There's a pleasing level of natural grain that is not obtrusive and the image is clean without being too smooth.

Audio Quality
[Rating:5/5]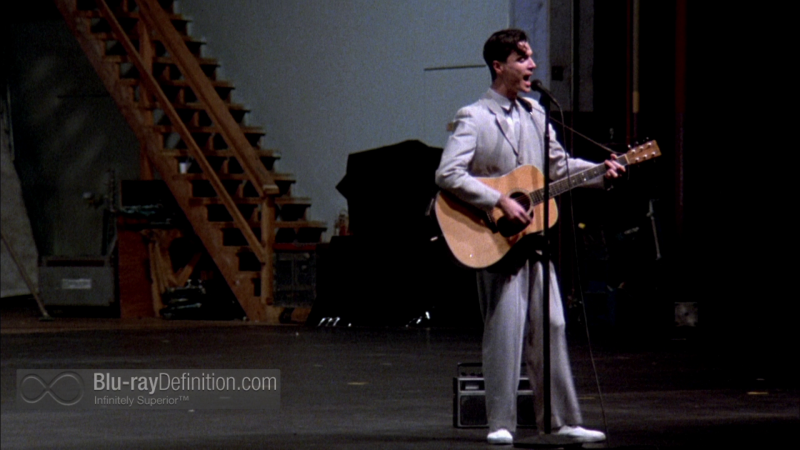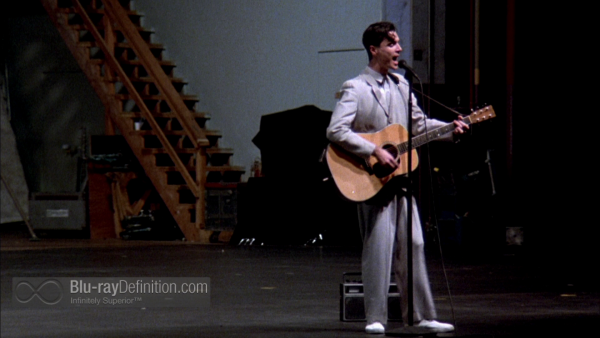 The audio is only mastered at 48kHz/16-bit, but, trust me, you won't be missing anything with these fantastic audio restorations. Not only do we get the theatrical stereo release in DTS-HD Master Audio 2.0, but we also get a "theatrical" DTS-HD Master Audio 5.1 mix (oddly named since the original theatrical mix was stereo) and two "studio" remixes in the same DTS-HD Master Audio configurations of 2.0 and 5.1. The theatrical versions sound a bit less forward with a lot less punch to the drums and percussion. The studio mixes really have punch and scale back a bit of the atmospherics, and have some in-your-face kick to the drums and percussion. Neither mix is as discrete as the excellent Talking Heads DVD-A studio album releases, except for the boombox, drum machine performance of "Psycho killer" that has a little bit of far off to the side sound effect panning in the studio mix. My preference goes to the studio mixes only for their energy and clarity, but both versions are reference.

Supplemental Materials
[Rating:3.5/5]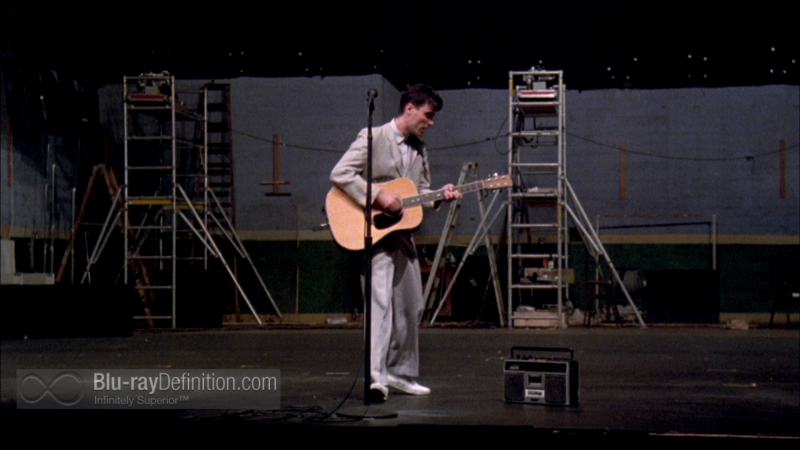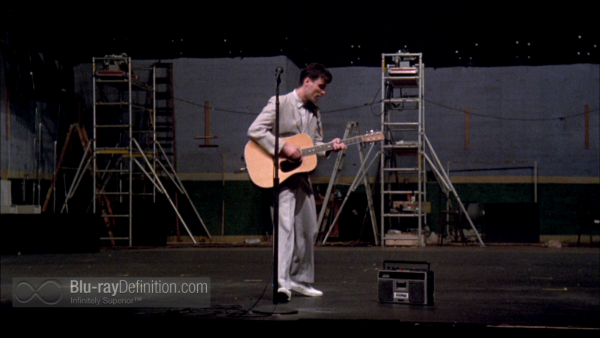 Commentary with the band and Jonathan Demme
Bonus Songs:

Cities (1.33:1; 1080p/24; 00:03:45)
Big Business/I Zimbra (1.33:1; 1080p/24; 00:07:42)

David Byrne Interviews…David Byrne (1.33:1; SD; 00:04:36)
Montage (1.33:1; SD; 00:03:09)
1999 Press Conference (1.33:1; SD; 01:05:37)
Storyboard-to-Film Comparison (1.33:1; SD; 00:01:49)
Trailer (1.33:1; SD; 00:01:49)

The Definitive Word
Overall:
[Rating:4.5/5]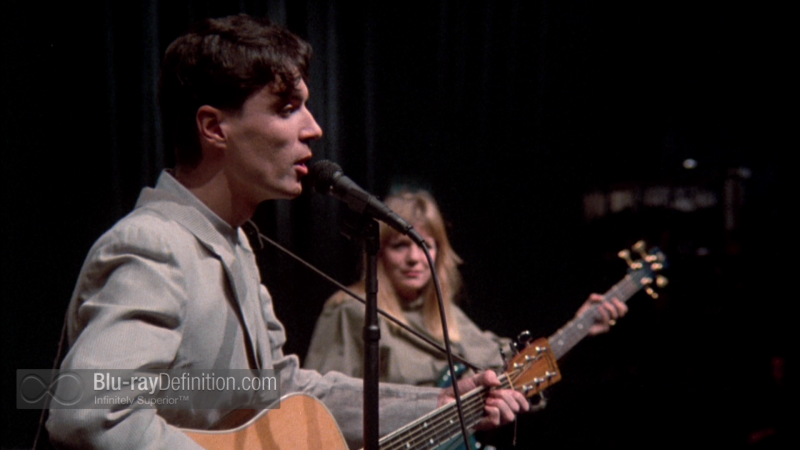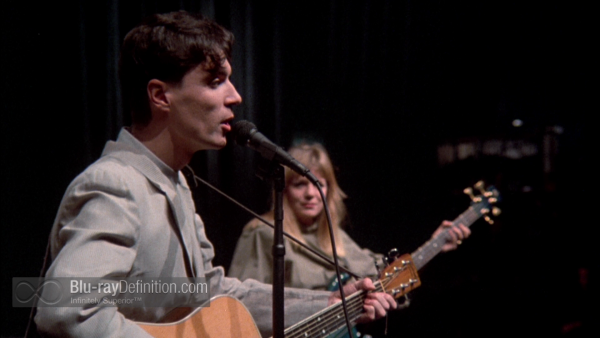 A great document of a legendary rock band, Stop Making Sense makes all the sense in the world, from David Byrne's Bowie-esque moves, to the funky grooves the band lays down to their esoteric lyrics, what we have here is pure genius.
Additional Screen Captures