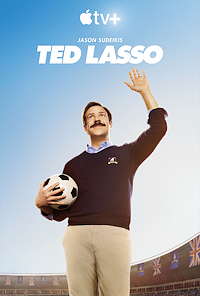 Apple TV+ kicked a game-winning goal with its break-out comedy series Ted Lasso that found a folksy American college football coach (Jason Sudeikis) crossing the pond to coach an English Premier League soccer team.  Lasso knows nothing about soccer and would have been totally lost without help from his knowledgeable assistant Coach Beard (Brendan Hunt). During the first season, we learn that team owner Rebecca Welton (Hanna Waddington) has purposely hired Lasso to make AFC Richmond tank and ruin the only thing that her ex-husband Rupert Mannion (Anthony Head) really gave a flip about. At Season 1's conclusion, AFC Richmond has just lost to rival Manchester City thanks to egotistical star Jamie Tartt (Phil Dunster) who had been recently traded from Richmond. The loss demotes Richmond from the Premier League and Ted tenders his resignation which Rebecca ignores.
Season 2 finds the Richmond club experiencing a frustrating series of tie games. New star player Dani Rojas (Christo Fernandez) accidentally kills Earl, the Richmond greyhound mascot, with his penalty kick and then succumbs to a bad case of the "yips." Sports Psychologist Sharon Fieldstone is hired to help Dani recover his confidence and suddenly other players begin to queue up for sessions with Dr. Sharon. Former team member Roy Kent (Brett Goldstein) has retired and is dating team PR person Keeley Jones (Juno Temple). Roy is coaching an Under 9 Girls football team but, after his team loses the championship game, Keeley convinces him to take a television commentator's position at Sky Sports. Despite Roy's salty language, his performance is very well received.
Jamie is off  the Man City roster and, to add insult to injury, he is unceremoniously voted out of the television dating reality show Lust Conquers All. Against Ted's advice, Higgins rehires a contrite Jamie for AFC Richmond, much to the dismay of young player Sam Obisanya (Toheeb Jimoh) whom Jamie bullied mercilessly during most of last season. Sam also takes umbrage when he finds out from his father that the team's corporate sponsor, Dubai Air, is owned by an oil company that has polluted his native Nigeria. Sam encourages fellow Nigerian Isaac (Kola Bokinni) to cover up the Dubai Air logo on their uniform shirts before their next game starts. All the other players follow his example as Jamie and Sam bury their differences following their first loss of the season that ended the seemingly endless sequence of draws.
I was pleased to see so many of the first season's cast members return, including the Director of Football Operations Leslie Higgins (Jeremy Swift) and assistant coach Nate Shelley (Nick Mohammed.) After three episodes into this now-expanded 12-episode series, I am also pleased to report that the comic vibe that permeated Season 1 is very much alive and well in Season 2. While new situations will present themselves as the remaining 9 episodes unfold each week, there is already much to anticipate as Jason Sudeikis's Ted Lasso is one of those characters who is easy to root for, no matter what happens to his hapless collection of footballers.  Will ARC Richmond start winning games and work its way back into the Premier League? Will Rebecca who has put herself out there on social media find "Mr. Right?" Will Roy and Keeley take things to the next level?  Will Ted and Rebecca's buddy Flo "Sassy" Collins (Ellie Taylor) get it on again? We will just have to tune in each week to find out, but I can assure you, regardless of how ARC Richmond fares on the football field, this new season promises to be another winner. Even better news, a Season 3 has already been announced and will soon start filming. Meanwhile, I will savor Season 2 and give it my highest recommendation.
Ted Lasso: Season 2 is streaming now on Apple TV+
---
Rating Certificate: TV-MA
Show Creator: Brendan Hunt
Original Release Date: 23 July 2021
Streaming Service: Apple TV+
Episode Run Time: 30 Mins.
Num. of Episodes: 12