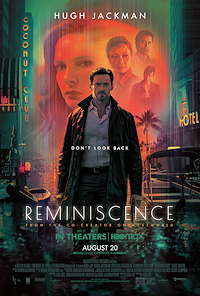 "The past does not haunt us—it's us that haunt the past." So begins the occasional narrator Nick Bannister (Hugh Jackman) in Reminiscence, a tale set in a not-too-distant post-war future. The rising waters of the Earth, presumably due to climate change, have made Miami look more like Venice as most coastal areas of the city have been flooded. Wealthy Miamians like crooked real estate magnate Walter Sylvan (Brett Cullen) reside in the walled-off Dry Lands and have stoked the growing outrage of the poor tenants who live in their substandard housing.
Bannister, a military veteran, and his alcoholic fellow vet Emily "Watts" Sanders (Thandiwe Newton) operate a memory pod. Donning a computerized headband, then becoming immersed in the water tank and receiving a thiopental injection, each client is helped by Nick to revisit a favorite memory, displayed as a life-sized hologram. Every reminiscence session is also recorded on a memory card that is stored in the pod's vault. Nick's life changes when beautiful nightclub singer Mae (Rebecca Ferguson) seeks his assistance in remembering where she left her keys. Her memory session reveals the location of her keys, but when Mae departs she leaves behind her favorite jade earrings. Nick takes the earrings to Mae's bar-lounge and gets invited back to her apartment where the sparks begin to fly. The couple moves into Nick's place and after spending a few blissful months together, Mae suddenly vanishes. Much to Watts' dismay, Nick spends a lot of his time in the tank to relive his memories of Mae.
The Miami police ask Nick and Watts to recover the memory of the dying drug dealer Falks (Sam Medina) who worked for New Orleans crime boss Saint Joe (Daniel Wu). Without warning, Mae shows up in Falks' memory hologram as Wu's gun moll who has become hooked on the potent drug baca. Nick takes off for New Orleans and narrowly misses being killed by Joe, thanks to Watts's timely intervention. Next, Nick puts Watts in the tank since she was the last one to see Mae before her disappearance. Watts's reminiscence reveals that Mae's visit to their pod was intended to get Watts drunk so she could steal a memory card belonging to regular client Elsa Carine (Angela Sarafyan), mistress of the now-deceased Walter Sylvan and mother of their illegitimate son Freddie. Mae's theft was part of an elaborate scheme concocted by crooked ex-cop Cyrus Boothe (Cliff Curtis) to tie up some loose ends for his new employers, Sylvan's widow Tamara (Marina de Tavira) and son Sebastian (Mojean Aria)before Walter's estate is settled. As Nick continues looking for Mae, he gets drawn inexorably into a path of death and destruction until the truth about his missing lover is finally revealed.
Reminiscence recalls the vibe of previous well-received films like Strange Days and Inception where dreams and memories provide the dramatic impetus for their protagonists. But aside from that trope, further similarities between Reminiscence and its predecessors abruptly end. With its strong cast, my high expectations for this film were ultimately dashed by the hodgepodge of a script marking producer-director Lisa Joy's debut as a feature film screenwriter. I was never quite sure whether Reminiscence was intended to be a film noir, an intriguing sci-fi adventure, a doomed love story, or a commentary about ruthless real estate tycoons. With a storyline that intersperses trips to the memory tank with death-defying fight scenes and romantic interludes, Hugh Jackman and company do the best they can with what they are given. Even the tossed-in reference to the Orpheus and Eurydice legend during the final romantic moment shared by Nick and Mae is done in by cringe-worthy lines like "happy endings are never happy." While the CGI effects of a sinking Miami and some of the reminiscence holograms were quite impressive, they were not enough to bail out this plodding two-hour excursion that, unlike its title, is mostly forgettable.
---
Rating Certificate: PG-13 (for strong violence, drug material throughout, sexual content and some strong language)
Studios & Distributors: Kilter Films | Michael De Luca Productions | FilmNation Entertainment | Warner Bros. Pictures
Country: USA
Language: English
Run Time: 116 Mins.
Aspect Ratio: 2.39:1
Director: Lisa Joy
Written By: Lisa Joy
Release Date: 20 August 2021