– –
The Film
[Rating:2/5]
Producer Michael Bay, he of the golden touch when it comes to producing and directing larger-than-life big budget Hollywood films like Transformers, Armageddon and Bad Boys took the reins of the reptilian, comic book, toy selling franchise Teenage Mutant Ninja Turtles. Thus began a saga of multiple delays, mutiny amongst fans, feuds between Bay and actors from previous films, the return of actress Megan Fox who'd been fired by Bay from the Transformers franchise amidst rumors of a feud, a Hitler reference, and an urging by Spielberg to get rid of her; multiple script iterations and writers, delays, and, finally, the release. Was it worth all the hullabaloo? No.
While Bay, director Jonathan Liebesman (Wrath of the Titans), and the string of screenwriters give a basic origin story of these already familiar, pizza-loving six-foot tall mutant turtles who can throw down with some serious ninjutsu, our beloved reptilian heroes now look terribly grotesque, like the stuff nightmares are made of. These four turtles, Raphael (voiced by Alan Ritchson), Michelangelo (voiced Noel Fisher), Leonardo (voiced by Johnny Knoxville), and Donatello (voiced by Jeremy Howard), seem more likely to be jumping out from under a kid's bed at night and scaring him or her half to death rather than becoming his or her favorite toy.
Megan Fox offers up a bland performance as April O'Neil, a New York City television reporter relegated to doing fluff pieces who latches on to a story about a crime wave sweeping across the city perpetrated by a group known as The Foot Clan, and the appearance of a mysterious vigilante suddenly thwarting them. She finds that the vigilante is actually a group of four, six-foot-tall talking turtles who live in the sewers with their master, a rat called Splinter (voiced by Tony Shalhoub). Furthermore, she has ties to these strange creatures. She'd save them from a fire at her late father's laboratory years earlier where experiments were being performed on them back when they were all just normal, small lab animals. Now, their blood possesses a mutagen that the mysterious leader of The Foot Clan, Shredder (Tohoru Masamune), needs to carry out his master plan of dominance.
Apart from a few action sequences that get the adrenalin going, Teenage Mutant Ninja Turtles is a dud. One can hardly get past the ugliness of the creatures, no matter how much the filmmakers try to dress it up with the likes of Megan Fox (Jessica Biel was supposedly interested as well, but she wouldn't have helped either). That is only part of the problem at issue here, however. Jonathan Liebesman has said they intended to make the film something grittier and, supposedly, more inline with the original comics. Well, the success of this obviously inane franchise has always been based on the likability of these turtles, and here, they just aren't. In between product placements for Pizza Hut, we get shots of angry, misogynist, violent, and dirty, cold-blooded reptiles, which, lets face it, aren't the easiest creatures for many people to love. To top it off, their sensei, Splinter, is rather monstrous looking rodent. Package all of this in a paper-thin story with high school grade acting from Megan Fox and Will Arnett, who plays the smitten camera man to Megan Fox's reporter April O'Neil, then you have something that is a boring, cliche, yet very expensive looking story, with little humor and little action to keep us interested.
Video Quality
2D HD: [Rating:5/5]
3D Effect: [Rating:3.5/5]
Teenage Mutant Ninja Turtles was shot on the Arri Alexa Plus so it has a pristine, digital HD image, whether you go for the 3D or 2D version included in this set. The 3D version of the film looks okay, adding some extra depth of field, but doesn't have very strong pop-out or particulate matter floating in front of you. Moving to the 2D, there is a much greater sense of contrast and sharpness, and of course the lack of ghosting, of which this production seemed to have a higher ratio of as compared to some other recent, 3D productions, like Gravity, for instance.
Audio Quality
[Rating:4/5]
Teenage Mutant Ninja Turtles does get a Dolby Atmos sound mix on Blu-ray for those so equipped, but for those, like me, who do not have Atmos compatible playback equipment, a Dolby TrueHD 7.1 track will play. This mix sounded very good, although there could have been more discrete use of the surround channels. Maybe there would be in the Atmos version, but not necessarily; not all Atmos mixes are made the same. Anyway, dynamic range was not as wide as could be, since the sound seemed to be quite loud most of the time – it's a very aggressive mix, and one that punches you in the gut with low end as well. Dialogue, at least, stays clear and clean throughout all of this.
Supplemental Materials
[Rating:3/5]
iTunes Digital HD Digital Copy
Digital HD UltraViolet
DVD of Feature Film
Extras on Blu-ray Disc Only:
Digital Reality (1.78:1; 1080p/24; 00:17:56)
In Your Face! The Turtles in 3D (1.78:1; 1080p/24; 2D or 3D; 00:04:23)
It Ain't Easy Being Green (1.78:1; 1080p/24; 00:06:47)
Evolutionary Mash-Up (1.78:1; 1080p/24; 00:14:59)
Turtle Rock (1.78:1; 1080p/24; 00:05:37)
Extended Ending (2.35:1; 1080p/24; 00:00:46)
"Shell Shocked" Music Video (2.35:1; 1080p/24; 00:03:27)
Making of "Shell Shocked" (1.78:1; 1080p/24; 00:01:31)
The Definitive Word
Overall:
[Rating:3.5/5]
It must be difficult to make a Ninja Turtles movie worse than you even expect it to be, but executive producer Michael Bay, director Jonathan Liebesman, and co. have managed to do just that with this poor reboot of what is meant to be a fun a silly franchise.
Additional Screen Captures
[amazon-product]B00MEOD4KI[/amazon-product]
[amazon-product]B00MI1X58S[/amazon-product]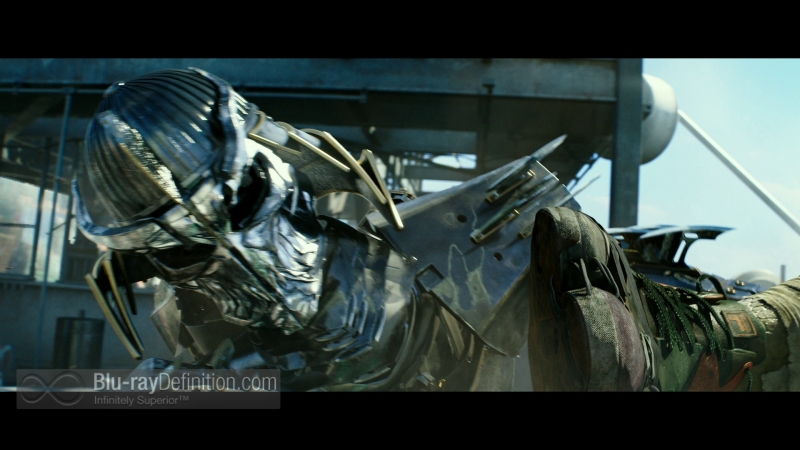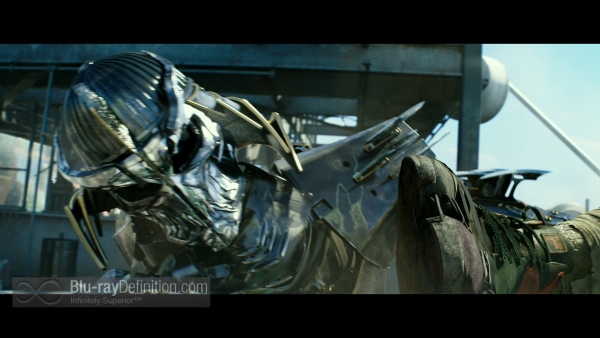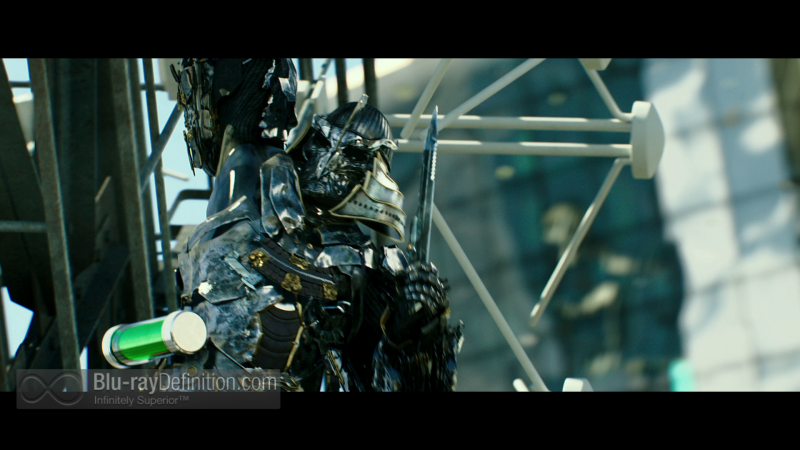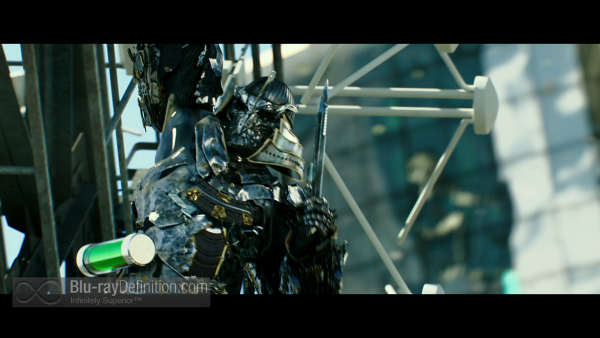 [amazon-product]B00MEOD4KI[/amazon-product]
[amazon-product]B00MI1X58S[/amazon-product]