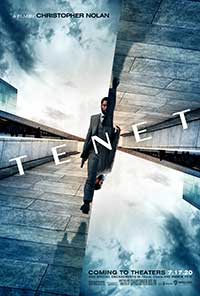 As my first foray into a real movie theater since the COVID-19 pandemic began, I felt that Christopher Nolan's new film Tenet would be a great way to restart the in-theater experience! Before going any further, you should know that the title does not refer to ideologies or religious beliefs but rather it is a palindrome, reading the same forwards or backwards, as this film uses the trope of backwards time shifts that Nolan has used in previous films. Also, you should not worry about understanding theoretical physics, as "inverted entropy" is an impossibility.
A CIA agent known only as "The Protagonist" (John David Washington) is assigned  to rescue an outed operative at a Kiev opera house. After being captured by Russian mercenaries, he swallows what he believes is a cyanide capsule only to awaken in a recovery room at sea.  Victor (Martin Donovan), a Tenet officer, tells him that this was a test to see if he was up for another mission—saving the planet from a possible World War III.  Scientist Barbara (Clémence Poésy) shows The Protagonist bullets with inverted entropy that can move backward in time, a principle that may be involved in creating a weapon the so-called "Algorithm" capable of destroying the past.
The Protagonist travels to Mumbai where he meets his handler Neil (Robert Pattison) who takes him to arms dealer Priya Singh (Dimple Kapadia), another Tenet member.  Priya informs him that the bullets were bought by Andrei Sator (Kenneth Branagh), a Russian billionaire, and purveyor of weapons-grade Plutonium-241 who apparently has gained control over the direction of time. He meets Kat (Elizabeth Debicki), Sator's estranged wife, who is barred from seeing her son for selling Andrei a forged Goya drawing. Neil and The Protagonist visit the Freeport facility in Oslo that stores numerous valuable works of art, including the real Goya sketch.  Here the pair encounter and successfully fend off a pair of helmeted assailants.  What follows is a race against time as the Algorithm, held together by interlinked parts and stored in Siberia, will be triggered to destroy the world in the event of Sator's death. Only The Protagonist, Neil, and the Tenet troops can prevent this from actually happening.
[envira-album id="124867″]
Over the two-and-a-half hour running time, we learn precious little about the Tenet organization or the red trinkets sported by its members or how forward and backward time can coexist. Rather, this big-budget spectacle offers everything special effects aficionados could ask for, and these often subjugate storyline for the sake of visual impact. In spite of many time shifts, plot complexities, and where-is-this-going moments, writer-director Nolan somehow manages to make Tenet a compelling watch and keep viewers on the edge of their seats. There is a final plot twist that eventually ties all of the foregoing together and that will help us understand at least part of this very complex film.
Christopher Nolan has previously challenged his audiences' imaginations with films like Inception and Interstellar but Tenet works better for me than either of its predecessors in its use of time shifts. Apart from Kenneth Branagh's faux Russian accent, the other principals totally shine and make their unreal situations seem almost credible. The striking on-location shots don't hurt the cause either like the Sator and company dining at an upscale Amalfi coast restaurant that my wife and I patronized last year. While it is inevitable that Tenet will become a 4K UHD Blu-ray release, seeing it in a real movie theater makes much of it an overwhelming experience for those wishing to escape the harsh realities of their present daily lives. Park your critical faculties at the movie theater's entrance and prepare to take a thrill-ride to another world that will have you talking about this one well after the curtain falls. Highly recommended.
Tenet is now screening worldwide
[youtube https://www.youtube.com/watch?v=AZGcmvrTX9M&w=961&h=541]
---
The Film: 4.0/5
Studios & Distributors: Warner Bros. Pictures | Syncopy
Rating Certificate: PG-13 (Intense sequences of violence and action, some suggestive references, and brief strong language)
Country: USA | UK
Language: English | Russian | Estonian | Ukrainian
Run Time: 150 Mins.
Aspect Ratio: 2.39:1
Director: Christopher Nolan
Written By: Christopher Nolan
Release Date: 3 September 2020