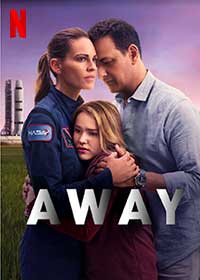 Hilary Swank is no stranger to the sci-fi genre (I Am Mother) and in the 10-episode Netflix Original series Away, she plays Captain Emma Green, commander of Atlas I, the first spacecraft that will hopefully land a man on Mars. Green's crew includes Russian cosmonaut/engineer Misha Popov (Mark Ivanir), Indian doctor Ram Arya (Ray Panthaki), Chinese chemist Wang Lu (Vivian Wu), and African-English botanist Kwesi Weisberg (Ato Essandoh). The Mars mission will separate Emma for three years from her astronaut-engineer husband Matt Logan (Josh Charles), grounded because of his cerebral cavernous malformation (CCM), and their teen-aged daughter Alexis "Lex" (Talitha Eliana Bateman).  As Atlas I heads for the moon the first of several onboard mishaps occurs when Emma mishandles a chemical leak. During the subsequent investigation she gets dissed by Misha and Lu both of whom question her leadership. Hours before leaving for Mars, Matt's CCM causes a stroke and Emma must decide between returning to Earth or continuing the mission. After Matt's successful surgical procedure, he and Lex insist that Emma continue to lead Atlas I to Mars.
Another mishap finds one of the solar panels failing to deploy. Misha and Emma perform a dangerous spacewalk and free the panel. Back on Earth, Matt is now wheelchair-bound and beginning physical therapy while high school freshman Lex meets handsome junior Isaac Rodriquez (Adam Irigoyen) who takes her to Midnight Mass—it is Christmas—and introduces her to the sport of motorbiking.
The Atlas I's problems continue as Ram contracts Ebstein-Barr virus but when he recovers, he finds that Misha has space blindness and that Kwesi has lost the skin from the sole of his foot.   As the series proceeds, we get each of the astronauts' backstories:  Emma's pregnancy during astronaut training; Misha's estrangement from his daughter and grandchildren; Kwesi's adoptive father teaching him gardening; Ram's guilt from giving his late brother typhus; Lu's loveless marriage and her hopeless love affair with another woman.
[envira-album id="124889″]
The breakdown of the Atlas's water purification system threatens the mission and the very lives of the Atlas I crew. Although Misha helps Ram and Lu jury-rig the back-up system, they will have to ration water and sacrifice Kwesi's garden.  Emma secretly uses half of her water ration to save Kwesi's dandelion plant but she becomes seriously dehydrated and is only saved by Ram's timely intervention.  Atlas I is still weeks away from a Mars landing and the supply ship Pegasus that was supposed to be waiting for them has lost contact with mission control. It looks like the Mars landing will fail and the crew will perish unless they undertake a hazardous slingshot maneuver, connect with Pegasus 2, now en route to the red planet, and then return to Earth.
While Away has most of the expected trappings of an outer space melodrama what keeps the storyline churning is the in-depth development and relationships of its principal characters, both on Atlas I and back on Earth.  The directors do a decent job of balancing the cutaways between outer space and Earth. Hilary Swank is given the most conflicted role of the lot but her constant striving to succeed and strong message of undying hope make us really care about her and the rest of her space mates. Where this show falls short of some of the best space operas is in its pacing which, while not nearly as glacial as Ad Astra, could have spared us some of the longueurs provided by the continual messaging between the astronauts and their loved ones back on Earth. That said, Away is still a far better watch than many recent contributions to this extraterrestrial genre like Lost In Space and 3022 and definitely worth taking in.
Away is now available for viewing on the Netflix streaming network
---
The Creative Content: 3.5/5
Show Creator: Andrew Hinderaker
Original Release Date: 4 September 2020
Streaming Network: Netflix
Ep. Run Time: 44-57 Mins.
No. Eps.: 10
Studios & Distributors: True Jack Productions | 6th & Idaho | Refuge Inc | Universal Television | Netflix
Rating Certificate: TV-MA