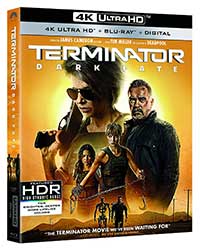 Terminator: Dark Fate is the latest film in this aged franchise. Tim Miller (Deadpool) steps into the director's chair and James Cameron is back onboard as will in a producer and writing capacity for what is meant as a direct sequel to T2: Judgment Day. You read that correctly, this film ignores all the films that have come since T2 and resets the franchise – it even brings back Linda Hamilton in the role of Sarah Connor and a very aged-looking Arnold Schwarzenegger to reprise his titular role, of course.
The premise of Dark Fate is that while Sarah Connor brought down Skynet, in the future, a very different future, AI rises up anyway under different circumstances and still tries to wipe out humanity. For years Sarah has been receiving mystery texts signed "for John" from an encrypted source telling her where Terminators from the future will appear and she has been hunting and killing them. Now, a nearly indestructible Terminator Rev-9 (Gabriel Luna) arrives with one task – kill a woman in Mexico City named Dani Ramos (Natalia Reyes). Concurrently, a tech-augmented human, Grace (Mackenzie Davis), arrives to protect Dani. Eventually, Sarah and Grace team up to protect Dani from the Rev-9 and to save the future – yet again.
As a spectacle, Terminator: Dark Fate succeeds. Like all the films in the franchise before it, the visual effects are stunning. They have pushed the boundaries with CGI again and given us yet another nearly impossible to defeat enemy and fast-paced action sequences.
But that is where the good stuff ends. The film basically rehashes all the usual tropes from the franchise, even the films we are meant to forget about. While it is great to see Linda Hamilton back and kicking some ass, even getting the chance to give the famous line "I'll be back," it is still weird to have to overlook everything that happened since T2 and buy into the way they want to rework the mythology of the franchise. Also, there just is nothing fresh brought into this film. It feels about as ragged as Schwarzenegger looks playing the old T-800.
[envira-album id="121871″]
The Video
Terminator: Dark Fate was shot on the Arri Alexa LF with Zeiss Master Anamorphic and Angenieux Optimo A2S lenses in ARRIRAW (4.5K). I have conflicting information that it was mastered with either a 2K DI or a 4K DI and brought to 4K Ultra HD in a 2.39:1 HEVC 2160p (4K) encodement with Dolby Vision HDR. The picture looks as glossy and pristine and dynamic, with blazing flames that 'pop' thanks to the WCG of Dolby Vision, excellent shadow detail, deep blacks without crush. The included Blu-ray looks a little more faded and desaturated, still filmic, but not as crisp as the UHD.
The Audio
Terminator Dark Fate comes with a rollicking, in your face Dolby Atmos mix, because of course it does. I have heard mixes with better use of the overhead/height channels. This one could have done more in the numerous scenes with helicopters flying overhead and so forth, but for the most part, this is wonderfully immersive with lots of discrete sounds coming from everywhere and big, fat low end to rock the subwoofers.
The Supplements
Paramount provides over an hour of bonus materials, including making-of featurettes that have lots of behind-the-scenes footage and interviews with cast and crew including James Cameron and Tim Miller.
Digital Code
Blu-ray with feature film and over an hour of bonus features
Deleted and Extended Scenes 1080P; 00:08:54):

I need your car
Internet café
Augmentation volunteer
The crossing
Alicia confronts Sarah
Let me save you

A Legend Reforged (1080p; 00:20:11)
World Builders (1080p; 00:32:46)
Dam Busters: The Final Showdown (1080p; 00:08:30)
VFX Breakdown: The Dragonfly (1080p; 00:02:33
The Final Assessment
Terminator: Dark Fate is a paint-by-numbers reboot of a long-running franchise that is meant to be a direct sequel to T2: Judgement Day. While it brings nothing new and feels like some obvious fanservice at times, it does also unsurprisingly prove to be a dazzling reference audio/visual disc on 4K Ultra HD.
Terminator: Dark Fate is out on 4K Ultra HD Combo January 28, 2020, from Paramount
---
The Creative Content: 2.5/5
The Video: 4.5/5
HDR Effect: 4.5/5
The Audio: 5/5
The Supplements: 3.5/5
Rating Certificate: R (for violence throughout, language and brief nudity)
Studios & Distributors: Paramount Pictures | Skydance Media | Twentieth Century Fox | Tencent Pictures | TSG Entertainment | Lightstorm Entertainment | Ministry of Finance of Spain | Instituto de la Cinematografia y de las Artes Audiovisuales | Ministerio de Cultura | Hungarian National Film Fund | Mid Atlantic Films | Paramount Home Media Entertainment
Director: Tim Miller
Writers: James Cameron (story) | Charles H. Eglee (story) | Josh Friedman (story) | David S. Goyer (story) | Justin Rhodes (story) | David S. Goyer (screenplay) | Justin Rhodes (screenplay) | Billy Ray (screenplay)
Run Time: 128 Mins.
Original MSRP: $44.99
Street Date: 28 January 2020
Aspect Ratio: 2.39:1
Video Format: HEVC (H.265) 2160p (4K) | AVC 1080p (Blu-ray)
HDR Format: Dolby Vision
Primary Audio: English Dolby Atmos
Secondary Audio: English Audio Description | Spanish DD 5.1 | French DD 5.1
Subtitles: English | English SDH | Spanish | French