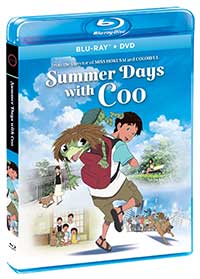 Summer Days with Coo is the 2007 award-winning (Best Animation Film at Mainichi Concourse, Best Screenplay at Tokyo Anime Awards) by director Hara Keiichi (Miss Hokusai, Colourful).
The story follows the young male protagonist Uehara Koichi, a fourth-grader living in the suburbs of Tokyo. One day after school Koichi picks up a large rock he believes to be a fossil and brings it home with him. The rock, however, turns out to be a young Kappa (a mythical Japanese water spirit) that has been living underground for 300 years since its father was killed by a samurai. Koichi names the Kappa "Coo" for the sound it makes and Coo, who mazes everyone with his ability to talk, soon becomes an integral part of Koichi's family and his best friend.
But Coo starts to have trouble adjusting to the modern world and to miss living amongst other Kappas, so Koichi decides to embark with Coo on a journey over the summer to try to find other Kappas.
Summer Days with Coo is a coming-of-age comedy/drama that is at times heartbreaking and other times laugh out loud funny. If there is one problem with the film it is that its story tends to drift a little with some minor subplots that aren't ever full realized, such as one involving a quiet, often bullied classmate of Koichi's and the discovery of Coo by the press, which is not really handled too convincingly. That said, there isn't much to complain about in this film. The strengths of it are the strong bond between Koichi and Coo, its emphasis on friendship, and the beautiful, realism of the animation.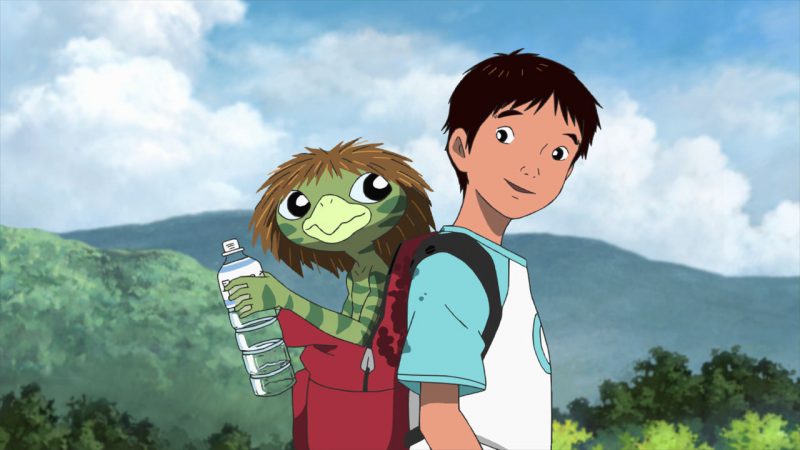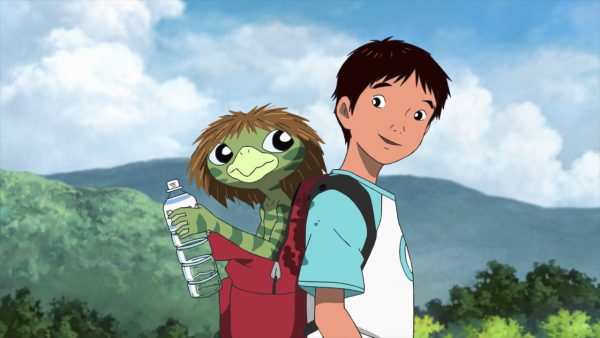 The Video
Summer Days with Coo comes to Blu-ray with a 1.78:1 AVC 1080p encodement of its digital animation. It's crisp and colorful with no noise or banding and no oversaturation or motion artifacts.
The Audio
Summer Days with Coo comes with a Japanese DTS-HD Master Audio 5.1 mix as the sole option accompanied by optional English subtitles. The audio is well balanced and atmospheric, with a solid low-end, good use of the surround channels to follow the action around, and natural dynamic range. The score comes through with lots of airiness.
The Supplements
Only trailers & tv spots are included on the disc. Additionally, this Blu-ray combo set comes with a DVD of the feature film in standard definition.
The Final Assessment
A strong family film with beautiful animation and a superb Blu-ray transfer. Too bad there isn't much in the way of bonus features to fill out the release.
Summer Days with Coo is out January 21, 2020 on Blu-ray Combo from Shout! Factory/GKIDS
---
The Animation: 5/5
The Story: 3.5/5
The Video: 4.5/5
The Audio: 4.5/5
The Supplements: 1.0/5
Animation Studio: Shin-Ei Animation
Distributors: Shochiku | Shout! Factory | GKIDS
Director: Hara Keiichi
Writer: Hara Keiichi
Run Time: 138 Mins.
Street Date: 21 January 2020
Original MSRP: $26.99
Aspect Ratio: 1.78:1
Video Format: AVC 1080p
Primary Audio: Japanese DTS-HD MA 5.1
Subtitles: English