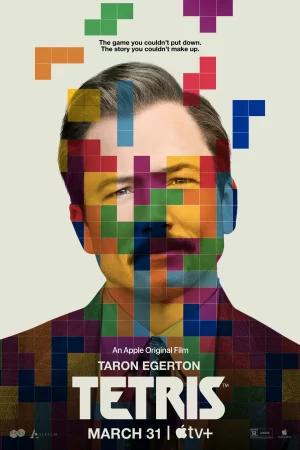 Against the backdrop of the Cold War in the late 1980s, there was an ongoing conflict on a far different battlefield–the race by Dutch-Indonesian-American Henk Rogers (Taron Egerton), living in Tokyo and the proprietor of Bullet-Proof Software, to get the patents and international distribution rights for the iconic video game Tetris.
 Rogers first sees Tetris, written by a Russian programmer Alexey Pajitnov (Nikit Efremov) who works at ELORG, the state-owned computer facility, while he attends the 1988 Consumer Electronics Show in Las Vegas. The glitch in Rogers' getting the licensing rights to this program is that they are already owned by Hungarian ex-pat Robert Stein (Toby Jones) who has signed them over to Mirrorsoft for royalties he will receive from company owners Robert Maxwell (Roger Allam) and his son Kevin (Anthony Boyle).
While at the CES, Rogers buys the Japanese Tetris rights from Mirrorsoft, then asks for a bank loan to produce Nintendo cartridges and arcade machines, putting up his apartment as collateral. His wife and business partner Akemi (Avane Nagabuchi) voices her concerns but Rogers promises his venture will succeed. However, he soon receives a call from Kevin that the arcade rights were already promised to Sega.
On a trip to Seattle, Rogers is shown the new handheld Game Boy at Nintendo of America headquarters. He convinces President Minoru Arakawa (Ken Yamamura) and VP Howard Lincoln (Ben Miles) to package Game Boy with Tetris instead of "Super Mario Land." He also promises to get the handheld licensing rights to Tetris but, during a meeting with the Maxwells in London, finds out that Stein still owns all the licensing rights. Rogers meets with Stein, offering him $25,000 for the handheld rights, but Stein had already promised them to Atari for $100,000. Kevin and Rogers each travel to Moscow to get these rights for themselves.
Sasha (Sofya Lebedeva)–who turns out to be a KGB agent–helps him find the ELORG headquarters and works as his translator when he meets with company president Nikolai Belikov (Oleg Shtefanko). Rogers still fails to get the Tetris licenses and is told to go home. The next morning he meets Valentin Trifonov (Igor Grabuzov), director of the Soviet Ministry of Foreign Affairs, who threatens Rogers will criminal charges for conducting business on a tourist visa. Meanwhile, Kevin also meets with Trifinov and offers him a bribe to get the Tetris rights.
Taron Egerton and Nikita Efremov in Tetris (2023)

Roger Allam in Tetris (2023)

Nikita Efremov in Tetris (2023)

Taron Egerton and Nikita Efremov in Tetris (2023)

Tetris (2023)

Tetris (2023)

Tetris (2023)

Tetris (2023)

Tetris (2023)

Tetris (2023)
What follows is a complex cat-and-mouse game between Rogers, the Maxwells, Stein, and the Russians over the worldwide rights to Tetris for computers, handheld devices and arcades. The suspense builds as Rogers returns to Russia and gets the purchase order for the Tetris rights from Belikov (who foresees the the end of the Soviet Union) when a bankrupt Mirrorsoft can no longer pay for them. But Rogers still has to leave Moscow safely with the purchase agreement as Trifinov is in hot pursuit.
Director Jon S. Baird and writer Noah Pink have crafted a top-notch thriller out of the Tetris story that will be new to most viewers, particularly young gamers who came along well after the events took place. The Tetris production team has also done an excellent job in recreating the 1980s Soviet urban landscape out of modern-day Scotland.
Taron Egerton is a very convincing cyber-entrepreneur, while Allam and Boyle keep up appearances as a wealthy upper crust family whose finances are secretly in disarray. Efremov plays the most sympathetic character of the bunch with a family backstory that underscores the heartlessness of the Communist regime while Toby Jones turns in a brief but top-notch performance as the opportunist who plays both ends of the Tetris struggle agains the middle.
While there are moments–particularly during the office scenes–where the pace of Tetris  flags, these are offset by the mounting tensions of the storyline, particularly when Rogers comes oh-so-close to attaining his goals only to encounter more roadblocks. The script takes some liberties with actual facts but such tampering with history will not keep viewers from enjoying such a compelling account. Even if you know nothing about video gaming, this element of the film is largely kept in the background. Tetris is well worth seeing and comes highly recommended.
---
Tetris is streaming now on Apple TV+
---
Rating Certificate: R (for language)
Studios & Distributors: Apple Studios | AI Film | Marv Studios | Unigram | Apple TV+
Country: USA | UK
Language: English
Run Time: 118 Mins.
Aspect Ratio: 2.39:1
Director: Jon S. Baird
Written By: Noah Pink
Release Date: 31 March 2023