Estimated reading time: 7 minutes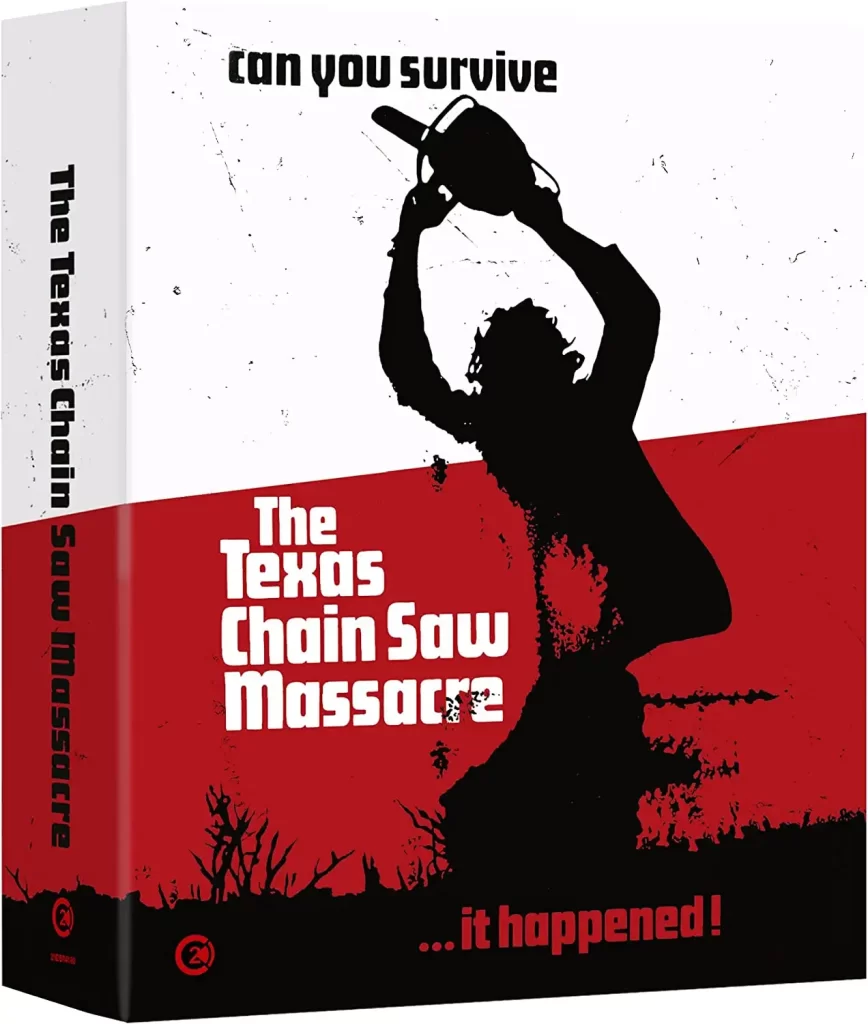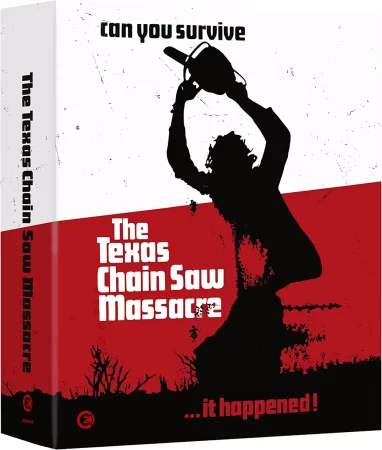 Tobe Hooper's 1974 cult classic The Texas Chain Saw Massacre picked up on the story of notorious Wisconsin serial killer Ed Gein, which had already been adapted to the screen in horror form by Alfred Hitchcock's Psycho. Hooper's film, however, laid the groundwork for the slasher subgenre boom to come and changed the direction of horror films.
Sally Hardesty (Marilyn Burns) and her disabled, wheelchair-bound brother Franklin (Paul A. Partain) get news that their grandfather's grave has been vandalized. They gather a group of friends and drive out to the rural area, formerly a booming cattle slaughterhouse town, to check on his grave. On their way there they pick up an oddball hitchhiker who should give them pause, but they press on. Arriving in town, they decide to go check on the Hardesty's old farmhouse – this is when the trouble begins. They run into a family of homicidal slaughterhouse workers, including the chainsaw wielding Leatherface (Gunnar Hansen), who wears a human flesh mask. Soon the group of friends are brutally off one-by-one.
There are so many precedents set by this film that just were not a thing beforehand. Hooper's film is supposedly the first horror film to have teens centered as the protagonists and tt created the "final girl" trope. It is also much less gory than one might expect, with Hooper choosing to use implied violence to permeate the film with a sense of violence.
Despite being made on a shoestring budget, The Texas Chain Saw Massacre works and is one of the scariest slasher films ever made. It holds up today even after decades of increasingly vivid, violent, and blood-splattered films that have crowded the genre.
The Video
I reviewed the recent 4K Ultra HD SteelBook release of The Texas Chain Saw Massacre from Dark Sky Films and this release from Second Sight, which is also presented in 1.85:1 HEVC 2160p (4K UHD) Dolby Vision is the superior release. Second Sight cites this as a "new presentation featuring additional restoration work." Well, that "additional restoration work" is what I assume gives this presentation a cleaner appearance. The source damage like scratches and tramlines, specs of dirt and other noise and anomalies that can still be seen in the Dark Sky release. Even with the cleaner appearance, the grain is still left intact, but looks a little finer, yet still natural.
The Dolby Vision presentation on this Second Sight disc is also better handled (my Panasonic UB9000 did not show HDR10 metadata for this disc so I could not compare that information). The white levels, which clip somewhat on the Dark Sky release, are reined in a bit on the Second Sight 4K disc, so you do not see blow out in the clouds, for instance. The scene in where Sally runs into the gas station at night looks similar, but, again, cleaner, less murky, and the specular highlights are just a tad scaled back, but more natural looking. The metal on the tip of guy's belt does not reflect the light as brightly as in the Dark Sky release. Also, the barbeque pit in the background does not glow quite as red and orange, but still has more than enough 'pop.'
The Audio
The English Dolby Atmos mix included sounds basically the same as it does on the Dark Sky Films 4K release. Given this 1974 film has an original mono mix (which is also supplied in LPCM 1.0) the Atmos mix cannot be expected to be as impactful as a contemporary mix. Still, the sound is upgraded nicely, and the channels are well used, with lots of atmospherics and some sound effects moved into the surrounds, and good saturation of ambience in the height channels. Second Sight loses the audio battle by only including two audio mixes. There is no 2.0 stereo mix, lossless 7.1, or 5.1 mix included, but those are minor omissions.
The Supplements
Second Sight Films really loads this release with bonus features and collectibles all housed in their scrumptious packaging.
Limited Edition Bonus Contents:
Rigid Slipcase with original classic artwork
190-page hardback book with new essays by Heather Buckley, Tim Coleman, Martyn Conterio, Miranda Corcoran, Heather Drain, Lee Gambin, Caden Mark Gardner, Lindsay Hallam, Cerise Howard, Kimberly Lindbergs, Annie Rose Malamet, Maitland McDonagh, Neil Mitchell, Jerome Reuter, and Robert Skvarla, illustrated by Adam Stothard
6 collectors' art cards illustrated by Adam Stothard
Exclusive 3 additional art cards when ordering direct from Second Sight, while stocks last.
Bonus Features:
2 Blu-ray Discs wit Bonus Features
Commentary with Amanda Reyes and Bill Ackerman
Commentary with Writer-Producer-Director Tobe Hooper
Commentary with Cinematographer Daniel Pearl, Editor J. Larry Carroll, and Sound Recordist Ted Nicolaou
Commentary with Writer-Producer-Director Tobe Hooper, Cinematographer Daniel Pearl, and Actor Gunnar Hansen
Commentary with actors Marilyn Burns, Paul A. Partain, Allen Danzinger, and art director Robert A. Burns
The Legacy of The Texas Chain Saw Massacre (1080p; 01:22:45) (NEW)
Behind the Mask: Alexandra Heller-Nicholas on The Texas Chain Saw Massacre (1080p; 00:08:40)
The Shocking Truth documentary (1080p; 01:12:49)
The Shocking Truth documentary – outtakes (1080p; 00:07:41)
Cutting Chain Saw with Editor J. Larry Carroll (1080p; 00:10:47)
Grandpaw's Tales with actor John Dugan (1080p; 00:15:48)
Horror's Hallowed Grounds (1080p; 00:20:08)
Flesh Wounds: Seven Stories of the Saw (1080p; 01:11:42)
Off the Hook with Actor Teri McMinn (1080p; 00:17:02)
The Business of Chain Saw with Production Manager Ron Bozman (1080p; 00:16:25)
TCSM House Tour with Actor Gunnar Hansen (1080p; 00:08:03)
Tobe Hooper Interview (1080p; 00:13:46)
Kim Henkel Interview (1080p; 00:08:25)
Deleted Scenes and Outtakes (1080p; 00:25:23)
Trailers, TV and Radio Spots (1080p; 00:05:58)
Stills Gallery (1080p)
The Final Assessment
Second Sight has done the impossible and made this low-budget classic horror film look almost like a reference quality release. Their 4K restoration of The Texas Chain Saw Massacre immediately moves to the top of the heap. Recommended.
---
The Texas Chain Saw Massacre (Limited Edition) is out in the UK on 4K Ultra HD 10 April, 2023, from Second Sight Films.
---
Rating Certificate: UK:18
Studios & Distributors: Vortex | Second Sight Films
Director: Tobe Hooper
Written By: Kim Henkel (screenplay by) | Tobe Hooper (screenplay by)
Run Time: 83 Mins.
Street Date: 10 April 2023
Aspect Ratio: 1.85:1
Video Format: HEVC 2160p (4K UHD)
HDR Format: Dolby Vision (HDR10 Compatible)
Primary Audio: English Dolby Atmos (Dolby TrueHD 7.1 Compatible)
Secondary Audio: English LPCM 1.0 Mono
Subtitles: English