–
The Series
[Rating:4/5]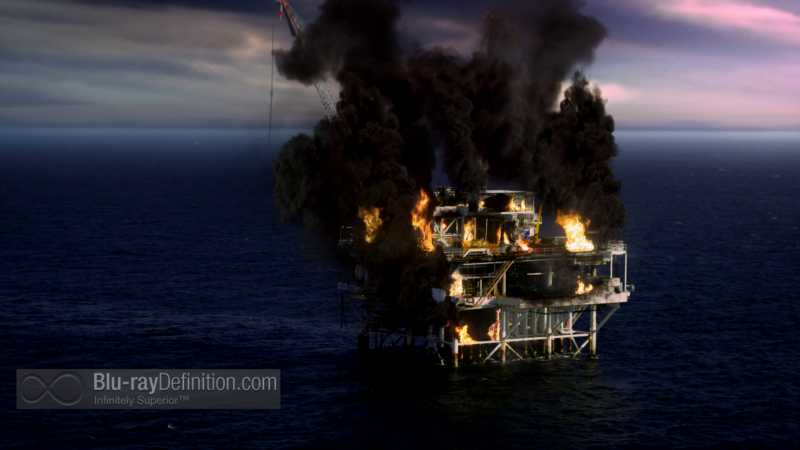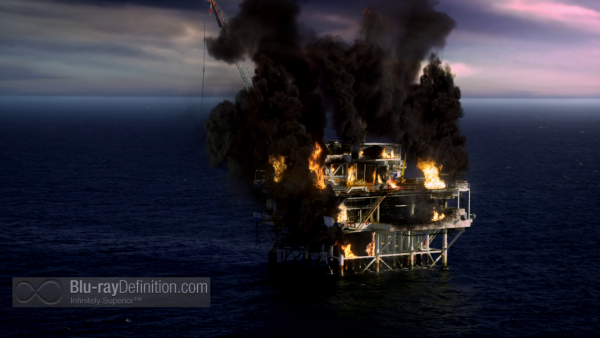 In the first season of NBC's hit series The Blacklist, ex-government agent turned one of the FBI's most wanted fugitive Raymond "Red" Reddington (James Spader; TV's The Office, Boston Legal) had mysteriously turned himself in to the agency after decades on the run. Now, Reddington is embedded in the agency as one of their most valuable assets, and has them practically working for him as he helps them identify a so-called "blacklist" of corrupt politicians, criminals, spies, and international terrorists. Reddington has only one request for his help – that Agent Elizabeth "Liz" Keen (Megan Boone; TV's Law & Order: Los Angeles) be the one to work with him. Why he wants to work with Liz specifically is a mystery that continues to unfold specifically in the ever more complex second season of the series, reviewed here. Liz finds herself being drawn deeper into a Red's world of conspiracies and crime, hiding a fugitive from the agency and from Red, while Red's life is increasingly in danger from a cabal that believes he has the device known as "the fulcrum" which can expose the dirty secrets of a lot of powerful people all over the world.
Spader continues to impress in his role as Reddington in the second season. In the 1980s, he made a name for himself in films like Pretty in Pink, Wall Street, and Sex, Lies and Videotape playing the asshole people loved to hate. That typecasting has possibly paid off, because here, he may not be an asshole, be he certainly is a guy that can get under one's skin and fails to illicit trust. He's scary, and, well, okay maybe he is still sort of an ass. But, boy does it work here. Thank goodness he is tempered so well by the lovely Megan Boone, who is tough and stands up well to him, even as her character struggles to not fall deeper into the bottomless pit of Reddington's manipulations.

Video Quality
[Rating:4.5/5]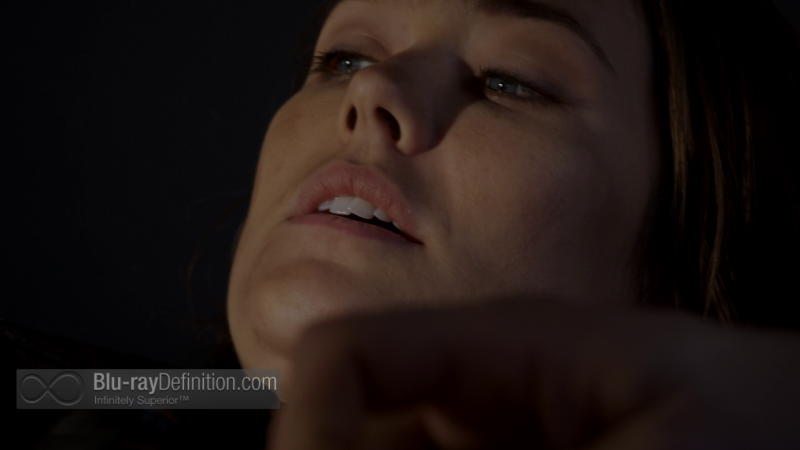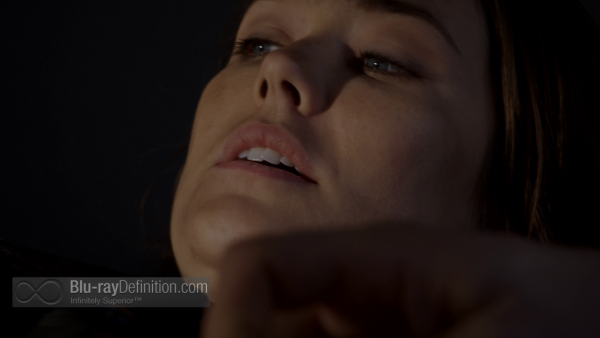 The Blacklist was shot in 4K on a Sony CineAlta PMW-F55 and edited in a 2K digital intermediate workflow. It arrives on Blu-ray with a good looking 1080p AVC encodement from Sony that sheds all the issues the series exhibits during streaming and broadcasts, meaning compression noise, ghosting, and black crush are gone and white balance is spot on. Flesh tones look natural and overall colors have a nice, cinematic nuance. Close-ups reveal a crisp amount of texture showing stubble on male faces and the makeup on female's.

Audio Quality
[Rating:4/5]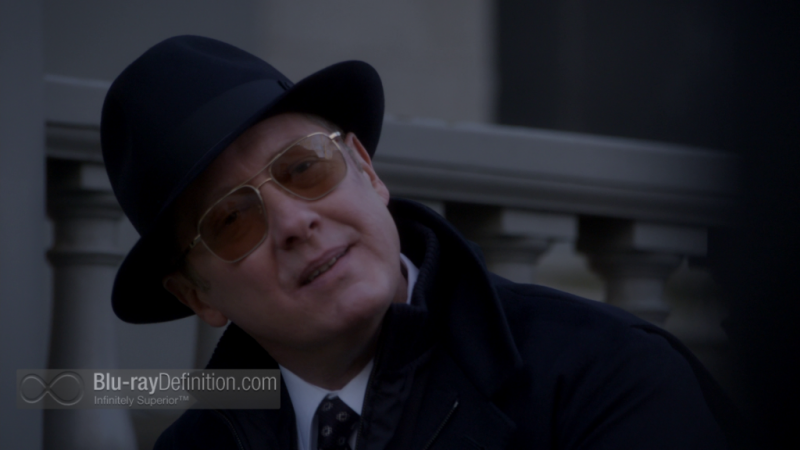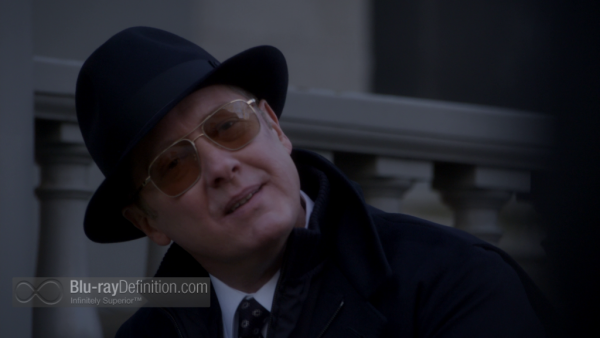 The Blacklist's English DTS-HD Master Audio 5.1 (48kHz/16-bit) soundtrack is mostly front-heavy and subtle. There are slight atmospheric effects throughout the surround channels, dialogue sounds just a tad boxy in the center channel at times, but intelligible. The mix does come alive in certain moments, such as when there are explosions, car chases, crowd scenes, or during cut scenes when the score fills the channels. Low end is good, extending down to the mid low range most of the time.

Supplemental Materials
[Rating:3/5]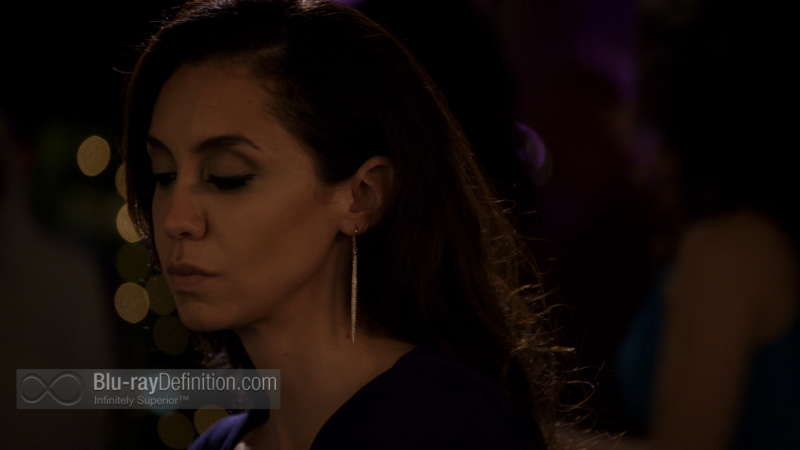 The featurettes explore the season's standout characters and the world of Reddington, with interviews with the crew. There are also select episode deleted scenes accessible through the menu from each individual episode throughout the discs. They mostly do not add much.
Digital HD UltraViolet
Deleted Scenes (1.78:1; 1080p/24) – Deleted scenes on select episodes.
After the Game: Luther Braxton (1.78:1; 1080p/24; 00:13:05)
Raymond Reddington: Man of the World (1.78:1; 1080p/24; 00:09:55)
Building a Blacklister: Vanessa Cruz (1.78:1; 1080p/24; 00:10:10)
Known Associates: Red's Inner Circle (1.78:1; 1080p/24; 00:13:34)

The Definitive Word
Overall:
[Rating:4/5]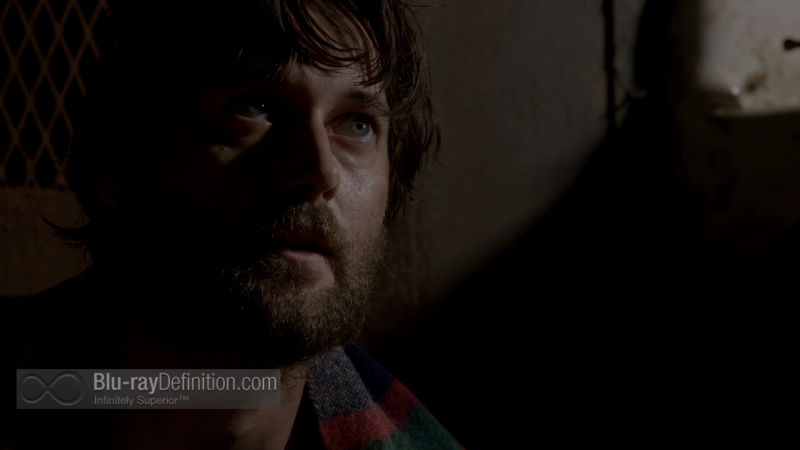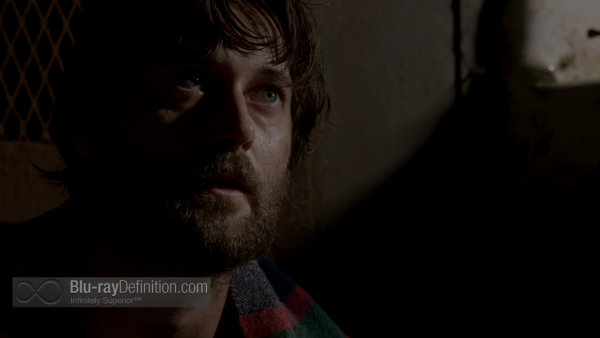 Another involving and thrilling season of this hit NBC drama arrives on Blu-ray from Sony in a reference set that should please the fan base.

Additional Screen Captures