–
The Performance
[Rating:3.5/5]
As one of Giuseppe Verdi's most popular operas, La Traviata has received its share of high-definition recordings. This Opus Arte Blu-ray Disc is the most recent version, stemming from a series of performances at the 2014 Glyndebourne Festival, a perennial highlight of the English summer music scene and one that has continued to make forays into repertory quite different from its ancient music roots. Director Tom Cairns, well known for his television work, has decided to set this opera in modern times with Hildegard Bechtler's often opulent costumes in sharp contrasts to her spare sets. The two youthful principals in this adaptation of Alexandre Dumas's tale of doomed love are soprano Venera Gimadieva (Violetta Valery) of the Bolshoi Opera company and American tenor Michael Fabiano (Alfredo Germont). The remainder of this cast was largely unfamiliar to this reviewer. Veteran conductor Sir Mark Elder leads the London Philharmonic Orchestra while Jeremy Bines directs the Glyndebourne Chorus.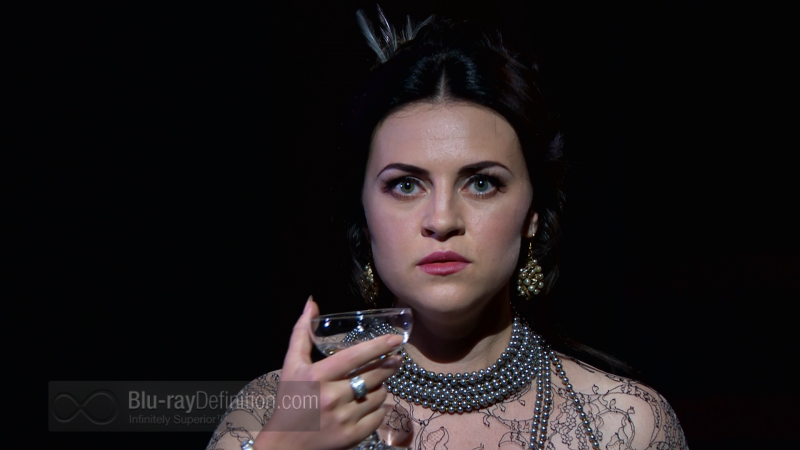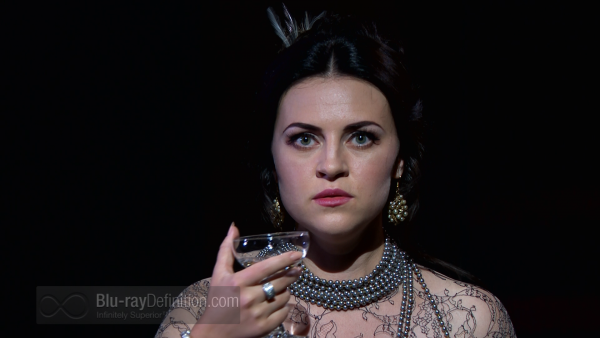 The opera opens on a literal and figurative high note during a cocktail party chez Mlle. Valery, a well-kept courtesan. Her life is about to change when Alfredo enters and, in an intense duet, professes his love for her. Their budding relationship is clouded by signs of Violetta's serious illness.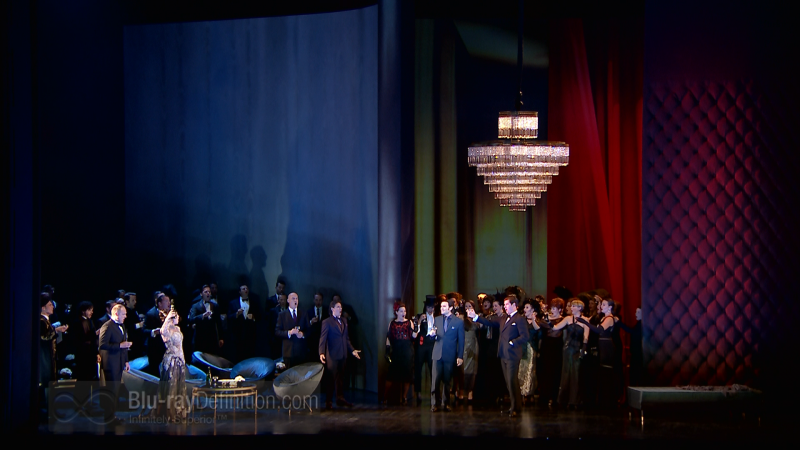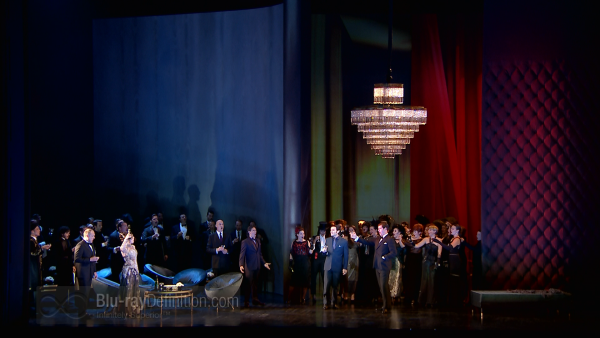 //
<A HREF="https://ws-na.amazon-adsystem.com/widgets/q?rt=ss_mfw&ServiceVersion=20070822&MarketPlace=US&ID=V20070822%2FUS%2Fbluraydefin07-20%2F8001%2F4200b768-1697-40bd-8b25-002ed1a8d3da&Operation=NoScript">Amazon.com Widgets</A>//
<A HREF="https://ws-eu.amazon-adsystem.com/widgets/q?rt=ss_mfw&ServiceVersion=20070822&MarketPlace=GB&ID=V20070822%2FGB%2Fbluraydefinit-21%2F8001%2F1830c6ff-02de-49a5-befb-00a7019bea8c&Operation=NoScript">Amazon.co.uk Widgets</A>For a brief happy moment, Violetta and Alfredo are living out their dream in her country home. The voice of convention and reason is sounded by Alfredo's father, Giorgio Germont (Tassis Christoyannis) who entreats Violetta to break off their affair as knowledge of it would scandalize the impending marriage of Alfredo's sister. Violetta yields to Germont's request and pens Alfredo a final farewell.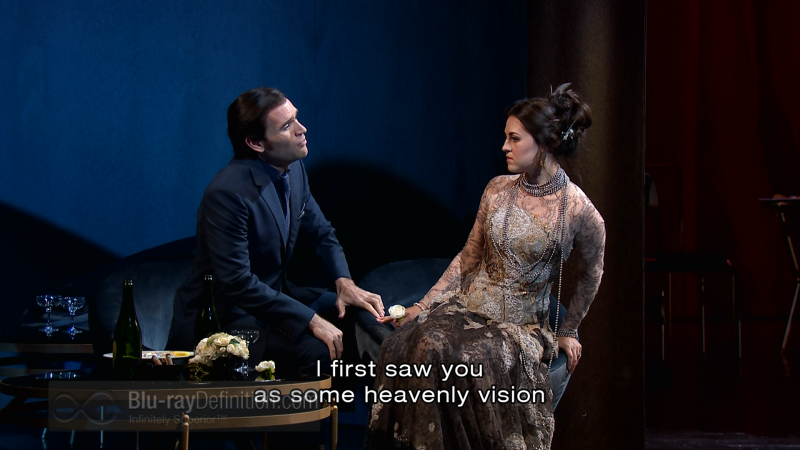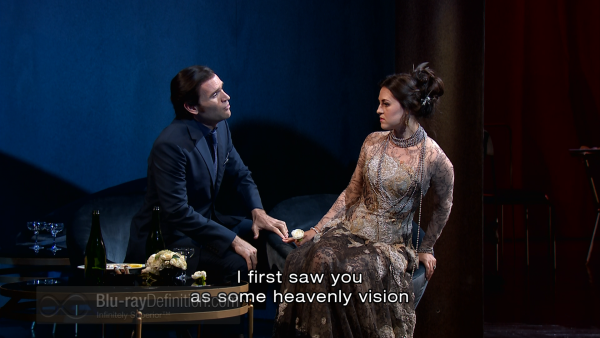 At a wild party in Mme. Flora Bervoix's (Hanna Hipp) apartment, Alfredo reconnects with Violetta, now in the company of Barone Douphol (Eddie Wade). A card game is ongoing and after Alfredo wins big, he throws his money at Violetta as if he were paying off a whore.  The Baron takes up for Violetta and challenges Alfredo to a duel.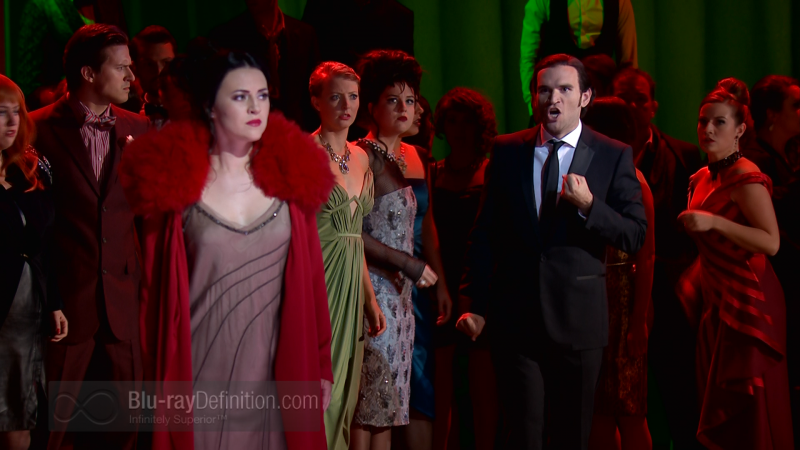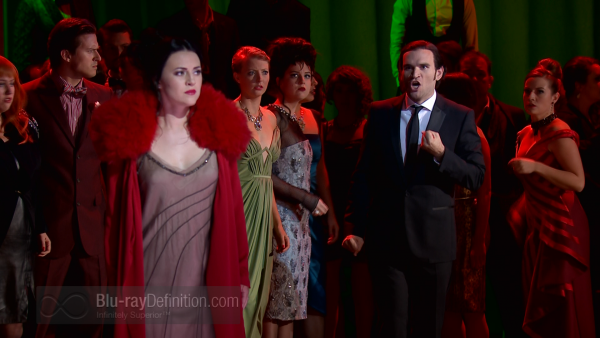 The opera concludes as it began in Violetta's apartment. The room is now bare as she has sold everything to pay her bills.  She is in the final stages of her illness when Alfredo suddenly returns to her side. Alfred had wounded the Baron during the duel and had briefly left the country to avoid prosecution. Violetta rallies briefly and then dies in her lover's arms.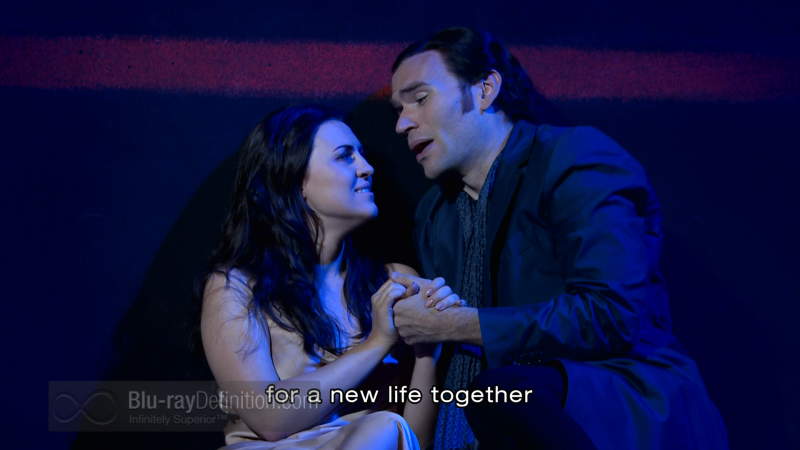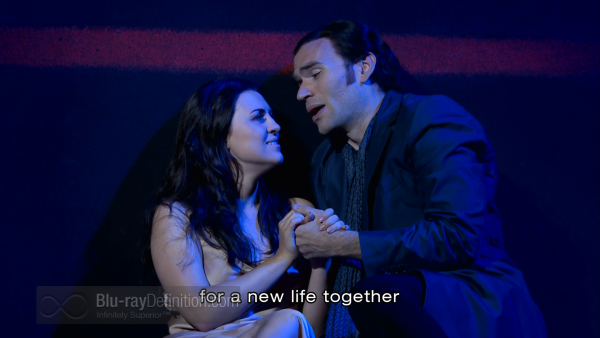 La Traviata is basically an opera da camera, its drama clearly focused on the two lovers. Soprano Gimadieva is an attractive singer with excellent command of the bel canto style that this role demands. However, she fails to convey the depth of her character's complexities that range from selfishness, hedonism, hauteur, and eventually vulnerability.  Fabiano's Alfredo is clearly a work in progress. Like Gimadieva, he has the vocal chops for his part but simply lacks the nuances of naïveté essential for his character. Baritone Christoyannis sings pleasantly but his Pere Germont is rather two-dimensional. The best feature of this performance is Sir Mark Elder's superb command of Verdi's score, never losing its pulse and yet never sounding like hurdy-gurdy music.

Video Quality
[Rating:3.5/5]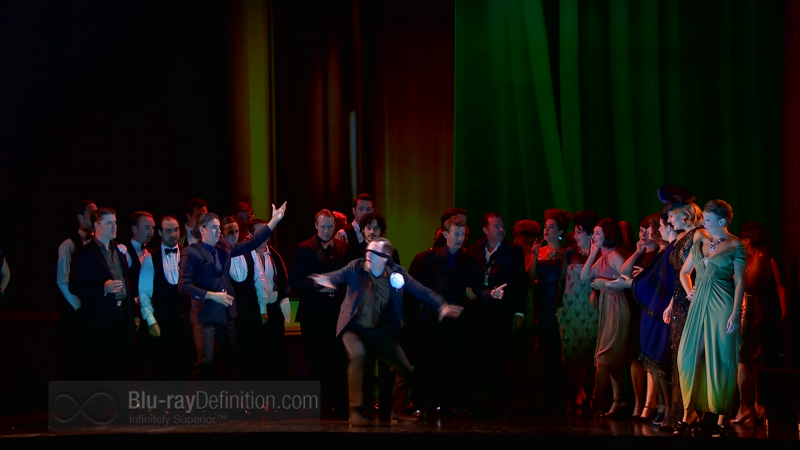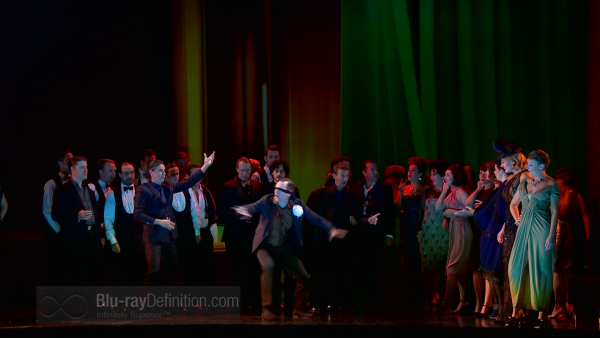 The videographers led by veteran Francois Roussilon are challenged by an oppressively dark and often featureless stage and yet manage mostly to surmount these obstacles, delivering one gorgeous close up after another. The distance shots do suffer some from the dim lighting and make the party scenes less effective than is usual. Colors are generally good but details are frequently diminished when darkness besets the stage.

Audio Quality
[Rating:4/5]
The DTS-HD Master Audio 5.1 soundtrack is extremely well balanced and contains just enough ambience to suggest the smallish venue that is Glyndebourne's Opera House. Voices come across quite well and the orchestra is full-bodied and natural sounding.

Supplemental Materials
[Rating:1.5/5]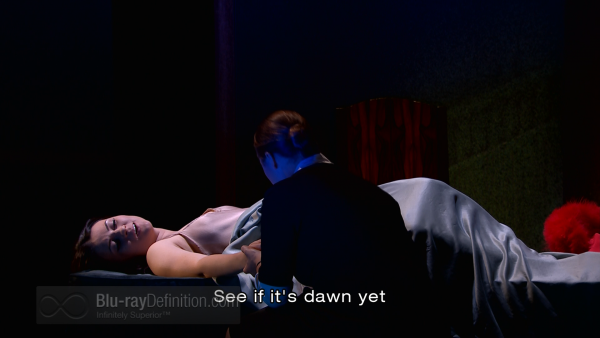 The program booklet presents cast and production credits, an interview with director Cairns, a background piece on the opera by Francesco Izzo and a brief plot synopsis. There are three features:
Verdi's La Traviata: "Once heard, never forgotten" (English LPCM Stereo 48kHz/24-bit) (8:57). Brief insights from conductor Elder, soprano Gimadieva, baritone Chrstoyannis, tenor Fabiano, interspersed with clips of the onstage production.
"An opera for all times" (English LPCM Stereo 48kHz/24-bit) (6:42). Set and costume designer Bechtler discusses her concepts for this production and various cast members give their reactions as well.
Cast gallery

The Definitive Word
Overall:
[Rating:3.5/5]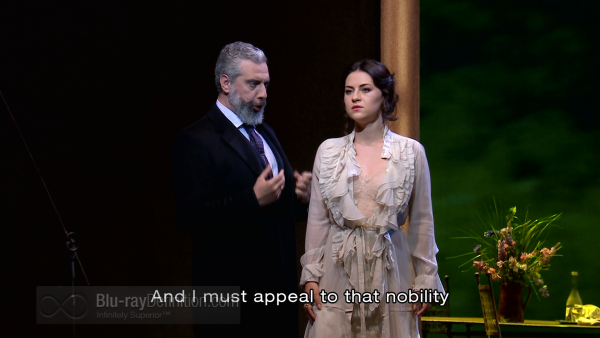 There are previous La Traviata Blu-rays featuring such star sopranos as Renee Fleming, Angela Gheorghiu, and Anna Netrebko who receive excellent partnership from tenors Joseph Calleja, Ramon Vargas, and Rolando Villazon, respectively. The current release gives us two stars of the future whose portrayal of their respective characters will surely grow as they spend more time inhabiting their roles. If not at the top of the La Traviata list, this Glyndebourne Festival production is certainly one worth watching and Maestro Elder's delivery of this score is as good as I have heard it in recent memory.

Additional Screen Captures

//
<A HREF="https://ws-na.amazon-adsystem.com/widgets/q?rt=ss_mfw&ServiceVersion=20070822&MarketPlace=US&ID=V20070822%2FUS%2Fbluraydefin07-20%2F8001%2F4200b768-1697-40bd-8b25-002ed1a8d3da&Operation=NoScript">Amazon.com Widgets</A>//
<A HREF="https://ws-eu.amazon-adsystem.com/widgets/q?rt=ss_mfw&ServiceVersion=20070822&MarketPlace=GB&ID=V20070822%2FGB%2Fbluraydefinit-21%2F8001%2F1830c6ff-02de-49a5-befb-00a7019bea8c&Operation=NoScript">Amazon.co.uk Widgets</A>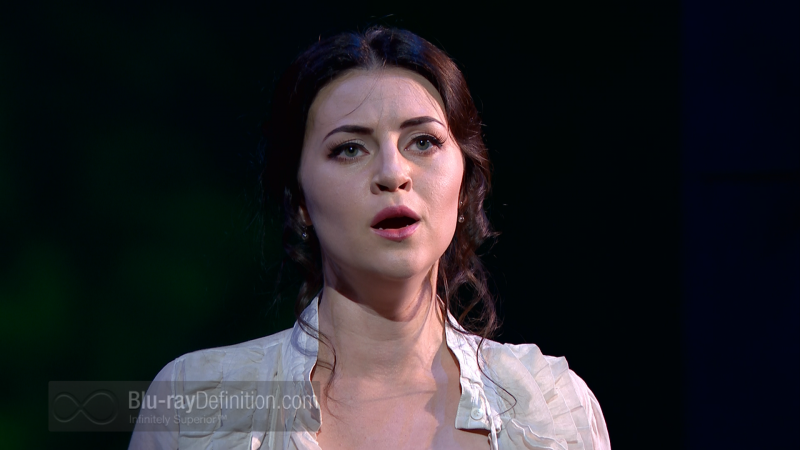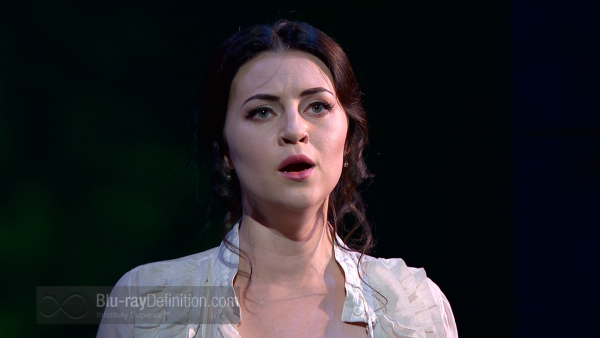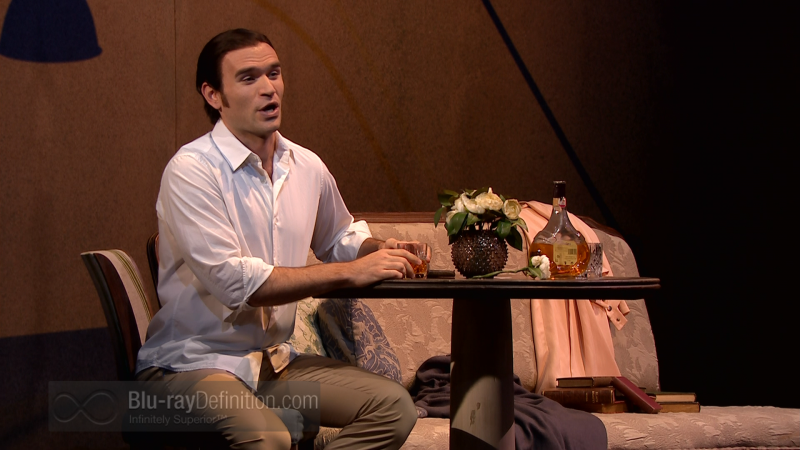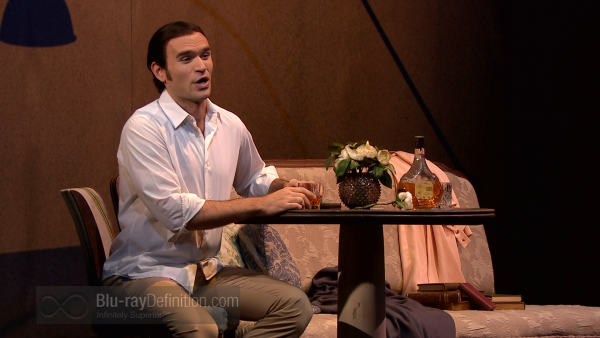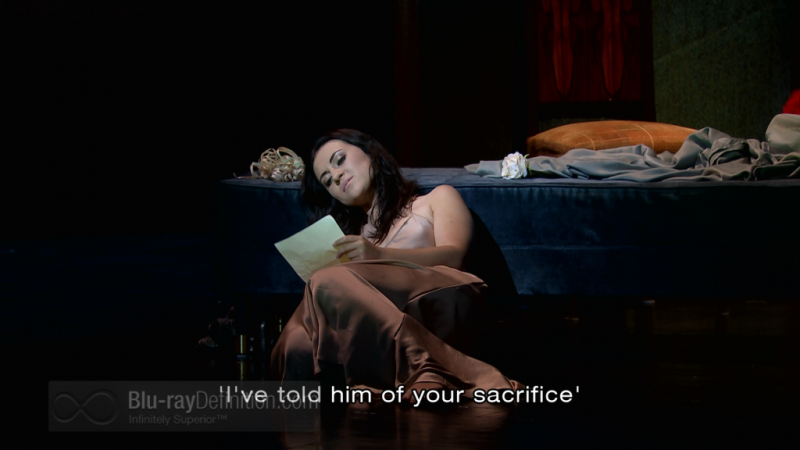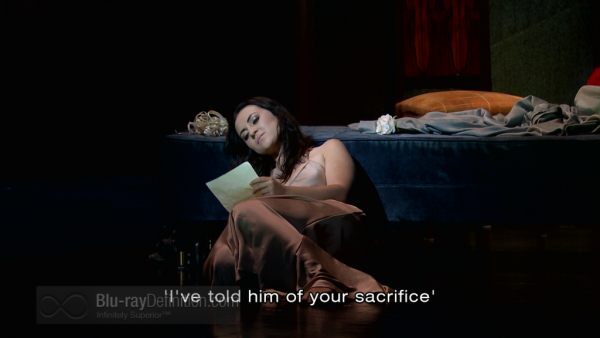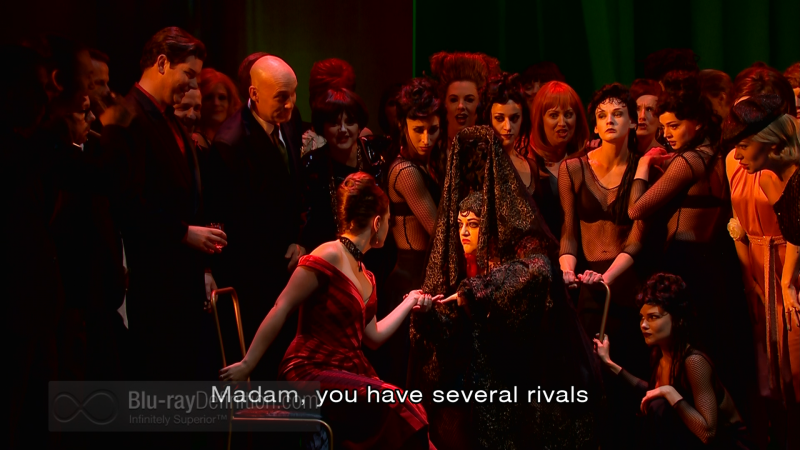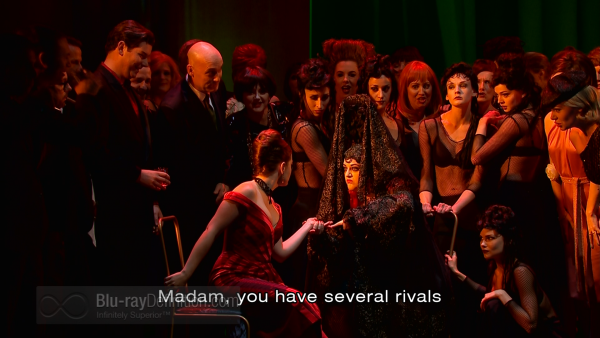 //
<A HREF="https://ws-na.amazon-adsystem.com/widgets/q?rt=ss_mfw&ServiceVersion=20070822&MarketPlace=US&ID=V20070822%2FUS%2Fbluraydefin07-20%2F8001%2F4200b768-1697-40bd-8b25-002ed1a8d3da&Operation=NoScript">Amazon.com Widgets</A>//
<A HREF="https://ws-eu.amazon-adsystem.com/widgets/q?rt=ss_mfw&ServiceVersion=20070822&MarketPlace=GB&ID=V20070822%2FGB%2Fbluraydefinit-21%2F8001%2F1830c6ff-02de-49a5-befb-00a7019bea8c&Operation=NoScript">Amazon.co.uk Widgets</A>