Unless we are the victims of the most elaborate and expensive practical joke ever perpetrated by a major Hollywood studio, a new Star Wars movie is opening this month. Director/co-writer J.J. Abrams has reunited members of the original cast and crew for The Force Awakens, which takes place after the events of Return of the Jedi, and in that same spirit I present to you these mostly-classic Star Wars-themed gift ideas for the literate technophile in your life.
Star Wars x MimoPowerBot and MimoPowerTube2 (Mimoco)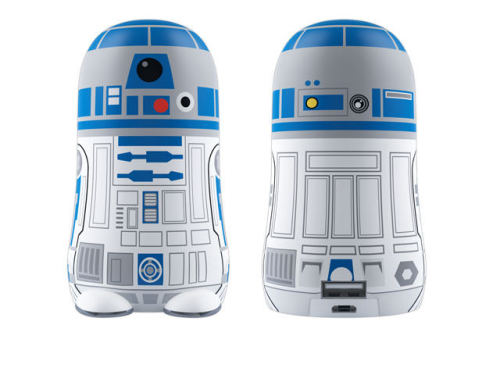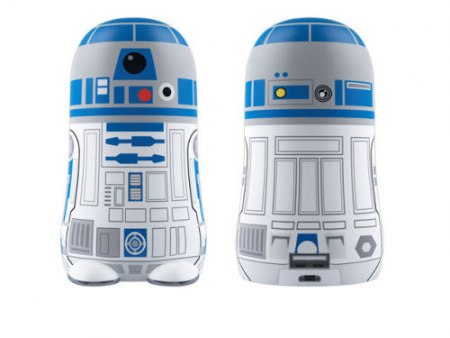 Life has taught me the painful lesson that sooner or later, we all need a portable backup battery for our stuff. A much happier lesson: I can and probably should choose one with a healthy dose of Star Wars. If I want to go small and light, there's the MimoPowerTube2 rechargeable lithium-ion battery, easily pocketable, yet with a 2600mAh capacity that's juicy enough to take a range of smartphones from zero to 100% charge, and maybe even a wee bit more. It's available in a variety of cool designs, including most-wanted characters like Boba Fett as well as clever renditions of iconic props such as Luke or Vader's lightsaber. It has a power button, a four-stage charge level indicator and a 1A output.
But sometimes you just need more power, and so there is the chubbier (but still adorable, palmable) MimoPowerBot, currently available in the guise of either R2-D2 or Darth Vader. The respectable 5200mAh capacity and 2.1A output make it plenty powerful to top off most phones more than once, or make a major contribution to even a hungry iPad's internal battery. The MimoPowerBot and MimoPowerTube2 are compatible with many (not all) iPhone/Android phones, tablets and other 5V devices, and both include a micro USB charging cable and an Apple Lightning adapter plus a welcome carrying pouch to keep it all together on the go.
Disney Infinity 3.0 Edition (Disney Interactive)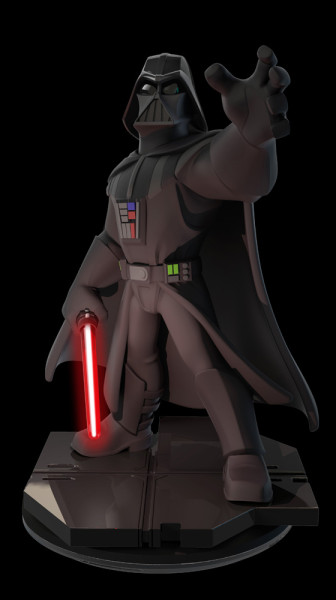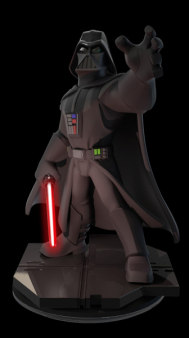 The popular Disney Infinity series goes beyond conventional videogames to incorporate actual, physical toys, distinctly styled figures created especially to work with the game. These are "action" figures in the truest sense: We begin with the Starter Pack, which includes the 3.0 game disc, a base that connects to our console (choose  PlayStation4, PS3, Xbox One, Xbox 360 or Wii U), and a couple of characters. Place one on the base and like Disney magic, his/her doppelganger appears inside the virtual world on our TV screen.
3.0 is a family-friendly game and so it is very easy to get going, especially to see what mischief you can perpetrate in the free-roaming "Toy Box" milieus, where mind-blowing interactions happen every day. Disney just happens to hold the rights to Mickey Mouse and friends, the Marvel Universe and now with the release of this edition, the Dark Side, the Jedi et. al. are entering the mix, so imagine the mayhem that might ensue when Donald Duck, the Hulk and Darth Vader cross paths! Figures and game-enhancing Power Discs from earlier editions of Disney Infinity will work with this backward-compatible software.
There are also specific story-driven play sets that put a new spin on favorite characters, locales, moments, combat, vehicles and more. Either way we play, clear the calendar because we're in for hours of ever-expanding fun.
Star Wars: The Original Topps Trading Card Series, Volume One by The Topps Company, Gary Gerani, and Robert Conte
Star Wars Frames: 100 Postcards by Lucasfilm Ltd. (Abrams)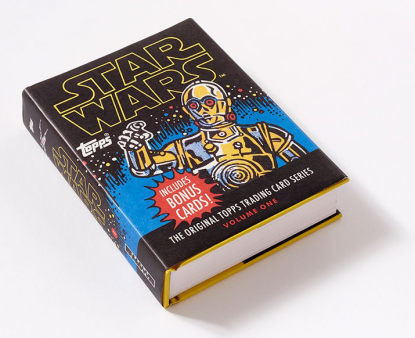 The five series of Topps Star Wars trading cards from the late '70s are like concentrated nostalgia: the wax wrappers, the brittle pink gum, a sticker in every pack, and all for only 15 cents. The front of every card–330 in all–is reproduced here larger than life, one per page in this hefty tome, roughly the height and width of a DVD keepcase. The backs are clearly scanned and reproduced as well, sometimes assembled into their respective puzzle configurations. The 55 stickers are also represented, along with the 16-card Wonder Bread set, reprinted here for the first time. The dust jacket lovingly recreates the original wrapper.
The photos are combined with trivia and expert insight about the evolution and history of these wildly popular cards, including the blush-inducing truth behind notorious card #207. There's even a little packet of exclusive new cards attached inside the back cover. For folks who have them, used to have them, or wish they had them, this lovingly compiled book is the next best thing.
For those of you unfamiliar with Star Wars Frames, this was an extremely limited, ludicrously expensive set of big hardcover books that collected specific still-frame images from the six different films, all personally selected by George Lucas himself over two years, then blown up and exquisitely printed, like a 24th of a second that we could savor indefinitely. A more affordable edition followed, and now it has evolved into this enjoyable, mailable sampler of oversized postcards (preserving the original aspect ratio) on durable stock. Image quality is excellent, revealing the inherent grain structure on some, while the "perfect" look of the increasingly digital prequels is apparent. The majority of photos have been culled from the Classic Trilogy, and the custom-designed box doubles as a display frame for our fave du jour.
Millennium Falcon Speaker
Chewbacca Speaker (iHome)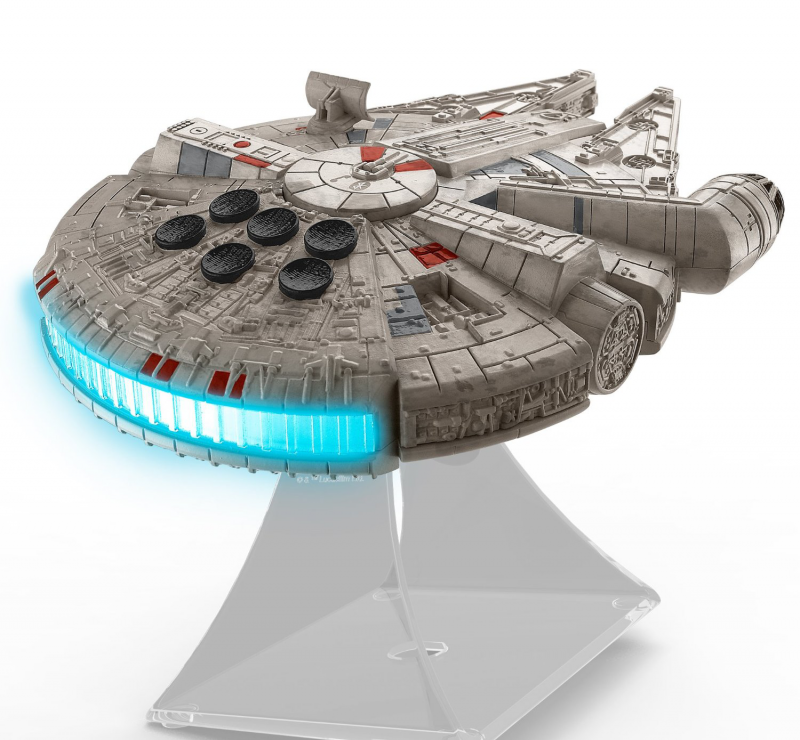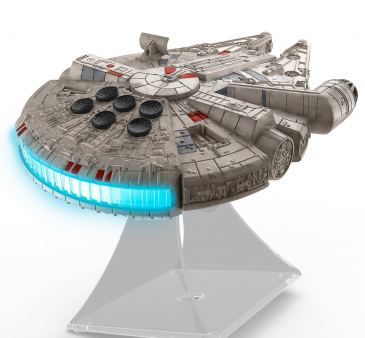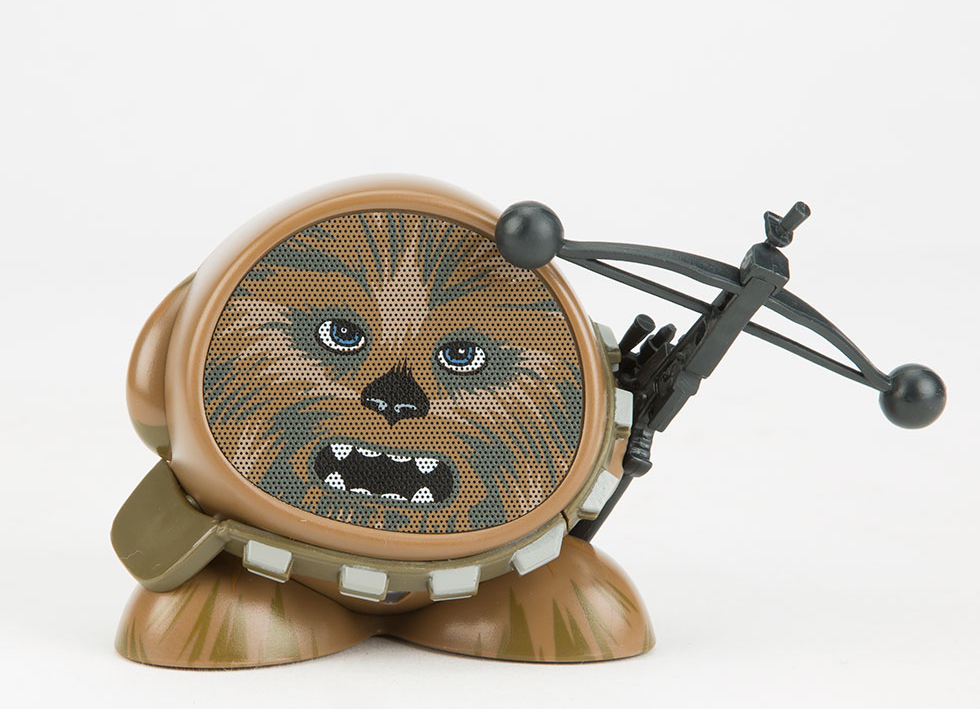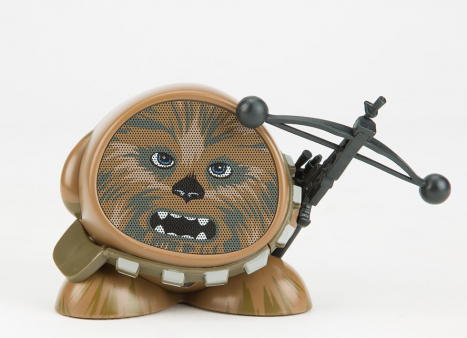 Well, why not a Star Wars Bluetooth speaker? At the top of the line sits Han Solo's well-travelled vessel, The Falcon, nicely detailed (it's the version from The Force Awakens) and aloft upon a clear stand. Bluetooth connection is standard, although an aux line-in-jack is supplied for those times when wireless isn't an option, and the engines glow blue when the speaker is in use. There isn't a hyperdrive but a rechargeable lithium-ion battery under the hood, with cable (no mynocks, please), to make it fully portable, like most spaceships. It plays surprisingly loud, and has the familiar Star Wars theme music built-in and playable at the touch of a gun turret, because sometimes there just aren't any good tunes on your phone. (Deal with it.)
Chewbacca here is even more portable, downright backpack-ready, also rechargeable via his included USB cable, and he too has a line-in port. The oversized feet keep him stable wherever he sits… which is wherever he wants, naturally. This compact alternative speaker is also available in the likeness of several different baddies with character-specific paint jobs and affixed accoutrements.