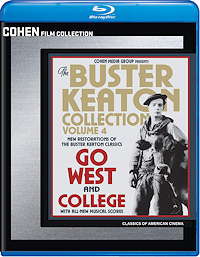 The Buster Keaton Collection: Volume 4 presents Go West and College. Buster Keaton stars in both. Go West has Keaton as "Friendless," a down and out young man who gets no respect in the big city of New York. He's without friends, prospects, or money. The world has sat on his head. He decides to hop on a train and venture out west to greener pastures.
Friendless ends up in Arizona on a cattle ranch and tries to befriend the hands and potentially become a cattle rancher himself. When he meets "Brown Eyes" (a cow) they both strike up a friendship. Friendless removes a rock underneath one of her hooves, so she is now his best friend and helps him along from steers, the ranch owner, and the other farmhands.
Friendless keeps on trucking and makes it to Los Angeles by train with Brown Eyes in tow. Once in town he sets her free along with the rest of the herd hijinks ensue all over the city as the herd of cattle cause panic throughout the busy streets. It's here that some wild stunt work is at play from Buster.
Buster Keaton returns to College as Ronald. He's a bookworm who emphasizes that books are better than athletics. He's attracted to Mary but she's attracted to athletes. In order to win her heart, he decides to try out for various athletic teams, failing at each one more spectacularly than the last one.
Go West and College are Buster Keaton at his best. Go West has a more epic scale since it's more of a bi-coastal picture taking place in several states. Go West goes for a more dramatic take on things, maybe due to the perilous journey Friendless has to take in order to make it to the West Coast. College is an almost complete "Angelino" film. You can even see that they filmed parts of it at the Los Angeles Coliseum. College is also more self-contained and has more comedic elements to it. The scene at the soda shop is one of my favorite scenes in the film!
Overall, The Buster Keaton Collection: Volume 4 with Go West and College is a winner!


The Video
The Buster Keaton Collection: Volume 4 of Go West and College are both presented in their original aspect ratios of 1.33:1. At the beginning of each movie there is a disclaimer and summary of where the prints for each film were sourced from. Cohen Media Group have taken the very best elements and polished both films from 4K scans. Both films look terrific on Blu-ray. Being scanned from 4K sources really elevate the material and the visual elements can be breathtaking at times, while retaining its artistic integrity. These are gorgeous presentations.
The Audio
The Buster Keaton Collection: Volume 4 of Go West and College are both presented in DTS 2.0. Go West and College are silent films that feature dynamic musical scores. The DTS soundtracks really bring out the warmth in these scores without feeling unnecessarily bombastic. They're subtle and dynamic, without sounding exaggerated or frenetic. The latter is left to Buster Keaton.
The Supplements
The Buster Keaton Collection: Volume 4 has a couple of special features on the Blu-ray. The first is the Go West short film, with the characters portrayed by monkeys, directed by Hal Roach. Another special feature is that of a Buster Keaton audio recording of him pitching a project on TV's Wagon Train. The extras are rounded out by new restoration trailers of the films.
Go West (1923 Hal Roach Short)
Buster Keaton: Screenwriter (audio)
New Restoration Trailers
The Final Assessment
The Buster Keaton Collection: Volume 4 featuring Go West and College is a great addition to the silent film/Buster Keaton enthusiast. They look great, remastered from a 4K source, and the musical scores sound terrific in DTS 2.0. The Buster Keaton Collection: Volume 4 is highly recommended!
---
If you found this review useful please consider clicking the button below and donating to help keep TheaterByte funded and to allow us to continue posting great content.
---
The Buster Keaton Collection: Volume 4 is out on Blu-ray now from The Cohen Film Collection

---
Rating Certificate: Not Rated
Studios & Distributors: Cohen Media Group
Director: Buster Keaton, James W. Horne
Written By: Buster Keaton | Lex Neal | Raymond Cannon | Carl Harbaugh | Bryan Foy
Run Time: 149 Mins.
Street Date: 8 December 2020
Aspect Ratio: 1.33:1
Video Format: AVC 1080p
Primary Audio: English DTS-HD MA 2.0
Subtitles: English Intertitles