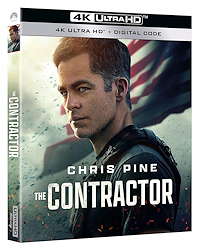 In The Contractor Chris Pine stars as a Special Forces sergeant named James Harper who, because of a dirty drug test thanks to a very bad knee, is honorable discharged from the military but stripped of all his benefits. With a wife and child to support and bills mounting, James takes a job with an elite military private contracting firm. A covert mission takes him to Germany to recover a laptop from a supposedly Islamic fundamentalist scientist working at a research lab. On his team are his former commanding officer Mike (Ben Foster). The mission goes terribly wrong when the German police show up and James' team are forced to fire on them and go on the run. Now, injured and on his own, Mike off with the laptop supposedly to contact the connection it is supposed to be handed off to, James finds himself being hunted, betrayed by the company owner, a grizzled veteran (Kiefer Sutherland). As he goes on the run and tries to investigate what's going on, James uncovers the truth behind the mission, which is far different from what he was led to believe.
The Contractor could have been an engaging thriller given the director (Tarik Saleh, Ray Donovan, Westworld) and the cast, which also includes Gillian Jacobs as Chris Pine's wife. The problem is there is not much character development, the story gets stagnant very quickly and there are plenty of plot holes – at one point James makes the idiotic decision to head to a "safehouse" provided to him by a former Marine that just tried to kill him. You can pretty much figure out how that turns out.
Saleh does give the film a slick look and Pine and Foster try as hard as they can to elevate this film to a Jason Bourne-level quality thriller, but it never achieves those heights, and some of the twists and scenarios are even too unbelievable for a turn-your-brain-off popcorn film.
The Video
The Contractor arrives in a 2.35:1 HEVC 2160p (4K UHD) HDR10 encodement from Paramount. It is almost flawless, with only the slightest hint of some murkiness in the darker scenes, but that is likely artistic intent. This is not a film that leaps from the screen given the mostly muted palette of cool greys, blacks, cold fluorescent and LED lights and dark nighttime scenes set in tunnels and hideouts. It all looks great, however, with nuanced shadows and no issues with crush. Textures on clothing and flesh come through very well.
The Audio
This 4K Ultra HD release of The Contractor comes with what is unusual for home video releases these days: an English DTS-HD Master Audio 7.1 mix. No Atmos or DTS:X here. That said, this is a superb lossless mix that is subtle and balanced, bombastic and dynamic, with plenty of little sounds mixed through the surrounds, deep low end and clear dialogue. The overhead or height channels are not missed.
The Supplements
The only extra included with this release is the digital copy code.
The Final Assessment
The Contractor looks and sounds great on this 4K disc from Paramount but given just how forgettable of a film it is and the lack of bonus features, this one may not be worth owning a hard copy of.
The Contractor is out on 4K Ultra HD + Digital June 7, 2022 from Paramount

---
Rating Certificate: R (for violence and language)
Studios & Distributors: 30WEST | Icon Films | Paramount Pictures | Paramount Home Entertainment
Director: Tarik Saleh
Written By: J.P. Davis
Run Time: 103 Mins.
Street Date: 7 June 2022
Aspect Ratio: 2.35:1
Video Format: HEVC 2160p (4K UHD)
HDR Format: HDR10
HDR10 Metadata:

MaxLL: 1000 nits
MaxFALL: 113 nits

Primary Audio: English DTS-HD MA 7.1
Secondary Audio: English Audio Descriptive
Subtitles: English | English SDH | Spanish