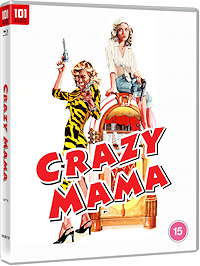 In Jonathan Demme's second outing for producer Roger Corman he veered away from the women-in-prison sleaze of Caged Heat for the more mainstream hijinks of Crazy Mama.
Starring Academy Award winner Cloris Leachman as Melba Stokes, a beauty salon owner in 1950s California, the story follows Melba, her mother Sheba (Ann Sothern) and her teenage daughter Cheryl (Linda Purl) and their male companions who hit the road, after Melba's salon is foreclosed, for a chaotic road trip to Arkansas to reclaim the Stokes family land which was stolen from them by corrupt bankers in the 1930s. The road trip veers off into a crime spree including armed robbery, bigamy, and high-speed car chases.
There's plenty to like in this kinetic take from Demme on the crime spree road trip comedy. This B-movie makes more use of its budget than most B-movies thanks to its well-used cast. Leachman grabs the reins of her character Melba Stokes and really throws herself into her Southern, violent, and a little bit crazy character while Sothern is just perfect as the bitter widow and matriarch with lots of funny lines. Demme dives right into the characters of this film rather than sticking to the paint-by-numbers B-movie gags, which is what really brings this movie alive. This is like Raising Arizona long before the Coen's hit the scene.
The film also stars Donny Most (Happy Days), Jim Backus, and Stuart Whitman.
The Video
Compared to the companion film Caged Heat being released alongside this one by 101 Films, Crazy Mama oddly enough does not look quite as good in this 1.85:1 AVC 1080p encodement on Blu-ray. There are many more scenes with lots of softness and visible source damage like dirt and scratches in this transfer, but then there are plenty of scenes where the picture looks good, organic, with rich details. Generally, the colors look fine, however, with natural flesh tones and good vibrancy in the primaries.
The Audio
The original mono audio is supplied in LPCM 2.0 and it is clean with a punchy mid range while the 1950s rock and roll soundtrack comes across nicely as well.
The Supplements
The interview and commentary with Demme and Corman are welcome inclusions even if the commentary with these two is one of the most unenergetic audio commentaries to which I have ever listened.
Commentary with Jonathan Demme and Roger Corman
Interview with Jonathan Demme and Roger Corman (1080i/60; 00:14:51)
Theatrical Trailer (1080p)
TV Spots (1080i/60)
The Final Assessment
A truly funny, whacky, and fun "B-movie" from Jonathan Demme's pre-Hollywood days, Crazy Mama gets a nice Blu-ray release for the first time in the UK from 101 Films.
Crazy Mama is out on Blu-ray in the UK 13 June 2022 from 101 Films
---
Rating Certificate: UK:15
Studios & Distributors: New World Pictures | 101 Films
Director: Jonathan Demme
Written By: Robert Thom (screenplay) | Frances Doel (story)
Run Time: 80 Mins.
Street Date: 13 June 2022
Aspect Ratio: 1.85:1
Video Format: AVC 1080p
Primary Audio: English LPCM 2.0 Mono
Subtitles: English SDH