2.40:1

Video Codec: AVC/MPEG-4
Audio Codec: English DTS-HD Master Audio 5.1, French & Spanish Dolby Digital 5.1

Region: A

Discs: 2
Studio: Paramount/Criterion
Release Date: May 5th, 2009
List Price: $39.99
[amazon-product align="right"]B001U0HBQ0[/amazon-product]
Purchase from CD Universe

Overall

The Film

Video Quality

Audio Quality

Supplemental Materials

Click thumbnails for high-resolution 1920X1080p screen captures
More screen captures (19 Total)

(Screen captures are lightly compressed with lossy JPEG and thus are meant as a general representation of the content and do not fully reveal the capabilities of the Blu-ray format)
The Film

Many accolades have been lavished upon The Curious Case of Benjamin Button, so much so that it is probably unnecessary to go over them again in the course of this Blu-ray review. It tied the record for number of Academy Award nominations without winning the Best Picture category, and Brad Pitt and Taraji P. Henson were nominated for Best Actor and Best Supporting Actress respectively. David Fincher, deservedly so, got a nod for Best Director, and the list goes on and on. In all, Benjamin Button was handed 66 Academy Award nominations, but took home only 3, in Art, Makeup and Visual Effects.
With all of the critical praise thrust upon this F. Scott Fitzgerald adaptation, starring Hollywood golden boy Brad Pitt as Benjamin Button and the dazzling beauty Cate Blanchett, one might find it surprising that it would only manage 3 statuettes in relatively minor categories, that is unless you fall into the group of people who find The Curious Case of Benjamin Button to be a good, but no more than safe Hollywood big-budget film.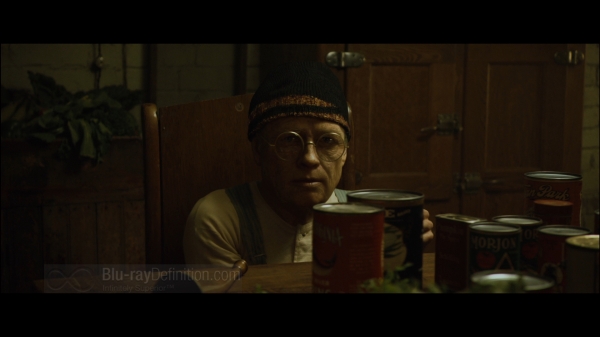 Director David Fincher, who takes a big leap from his days directing films such as Se7ven, Panic Room, and Fight Club, shows a surprisingly sensitive touch, maturity, and mastery of digital filmmaking technique as he helms Eric Roth's liberal reworking of F. Scott Fitzgerald's short story from his Tales of the Jazz Age collection. Roth, taking Fitzgerald's brief short and turning it into a study of love and loss, retreads territory he visited with Forest Gump, only now it is more contemplative and reverses the aging process in accordance with Fitzgerald's theme.
The entire story has been changed, and so have the characters, other than the eponymous Button.  In keeping with the screenplay's undercurrents of loss, longing, death and unrequited love, Eric Roth has chosen to name Benjamin's life-long love interest, Daisy, from the character Daisy Buchanan in The Great Gatsby, and another important character in the film is named Caroline, from the Fitzgerald short story "The Bridal Party." These points all seem to go missed by the many heralding the stronger similarities of this film to the works of Jorge Luis Borges, than the originator of the source himself.
The film is told  through the eyes of Benjamin Button as his true love Daisy (at this point played by Cate Blanchett) lay on her deathbed, and has her daughter reading Benjamin's diary aloud to her. As Hurricane Katrina threatens to make landfall on New Orleans, Button's story of being born an elderly infant unfolds, growing up as an old man, and aging backwards. He sees the world from a different perspective than anyone else. His mother died in childbirth and his father abandoned him to a black woman named Queenie (Taraji P. Henson) who raised him as her own son in a home for the elderly.
Fincher and Roth's film seeks to be an examination of time; the little moments that make up a life and the experiences that define us all. The realization that we are all heading towards death, whether we are moving forwards or backwards defines The Curious Case of Benjamin Button, but still it falls short of its ambitions and becomes nothing more than a nearly 3-hour love story spanning the decades. Our protagonists meet when one is very young, one is very old, until eventually they "meet in the middle," as one line from the film goes, but what we are left with is a grand gesture of marvelous visualizations, one of Brad Pitt's greatest performances as an actor and a quaint film where viewers never get the sense that Button has really learned anything from his unique role in the world. It's long, it's sweet, and it's painful, but is it great? I cannot say that it is, but it's still worth watching.
Video Quality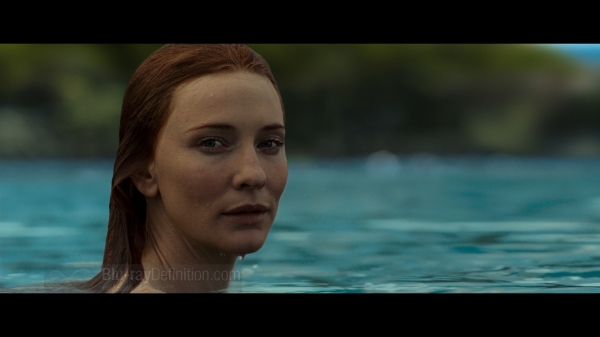 Apart from a few sequences captured on 35mm film, The Curious Case of Benjamin Button was shot and edited entirely in the digital realm, using Viper FilmStream and Sony F23 digital cameras, with color correction performed on the FilmLight Baselight System. It was never at any time converted to film, and it has been transferred directly from its Digital Intermediate for this Blu-ray disc encoding in a 1080p/24 AVC/MPEG-4 encoding.
Benjamin Button looks every bit as good as one would expect a "film" shot entirely in the digital realm to look — even better, actually. It is quite evident by looking at this wonderful transfer from Criterion that digital film production has come a long way. The resolution and smoothness of the Viper and Sony digital high definition cameras with their native 1920X1080p 24Fps in the 4:4:4 color space is readily apparent, even in Blu-ray's  downsampled 4:2:2 SMPTE color space.  Blacks are inky, clean, and stable with fine shadow delineation. Contrast is perfect, and the often-subdued colors are vibrant when need be and natural and warm at other times. The transfer is clean, with no video noise or compression artifacts, but I did notice three dead pixels that I can only assume were somewhere in the original source since they transferred over to all of the screen captures as well. Other than that, this is one of the best looking encodings I have seen in a long time.
Audio Quality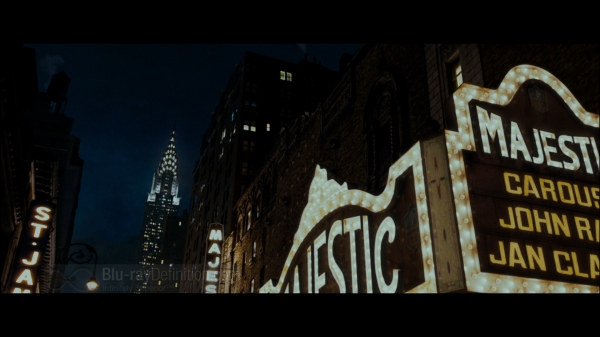 Like its video quality, this Blu-ray edition of Benjamin Button comes with reference quality lossless audio in the form of a DTS-HD Master Audio 5.1 mix. Although much of the film is dialogue driven, there are ample amounts of discrete atmospheric sound effects that fill up the surround channels. When necessary, the low frequencies really deliver authoritative resonance, such as during Chapter 7, "Off to War," as Benjamin's tugboat sees battle in World War II. Dialogue, as one would expect, is clean, full, and intelligible in the mix. The beautiful score by Alexandre Desplat sounds smooth, expansive and dynamic, delicately balanced amongst the sound effects and dialogue in this wonderfully done mix.
There are also French and Spanish Dolby Digital 5.1 dubbed mixes available.
Supplemental Materials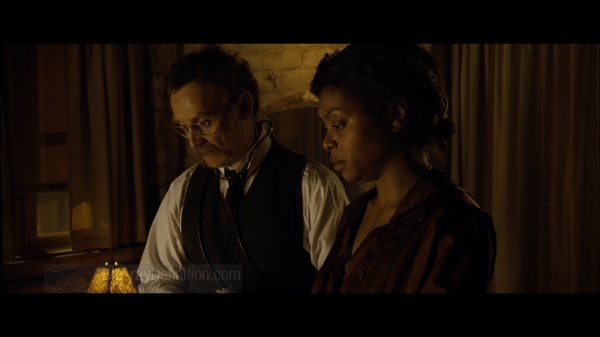 The majority of the supplements for The Curious Case of Benjamin Button are reserved for Disc 2 of this two-disc Blu-ray set, but Disc 1 does provide an audio commentary by director David Fincher that contains much of the same information that can be gleaned from the splendidly in-depth "Making of" featurette on Disc 2.
The supplements available on this release are:
Disc 1:
Audio Commentary with director David Fincher
Disc 2:
The Curious Birth of Benjamin Button (1080i/60) — This detailed "making of" documentary is indexed into selectable segments and tells the long tale of how this much-lauded film finally came to be made through interviews with the writers, producers, and actors.
Trailers (2.40:1; 1080p/24):
Stills Galleries (1080p/24):

Storyboards
Art Direction
Costumes
Production Stills
The Definitive Word
Overall: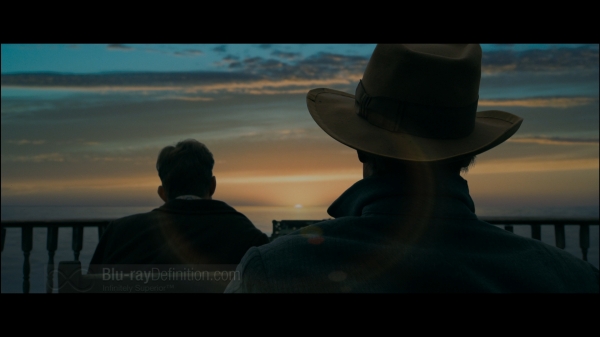 The Curious Case of Benjamin Button definitely falls into the category of being a curiously overrated, yet tastefully done film. Director David Fincher displays some of his finest, most mature direction to date and Brad Pitt has never displayed finer acting abilities. Still, be prepared for the film to fall a little short of the expectations set by the overwhelming critical acclaim and award nominations. Thankfully, however, this Blu-ray Disc release from Criterion lives up to all the expectations of a Criterion release, with a pristine video transfer and excellent lossless soundtrack.