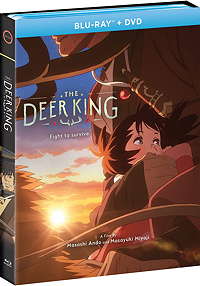 The Deer King is the anime feature film adaptation based on the Japanese fantasy novel series written by Uehashi Nahoko. The story is set in a fictional world after a brutal war where the Empire of Zol has gained control over all of the land and the people of Aquafa. Only small territory called the Fire Horse Territory is still controlled by Aquafa. This territory was once ravaged by a deadly disease known as Black Wolf Fever carried by wild dogs, but one powerful prisoner, Van, a former soldier enslaved in the mines, survives an attack of the dogs when they run through the mines. He escapes with a young girl named Yuna. Both are bitten but both manage to survive, and they have the officials of Zol on their trail. With the disease once again on the rise and a gifted physician looking for a cure, Van and Yuna find themselves at the center of something much larger than their previously small worlds.
The Deer King is a beautifully animated fantasy that bursts with gorgeous artwork and visual effects. It feels like a Mamoru Hasoda film crashed into a Hayao Miyazaki film and the result was this at times slow-burn fantasy that is equally character driven as it is a film that likes to dwell in the realm of the impossible of spirit wolves and superhuman strength. Van is an imposing character with a heart of gold and his obvious care for the tiny Yuna is what makes the film sing while the animation keeps your eyes glued to the film's beauty. The screenplay has a tendency to bog down and become a bit convoluted, but overall, this is heartwarming cinema.
The Video
The digital animation for The Deer King is presented in a 1.78:1 AVC 1080p encodement and it looks gorgeous. There are no issues to complain about with this presentation. It has extended depth and three-dimensionality in the animation, crisp detail around the line art without aliasing and clean color films.
The Audio
The original Japanese-language track and English dub are provided in DTS-HD Master Audio 5.1. Both mixes sound very much alike with little difference in tonality in the dialogue. There is lush ambience in the surround channels as well as solid surround effects such as rainfall. These are engaging and enjoyable mixes.
The Supplements
The interviews with the English cast and crew, and co-director Ando are enjoyable and informative.
Bringing the English Dub to Life (1080p; 00:13:56)
Interview with Director Masashi Ando (1080p; 00:17:42)
Introduction from Masashi Ando (1080p; 00:02:01)
Design Gallery (1080p)
Trailers (1080p; 00:05:13)
The Final Assessment
Journey into the fantasy world of The Deer King with this reference Blu-ray release from GKIDS and Shout! Factory and you will not regret it. This is one of the most enjoyable animated fantasies of the year.
The Deer King is out on Blu-ray Combo October 18, 2022 from GKIDS & Shout! Factory
---
Rating Certificate: R (For Some Violence)
Animation Studio: Production I.G
Distributors: GKIDS | Shout! Factory
Directors: Ando Masashi | Miyaji Masayuki
Written By: Kishimoto Taku
Run Time: 113 Mins.
Street Date: 18 October 2022
Aspect Ratio: 1.78:1
Video Format: AVC 1080p
Primary Audio: Japanese DTS-HD MA 5.1
Secondary Audio: English DTS-HD MA 5.1
Subtitles: English SDH | English for Original Language Version | Spanish for Original Language Version