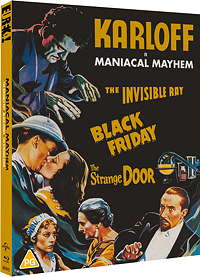 Eureka Classics has brought together three more Boris Karloff films from the Universal catalogue in this three-disc collection they have named Maniacal Mayhem. While nothing here may be as instantly recognizable to casual fans such as films like The Mummy or The Bride of Frankenstein, there is plenty here to dive into and keep one entertained.
The set starts off with the sci-fi thriller The Invisible Ray (dir. Lambert Hillyer, 1936), which also feature Béla Lugosi. Karloff plays scientist Dr. Janos Rukh who is exposed to a mysterious element that causes him to obtain a bioluminescent glow. It also turns him into a murderous maniac who tries to kill all his professional rivals.
The second film in the collection is Black Friday (dir. Arthur Lubin, 1940), which also features Béla Lugosi. In this one, Karloff is Dr. Sovac, an unscrupulous brain surgeon who, in an effort to save the life of his friend, transplants part of a gangster's brain into his dying friend. The transplant is only partially successful due to his friend now having a split personality, which causes him to go after and murder the gangster's former criminal associates.
Last but not least, the collection ends with The Strange Door (dir. Joseph Pevney, 1951), which features the inimitable Charles Laughton as the sadistic Sire Alain de Maletroit who has kept his own brother locked up in a dungeon for twenty years and is now trying to ruin the life of his niece, forcing her into a marriage with a violent rapscallion he picks up from a local pub. Boris Karloff plays an abused servant that surprisingly comes to her aid.
The standout film in the three-film collection is The Strange Door, with Laughton's tasty performance as the evil and vindictive Maletroit, outdoing Karloff even as this collection is obviously meant to feature Karloff. Karloff shines most in The Invisible Ray but is in fantastic form in every film.
The Video
All three films in this two-disc set are from 2K scans of the original film elements and presented in 1.37:1 AVC 1080p black and white encodements on Blu-ray. Each film looks to have a natural layer of grain although there is film softness and some trailing off of detail in backgrounds. The dynamic range is good, however, and they all seem clean and mostly free from scratches and sparkle. The Strange Door seems to have the best look overall of the three films, maybe because it sits alone or maybe it just had the best elements, but the image is pretty much consistent across all three.
The Audio
Each film comes with a LPCM 2.0 mono audio mix. The sound for these three films will not knock anyone's socks off but given the vintage and methods for recording at the time, they are more than adequate, sound relatively clean, and provide intelligible dialogue.
The Supplements
Eureka includes audio commentaries for each film and each is interesting but my personal bias are for the ones with Kim Newman who is always not only knowledgeable but always amusing.
Limited-Edition O-card Slipcase & Collector's Booklet (First Print Run of 2000 copies only)
Limited Edition Collector's Booklet featuring new writing on all three films by film writers Andrew Graves, Rich Johnson, and Craig Ian Mann
Disc 1:
The Invisible Ray:
Audio Commentary with Stephen Jones & Kim Newman
Trailer
Stills Gallery (1080p):

Production Stills
Artwork and Ephemera
Black Friday:
Audio Commentary with Kevin Lyons & Jonathan Rigby
Stills Gallery (1080p):

Production Stills
Artwork and Ephemera
Disc 2:
The Strange Door:
Audio Commentary with Stephen Jones & Kim Newman
Radio Adaptations:

"The Sire de Maletroits Door": Escape — Orig. Aired 4th Aug, 1947 (1080p; 00:29:27)
"The Sire de Maletroits Door": Theater Royal — Orig. Aired 1st Nov, 1953 (1080p; 00:29:18)
"The Sire de Maletroits Door": CBS Radio Mystery Theatre – First Aired 6th Feb, 1975 (1080p; 00:45:22)

Stills Gallery (1080p):

Production Stills
Artwork and Ephemera
The Final Assessment
Another magnificent collection of Karloff films from the Eureka Classics label making its debut during the spooky season. Not only is Karloff fantastic, but we also get brilliant performances from Béla Lugosi and Charles Laughton. Highly recommended.
Maniacal Mayhem (Three Films Staring Boris Karloff) is out in the UK 17 October 2022 on Blu-ray from Eureka Entertainment
---
Rating Certificate: UK-PG
Studios & Distributors: Universal Pictures | Eureka Entertainment
Director: Lambert Hillyer | Arthur Lubin | Joseph Pevney
Run Time: 230 Mins.
Street Date: 17 October 2022
Aspect Ratio: 1.37:1
Video Format: AVC 1080p
Primary Audio: English LPCM 2.0 Mono
Subtitles: English SDH