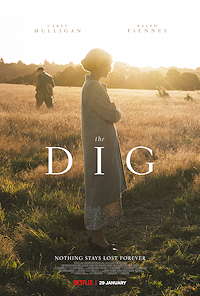 This tersely titled historical drama is based on John Preston's semi-fictional account of the most significant archaeological find ever discovered in England. It opens in 1939 as World War II is just around the corner. Wealthy widow Edith Pretty (Carey Mulligan) hires self-styled archaeologist/excavator Basil Brown (Ralph Fiennes) to unearth whatever is hidden in two large mounds sitting on her estate in Sutton Hoo. Brown believes these mounds might contain Anglo-Saxon artifacts making them much older than any of the previously excavated Viking sites. He gets much-needed help from the estate's employees and, after moving into the Pretty manor, he becomes better acquainted with Edith and her precocious son, Robert (Archie Barnes).
Brown finds iron rivets in the trench that he has dug that were used in the construction of very old ships. He now suspects that the mound could be the grave site of a very important person from the distant past. Edith hires her cousin Rory Lomax (Johnny Flynn) to help with the dig but when noted  archaeologist Charles Phillips (Ken Stott) gets wind of Brown's findings that now include an intact ship, he takes over the project.  Phillips brings in a team that includes Peggy Piggott (Lily James) who finds the first identifiable Anglo-Saxon artifact. After Brown uncovers a gold coin and numerous other golden artifacts, Phllips wants to send all of the site's valuable findings to the British Museum. However the ongoing air raids in London worry Edith and, since she is deemed the rightful owner of the mound's contents, this valuable collection will remain in her large rural home. As her health declines, Edith finally agrees to donate the Sutton Hoo treasure to the British Museum, but, sadly, Brown is initially denied the credit that he deserves after the considerable work that he had put into the project.
The Dig is another of the historical dramas for which the Brits are justifiably renowned. Screenwriter Moira Buffini creates a masterful adaptation of Preston's novel. She manages deftly to weave in several subplots like Peggy's neglect by husband Stuart (Ben Chaplin), her brief affair with Rory, Brown's neglect of wife May (Monica Dolin), and Edith's deteriorating health while never distracting viewers from the primary storyline. Relative newcomer director Simon Stone keeps the pace clipping along, quite an achievement for a film with relatively limited action except for Rory's watery rescue of a downed pilot and Brown's near-death encounter in the trench. Carey Mulligan's make-up crew deserves praise for transforming this 35-year-old into a believable 60-something dowager. The chemistry between her and the always dependable Fiennes is obvious while the smaller roles assigned to Lily James, Johnny Flynn and Ken Stott get spot-on performances. The device of the increasing numbers of fighter planes flyovers to suggest the gathering storm of WW II definitely worked for me. Veteran cinematographer Mike Eley always gets his cameras to work wonders, as the Surrey landscape is used to splendid effect to modulate the moods of this mostly outdoors drama. The Dig is one of the best films that I have seen recently and it will certainly give its audiences two hours of much needed escapism.  Highly recommended.
---
If you found this review useful please consider clicking the button below and donating to help keep TheaterByte funded and to allow us to continue posting great content.
---
The Dig is streaming now on Netflix
---
Rating Certificate: PG-13 (for brief sensuality and partial nudity)
Studios & Distributors: Netflix | Magnolia Mae Films | Clerkenwell Films
Country: UK
Language: English
Run Time: 112 Mins.
Aspect Ratio: 1.85:1
Director: Simon Stone
Written By: Moira Buffini
Release Date: 29 January 2021