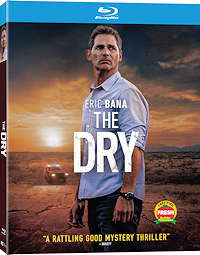 The Dry is an Australian crime/mystery/drama based on a novel by Australian writer Jane Harper.  Set in Kiewarra, Victoria, Federal Agent Aaron Falk (Eric Bana) returns to his hometown after twenty-years away to attend the funeral of a friend, Luke, who allegedly went mad after ten-years of drought and killed his wife and children before killing himself. But Aaron's return to the town stirs up many peccadilloes from his past not least of which is the death of his high school girlfriend Ellie (BeBe Bettencourt) who drowned in the local lake leaving Aaron one of the prime suspects. As Falk stays to help investigate the case involving Luke, he can't help but open those old wounds involving Ellie and begin secretly investigating her death again.
Director Robert Connolly, who has done most of his work on television, shows great aptitude for this material delivering what is an engrossing, slow-burn, character-driven mystery set against the harsh desert landscape captured so beautifully by the cinematography of Stefan Duscio. There are lingering shots across the dry grasslands and deep focus shots of the landscape.
Place into this scene the tempered performances of Eric Bana and the supporting actors like Genevieve O'Reilly as Gretchen, Falk's old friend and now potential love interest and Keir O'Donnell as Raco, the town's only law officer who is both in awe of Falk and overwhelmed by his first major case. The cast help provide a riveting mystery and drama.

The Video
The Dry was shot on the Panavision Millennium DXL2 with Panavision Primo Artiste and C-Series lenses in Redcode RAW 8K and utilized a 2K digital intermediate in the mastering. It comes to Blu-ray with a 2.40:1 AVC 1080p encodement. This is very filmic looking image despite being shot digitally in 8K and that is thanks to some excellent post-production effects that add some 35mm 'grain' throughout, especially in the flashback scenes that take on a 16mm film grain appearance. There were one or two places with some very mild banding in the flat background or skies, but mostly this transfer looked clean and had a lot of detail, was very appealing to the eye, and one could see minute details such as the individual blades of dry grass or pores on skin.
The Audio
The atmospheric, understated English DTS-HD Master Audio 5.1 audio mix gets the job done well, with clean and full dialogue, delicate atmospherics such as breezes, and the moody score.
The Supplements
These brief but interesting featurettes mostly feature interviews with author of the original source novel Jane Harper.
Homecoming (1080p; 00:03:36)
Page to Screen (1080p; 00:04:27)
Jane Harper's Day on Set (1080p; 00:02:32)
Working with Two Timelines (1080p; 00:03:34)
Falk and Gretchen (1080p; 00:01:55)
Filming in the Wimmera Region (1080p; 00:03:08)
The Final Assessment
A gorgeously filmed and riveting mystery drama that has flown under the radar. Grab this one up immediately.
The Dry is out on Bu-ray January 18, 2022 from RLJ Entertainment

---
Rating Certificate: R (for violence, and language throughout)
Studios & Distributors: Made Up Stories | Arenamedia | Cornerstone Films | Film Victoria | Media Super | Pick Up Truck Pictures | Screen Australia | IFC Films | RLJ Entertainment
Director: Robert Connolly
Written By: Harry Cripps (screenplay by) | Robert Connolly (screenplay by) | Jane Harper (based on the book by)
Run Time: 117 Mins.
Street Date: 19 January 2022
Aspect Ratio: 2.40:1
Video Format: AVC 1080p
Primary Audio: English DTS-HD MA 5.1
Subtitles: English SDH | Spanish