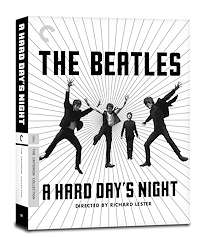 Two days in the life of The Beatles, that's the basic premise of the fun, comedic romp A Hard Day's Night, written by Alun Owen and directed by Richard Lester (How I Won the War; The Bed Sitting Room). Planned before Beatlemania was in full swing and released just as The Beatles had become a bona fide worldwide phenomenon, this quick-paced surrealist comedy that took cues from Lester's earlier film, The Running, Jumping and Standing Still Film, is often credited, deservedly so, for inventing the music video genre.
The "Can't Buy Me Love" sequence was innovative in the way it was edited in time to the music with many quick cuts, and the use of multiple cameras during the band's performances to focus in on them closely playing their instruments is a technique still in use today.
But that is not the extent of A Hard Day's Night. As with a large portion of Richard Lester's work, the film, thanks in big part to the brilliantly satiric screenplay from Alun Owen, poked fun at the stodgy upper class of British society as The Beatles wrought havoc on London whilst making their way to a gig at an unspecified television variety show. Full of cheeky quips and classic one-liners, A Hard Day's Night is not only the birth of MTV, but one of the pre-natal forms of Monty Python, this coming three years before Lester's more obvious Python precursor, The Bed Sitting Room.
All these many years later, it would be difficult not to see the film as a document of the era as well. A record of a more innocent time, before the free love, psychedelic Beatles would come to the fore and the 1960s would derail into an era of turmoil, perhaps foretold in the pent-up emotions of the screaming girls at those Beatles shows so skillfully reproduced in A Hard Day's Night.
A Hard Day's Night (1964)
The Video
A Hard Day's Night is presented in its original aspect ratio of 1.75:1. This new 4K digital restoration was created in Dolby Vision HDR from the 35mm original camera negative and two 35mm fine-grain master positives. The 4K Ultra HD Blu-ray is encoded in HEVC 2160p (4K UHD) with Dolby Vision HDR (HDR10 Compatible) and has a MaxLL of 850 nits and a MaxFALL of 191 nits. To date, of the first batch of Criterion 4K releases that have come out and that I have seen, which is all of them, this one is one of the best looking. It surpasses Citizen Kane in sheer definition and implication of the Dolby Vision HDR, as we can definitely see more contrast between the blacks and whites, more glow in lights and better shadow detail. It doesn't hurt that A Hard Day's Night is taken from better original sources than Kane, offering cleaner and crisper imagery all around. That said, it still is not the best of the black and white catalogue releases I have seen hit 4K. That distinction would have to go to either Anatomy of a Murder from Sony's Columbia Classics Volume 2 set or the StudioCanal release of The Elephant Man, currently out in the UK. Since Criterion has released the latter in the US on Blu-ray, perhaps we can hope they will reissue the 4K version, which is stunning.
The Audio
This 4K Ultra HD release is apparently using the 2014 remixes from Giles Martin. Extensive work, with the help and oversight of Richard Lester, went into creating new masters and mixes of the audio, songs, and underscore for A Hard Day's Night, from multiple sources, including The Beatles' original recordings on 2-track and 4-track, or in the case of "I Want to Hold Your Hand" mono tapes, fragments of surviving production stems and the print master which yielded much of the dialogue and effects material for the new 5.1 mix. Remixing and mastering work to combine various elements, many of which had different tonalities, was done in ProTools HD. The tapes for the Beatles' songs and Martin's underscore were transferred to digital at 192khz/24-bit for the remixing process. Giles Martin did a remix in 5.1 (available in DTS-HD Master Audio) and stereo (available in LPCM 2.0). The monaural mix is available in LPCM 2.0. The mixes all sound lively and truthful with spacious ambience during the musical performances and roaring crowds of crying girls, but the dialogue is also clean and intelligible.
The Supplements
As to be expected with Criterion, this release gets a lot of interview featurettes and a thick booklet with essay and interview segment plus detailed information on the transfer and remixes.
Audio commentary created from material produced by Martin Lewis in 2002 and features actors John Junkin, David Janson, and Jeremy Lloyd; cinematographer Gilbert Taylor; associate producer Denis O'Dell; second assistant director Barrie Melrose; and assistant editors Pamela Tomling and Roy Benson.
In Their Own Voices (1080p; 00:18:02) – During their 1964 American tour, the Beatles were often interviewed about A Hard Day's Night. This eighteen-minute piece, consisting of behind-the-scenes stills, footage from the making of the film, and audio recordings of The Beatles, offers their views on their first movie.
Anatomy of a Style (1080p; 00:17:07) – In this piece, story editor and screenwriter Bobbie O'Steen and music editor Suzana Peric deconstruct five of the revolutionary music sequences from A Hard Day's Night.
"You Can't Do That": The Making of "A Hard Day's Night" (1080i; 01:02:10) – This hour-long documentary from 1994, produced by Walter Shenson and hosted by musician Phil Collins, was made to mark the thirtieth anniversary of A Hard Day's Night and features an outtake performance.
Things They Said Today (1080i; 00:36:17) – This thirty-six-minute documentary, produced by Martin Lewis in 2002, features interviews with director Richard Lester, music producer George Martin, and other members of the film's cast and crew.
Richard Lester:

The Running Jumping & Standing Still Film (1080i; 00:11:10) – This film, directed by Richard Lester, was shot over two Sundays in 1959 for a cost of about seventy pounds. Nominated for an Oscar for best live-action short, it features Lester, Spike Milligan, Peter Sellers, Graham Stark, and Bruce Lacey.
Picturewise (1080i; 00:27:13) – This piece was written and produced by critic and filmmaker David Cairns for the Criterion Collection in 2014. Narrated by actor Rita Tushingham, it looks at the influences on and impact of the early work of director Richard Lester.

The Beatles: The Road to A Hard Day's Night (1080p; 00:27:43) – In this interview, conducted by the Criterion Collection in February 2014, Mark Lewisohn, author of The Beatles: All These Years, Volume 1—Tune In, discusses the Beatles' career up to A Hard Day's Night.
Trailers:

2000 Rerelease Trailer
2014 Rerelease Trailer

Booklet: Features an essay by critic Howard Hampton and excerpts from a 1970 interview with Lester, plus information on the transfer, production stills, behind-the-scenes photos, and more.
The Final Assessment
Fans of The Beatles, comedy fans, or anyone looking for a great looking black and white classic on 4K should grab this Criterion release up ASAP. This one has been done the right way under the supervision of Richard Lester.
A Hard Day's Night is out on 4K Ultra HD Combo January 18, 2022 from the Criterion Collection

---
Rating Certificate: G
Studios & Distributors: Walter Shenson Films | Proscenium Films | United Artists | The Criterion Collection
Director: Richard Lester
Written By: Alun Owen
Run Time: 87 Mins.
Street Date: 18 January 2022
Aspect Ratio: 1.75:1
Video Format: HEVC 2160p (4K UHD)
HDR Format: Dolby Vision (HDR10 Compatible)
Primary Audio: English DTS-HD MA 5.1
Secondary Audio: LPCM 2.0 Stereo | LPCM 2.0 Mono
Subtitles: English SDH