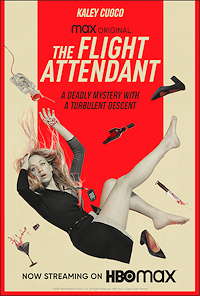 Kaley Cuoco became a television darling as the perky, likeable Penny Hofstadter during her twelve seasons on the smash hit show, The Big Bang Theory. In sharp contrast, The Flight Attendant, based on Chris Bohjalian's best-seller, Cuoco's title character, Cassandra "Cassie" Bowden, is a disturbed ditz with a serious drinking problem.
Cassie's frequent misadventures that populate the series' eight episodes are jump started during a routine flight to Bangkok when she cozies up to Passenger 3C, Alex Sokolov (Michel Huisman) a handsome hedge fund manager for his family's business, Unisphere. They have sex in the lavatory and later meet for dinner in Bangkok.  After a night of heavy drinking and sex, Cassie wakes up the next morning in Alex's lavish hotel room and finds him in bed, dead with his throat slit, apparently by a broken vodka bottle—Cassie's beverage of choice.  With her mind still addled—was she the killer?—Cassie commits a series of tactical errors that begin with her cleaning up the hotel room, and trying to avoid questioning by two FBI agents, Kim Hammond (Merle Dandridge) and Van White (Nolan Gerard Funk) on her return to the United States. Her best friend Annie Mouradian (Zosie Mamet) is an attorney and agrees to provide pro bono legal services for Cassie until the FBI investigation is over.
With frequent assistance from Alex's "spirit," Cassie begins to fill in the blanks of that fateful night. This leads her to the identity of the third person that was with them that night—Miranda Croft (Michelle Gomez), a switchblade-toting "fixer" for a private financial concern. Miranda is hot on Cassie's trail so she can find a large sum of money that Alex has taken from one of Unisphere's major clients. After Cassie returns from a Rome flight, she finds that someone has broken into her apartment and asks Annie to let her move in for a while. At the local bar, Cassie meets handsome Buckley Ware (Colin Woodell), and after a number of rounds and some serious sack time, she may have found someone to distract her from memories of the late Alex.
The Flight Attendant (2020- )
At Alex's memorial service, a call from Annie informs Cassie that the Sokolov family's real business is money laundering for some really dangerous people. Before Cassie leaves the Sokolov residence, she unwisely gathers up a bag of shredded documents from a home office that she and Annie's friend with benefits Max (Deniz Akdeniz) successfully reassemble. What the paperwork reveals will take Cassie on a wild and dangerous ride that temporarily pairs her with Miranda who is searching for the missing money. Both women are being pursued by "Felix," a hired killer who could be someone Cassie thought she knew,  but with her drinking problem, does she really get to know any new acquaintance well?
The dramatic devices of a drunk woman waking up with a dead man in her bed is certainly not novel, e.g., The Morning After, nor is that of a dead person interjecting him or herself into the lives of the living, e.g., Ghost. I did find the recurring appearances of the late Alex an unlikely trigger to generate the multiple flashbacks of how young Cassie developed her abuse of alcohol. The subplot of fellow flight attendant Megan Briscoe's (Rosie Perez) stealing defense secrets from her husband's work computer and then selling them to a North Korean agent becomes a totally needless distraction.  Another subplot, Cassie's relationship with her older brother Davey (T.R. Knight), told largely in flashbacks, left me wondering why, as an adult, he would still want to put up with her erratic behavior.
Kaley Cuoco has amassed a large and successful body of work on large and small screens.  She tries her best with Steve Yockey's awkward television adaptation but therein lies the problem for this show. Is The Flight Attendant a thriller, a comedy or a serious murder mystery? As the episodes unfolded, I was never quite sure about this. One thing that I was sure about was the improbability of someone drinking as much Cassie Bowden still being even slightly functional. While some viewers might go for oddball shows like this one, I found it to be a trying watch at best as my interest in finding out who killed Alex gradually waned.
---
If you found this review useful please consider clicking the button below and donating to help keep TheaterByte funded and to allow us to continue posting great content.
---
The Flight Attendant is streaming now in its entirety on HBO Max
---
Show Creator: Steve Yockey
Original Release Date: 18 November 2020
Streaming Service: HBO Max
Ep. Run Time: 42-48 Mins.
No. Eps.: 8
Studios & Distributors: Berlanti Productions | Yes | Normal Productions | Warner Bros. Television Studios | WarnerMedia Direct
Rating Certificate: TV-14