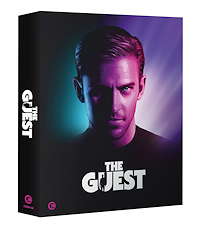 In the horror/thriller The Guest from director Adam Wingard and screenwriter Simon Barrett (You're Next), the Peterson family welcome returning soldier David Collins (Dan Stevens) into their home when he shows up on their doorstep unexpectedly one day claiming to be a friend of their son, a fallen soldier whose death he witnessed while on active duty. David says their son while on his deathbed asked him to come and look after them and make sure they were okay, and at first, he seems like an upstanding, polite soldier. The Peterson's daughter Anna (Maika Monroe) even begins to take romantic interest in David while her younger brother Luke (Brendan Meyer), a quiet, bullied kid, starts to look up to David after David teaches him how to be more assertive and beats up some of the guys from the high school football team that had been bullying him. But when a series of strange, seemingly connected deaths in the small town begin to occur, suspicion turns to David.
Saying any more about the plot at this point will give up too much and ruin the enjoyment. What occurs in The Guest, is a fun and visually enticing horror that, particularly in this newly color-coded version, is infused with the bright neon of 1980s colors. It has the edginess of a neon-noir thriller, the moodiness of a John Carpenter slasher, and the undercurrent of Wes Craven's dark humor. Dan Stevens is nearly perfect in the role as the gentleman psychopath with Maika Monroe providing an updated and stronger take on the 'final girl'.

The Video
The Guest comes to 4K Ultra HD with a HEVC 2160p (4K UHD) Dolby Vision HDR encodement. It has a MaxLL of 811 nits and MaxFALL of 467 nits. For this release, the film gets a brand-new color grading on both the 4K disc and included Blu-ray disc, supervised by director Adam Wingard. The new color grading is brought out wonderfully by the application of the Dolby Vision on the 4K disc, which gives a real 'pop' to the colors. This makes the film look, often, like a neon-noir with its blood reds and icy blue lighting. The overall texture of the image is amazingly natural given this was originally shot in 2K, so what we are getting here is an upscale to 4K anyway you look at it. Still, there is solid detail all around, lots of strong depth of field, and a natural look.
The Audio
The English DTS-HD Master Audio 5.1 mix presents the 1980s modern rock-style music with superb dynamic range and midrange punch. There are foley effects in the more active, shoot 'em up sequences placed into the surrounds, but they don't become overwhelming or fatiguing. Dialogue maintains a full, clean sound throughout the film.
The Supplements
Second Sight comes through again with a brilliant, must-have collectible limited edition 4K Ultra HD release. There is a slew of bonus features plus collectibles included in this set. See below.
Limited Edition Contents:
Limited Edition of 5,000 copies
Rigid slipcase with new artwork by Adam Stothard
Various artists soundtrack CD
160-page book with new essays by Tim Coleman, Zena Dixon, Craig Ian Mann, and Zoe Rose Smith; Script-to-Screen featuring storyboards and script extracts, Behind-the-scenes photos, and Adam Wingard soundtrack notes
6 collectors' art cards
—
2021 commentary by director Adam Wingard and writer Simon Barrett
Archival commentary by Adam Wingard and writer Simon Barrett
The Uninvited Guest: an interview with actor Dan Stevens (1080p; 00:19:40)
A Perfect Stranger: an interview with actor Maika Monroe (1080p; 00:07:29)
By Invitation Only: an interview with Adam Wingard and Simon Barrett (1080p; 00:48:52)
Producing The Guest: an interview with producers Jess Wu Calder and Keith Calder (1080p; 00:23:19)
Light and Fog: an interview with director of photography Robby Baumgartner (1080p; 00:21:42)
Lightning Strikes: an interview with production designer Tom Hammock (1080p; 00:13:32)
The Sounds of The Guest: an interview with composer Steve Moore (1080p; 00:12:26)
Deleted and Alternate scenes w/optional commentary (1080p; 00:15:12)
The Final Assessment
This film did not do too well in the theaters, but it's time to reassess it and this new mastering in 4K with the new color coding really brings it to life. Highly recommended.
The Guest (Limited Edition) is out in the UK 25 October 2021 from Second Sight Films
---
Rating Certificate: UK:15
Studios & Distributors: HanWay Films | Snoot Entertainment | Second Sight Films
Director: Adam Wingard
Written By: Simon Barrett
Run Time: 100 Mins.
Street Date: 25 October 2021
Aspect Ratio: 2.35:1
Video Format: HEVC 2160p (4K UHD)
HDR Format: Dolby Vision (HDR10 Compatible)
Primary Audio: English DTS-HD MA 5.1
Subtitles: English SDH