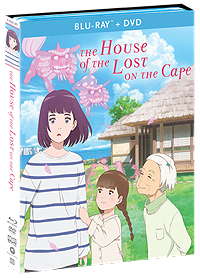 The House of the Lost on the Cape is part of the "Zutto Ōen Project 2011 + 10…", commemorating the 10th anniversary of the 2011 Tōhoku earthquake and tsunami. Based on the Japanese novel written by Kashiwaba Sachiko, the film follows the story of a newfound family against the backdrop of the post-Tōhoku disaster. 17-year-old runaway Yui and 8-year-old orphan Kiyori, who has lost her voice, are welcomed into the home of elderly Kiwa. In her traditional home, known as a Mayoiga, the two girls and Kiwa begin to bond as they deal with their personal losses and the community's recent losses. As they begin to heal, they also begin to notice strange occurrences around the old house.
A poignant film that combines drama with a supernatural fantasy in a style that mirrors what Studio Ghibli has made famous over the years, The House of the Lost on the Cape is a slow-burning exploration of love, loss, and what it means to be family. The supernatural elements serve as spice to an otherwise straightforward and hard-hitting, heartwarming, character-driven drama with gorgeous animation.
The House of the Lost on the Cape (2021)
The Video
The digital animation for The House of the Lost on the Cape comes to Blu-ray in a 1.78:1 AVC 1080p encodement that has no issues of concern to mention. The image is clean with no noise, banding, or aliasing. The colors in the film, while not bold, look appealing with excellent contrast.
The Audio
The lossless DTS-HD Master Audio 5.1 audio mix for The House of the Lost on the Cape is very subtle but well balanced. The surrounds carry mild atmospheric sounds effects like the sound of sea breeze or birds chirping. Dialogue in the center channel in clean and full and the score sounds clean with a natural range. Both the original Japanese-language and English dub are included.
The Supplements
Director Shinya Kawatsura Special Q&A – Annecy Festival (1080p; 00:09:49)
You and Kiwa's Secret Recipes (1080i)
Trailers (1080p; 00:02:10)
Artbook
DVD
The Final Assessment
A heartwarming drama with gorgeous animation that turns tragedy and molds it into beauty, The House of the Lost on the Cape is highly recommended.
The House of the Lost on the Cape is out on Blu-ray Combo Pack September 27, 2022 from Eleven Arts & Shout! Factory
---
Rating Certificate: Not Rated
Animation Studio: David Production
Distributors: Eleven Arts | Shout! Factory
Director: Kawatsura Shinya
Written By: Yoshida Reiko
Run Time: 105 Mins.
Street Date: 27 September 2022
Aspect Ratio: 1.78:1
Video Format: AVC 1080p
Primary Audio: Japanese DTS-HD MA 5.1
Secondary Audio: English DTS-HD MA 5.1 | Japanese DTS-HD MA 2.0 Stereo | English DTS-HD MA 2.0 Stereo
Subtitles: English for Original Language | English SDH