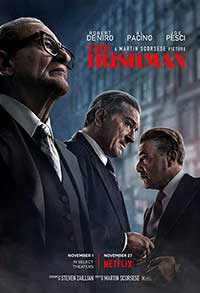 Better buckle up because Martin Scorsese's latest mob epic, The Irishman, will take you on a long and bumpy ride through several decades of 20th-century American crime history. The central protagonist, Frank Sheeran (Robert De Niro) AKA "The Irishman" is introduced as an old man living in a nursing home. Nearing the end of his stormy underworld life, Sheeran relates his narrative of time spent with the Mafia, the Teamsters Union, and its still-missing president Jimmy Hoffa (Al Pacino).
A thread that weaves in and out of this very lengthy film biography is Sheeran's close relationship with the Bufalino family—crime boss Russell (Joe Pesci) and his lawyer brother Bill (Ray Romano).  Frank's story opens with his driving Russell and their respective wives Irene (Stephanie Kurtzuba) and Carrie (Kathrine Narducci) to a Bufalino family wedding in Detroit, an innocent-appearing road trip with a very sinister objective. This long journey, marked by numerous stops for the women's "smoking breaks," presents Sheeran ample opportunity to reminisce about his life as a mobster.
We see Frank's humble beginnings as a Philadelphia meat truck driver trying to support his young family. After being "adopted" by Russell Bufalino, he becomes the local mob's hit man or "house painter" who decorates the interiors of houses with his victims' blood, and later the personal bodyguard for union leader Hoffa. There are brief vignettes describing how the mob influenced the 1960 Presidential election and how Hoffa became the target of US Attorney General Robert Kennedy's (Jack Huston) relentless investigations. When Hoffa ends up in federal prison for jury tampering, his replacement Frank Fitzsimmons (Gary Basaraba) gets in tight with the Mafia and pilfers money from the union's retirement accounts to fund mob projects.  After his release, Hoffa tries to regain control of the Teamsters, but his efforts to unseat Fitzsimmons become the last straw that led to his "disappearance." What really became of Jimmy Hoffa has been the subject of much speculation. The Irishman provides one man's version of the story, and a widely disputed one by all accounts many of which have disputed Sheeran's alleged murder of mob boss Joseph "Crazy Joe" Gallo (Sebastian Maniscalco) during a birthday party.
[envira-album id="121088″]
I had great expectations for The Irishman given its star power and  its potentially engrossing narrative.  My disappointments with this film begiin with Steven Zailian's plodding adaptation of Charles Brandt's 2004 book with little of the economy of expression that made Scorsese's earlier mob-centered films like Goodfellas, The Departed, and Mean Streets such good watches. The creative crew lets the already slow pace of this crime syndicate saga sag even further with superfluous scenes of  family gatherings and gangster sidebars that provide brief cameos for heavy-hitters like Harvey Keitel and Bobby Canavale.
The highly touted CGI intended to transform De Niro, Pesci and Pacino into younger screen versions of themselves gives a less than robust return on part of a much larger investment that topped 140 million dollars. Pacino's ill-fitting hairpiece does no one any favors nor does Pesci's furrowed brow change very much from beginning to end. DeNiro's "blue" eyes never convinced me that he was of Irish descent but at least the screen wizards were able to convey the illusion that as the real Sheeran he was taller than his fellow crooks.
The Netflix strategy of a limited theatrical release of a new film quickly followed by its streaming debut seemed to work for the Oscar-winning Roma last year. While The Irishman will probably get Academy Award consideration, viewers will have to decide if they have the stamina to sit through Scorsese's longest film, clocking in at three and a half hours. Having the luxury of pausing the film in its streaming version (definitely the preferred viewing approach), I found myself spending more than the usual amount of time checking the on-screen time remaining, as I waited patiently for the end credits to roll.  Easily one of the most self-indulgent efforts of this legendary director's illustrious career, if this film is to be Scorsese's silver screen swan song then perhaps he will someday soon provide us with a more tightly edited director's cut.
The Irishman is streaming now on Netflix
[youtube https://www.youtube.com/watch?v=RS3aHkkfuEI&w=864&h=486]
---
The Film: 3.0/5
Studios & Distributors: Fabrica de Cine | STX Entertainment | Sikelia Productions | Tribeca Productions | Netflix
Rating Certificate: R (Pervasive language and strong violence)
Country: USA
Language: English
Run Time: 209 Mins.
Aspect Ratio: 1.85:1 (1.37:1 some scenes)
Director: Martin Scorsese
Writer: Steven Gaillian
Release Date: 27 November 2019