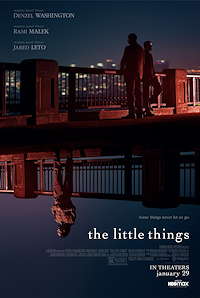 In the latest film to simultaneously debut on HBO Max and in theaters, The Little Things, Joe "Deke" Deacon (Denzel Washington) is a burnt-out Kern County Sheriff. Jim Baxter (Rami Malek) is a no-nonsense Los Angeles detective lending his support to the small and antiquated Kern County area town. There's a serial killer on the loose killing young women and placing their bodies in remote areas of the town and its borders.
On the top on their most-interested list is Albert Sparma (Jared Leto), the sketchy laborer who has a predilection for taunting the police, fast cars, and being creepy, even though he has some sort of disability in his legs. He has a distinct walk and a pudgy belly. No, he does not evoke an image of stealth, which makes the officer question the circumstances a bit. He also has a mastery of the highways, streets, and roads throughout town.
The Little Things is a strange film. You have a great cast, a more than able director, but the material never really soars. It lumbers. In order to better understand the issues, you have to understand the beginnings of the project. It was originally written almost 30-years ago, with three different directors set to direct. Steven Spielberg, Clint Eastwood, and Danny DeVito. Everyone either passed, or moved on from what it originally was. John Lee Hancock finally decided to do it himself and here we are armed with an Oscar award winning cast. It's a shame, because the film could have been so much better than the final product we ended up with.
I think the film taking place in the Kern County area (Bakersfield, etc.) was pretty genius (one of its only saving graces) in that it was beyond rural 30 years ago. It serves the story well in that regard due to how desolate it was in those times. What I didn't like was that certain scenes played almost identical to those of Se7en, but without the David Fincher flourishes. The Little Things meanders and goes from being a slow-burn neo-noir-ish film to kind of a chore to get through. Denzel is in a haze for most of the film, Malek looks to be on the spectrum for a bit, and Leto is relishing the fact that he gets to be grungier than usual. I even texted a friend who had watched the film for some clarification and he did not have a definite answer for me. It seems that the film has more questions than answers, which is sort of frustrating. Not in a good way.
The Little Things is currently in theaters and on HBO Max. Streaming through Feb. 28.
---
If you found this review useful please consider clicking the button below and donating to help keep TheaterByte funded and to allow us to continue posting great content.
---
Studios & Distributors: Gran Via | Warner Bros. | HBO Max
Country: USA
Language: English
Run Time: 127 Mins.
Aspect Ratio: 2.39:1
Director: John Lee Hancock
Written By: John Lee Hancock
Release Date: 29 January 2021