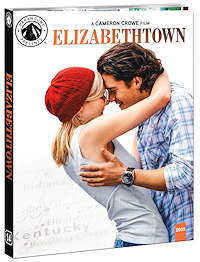 The 2005 comedy/drama Elizabethtown, celebrating its 15th anniversary, from writer/director Cameron Crowe (Almost Famous, Jerry Maguire), is the film that, if it didn't event the trope, it certainly gave us the broad awareness of the 'Manic Pixie Dream Girl,' a term coined by film critic Nathan Rabin after viewing the Kirsten Dunst character in the film.
The story here follows hotshot designer Drew Baylor (Orlando Bloom) from Oregon, whose life goes into a tailspin in one day when his eight-year speaker design project turns into a fiasco upon its release that everyone hates and loses his company nearly a billion dollars and later the same day his father unexpectedly dies on a trip back to his home state of Kentucky. Drew must return to Kentucky to handle the funeral arrangements. On the empty flight there as, he tries to get some rest, he meets the inquisitive flight attendant Claire (Kirsten Dunst) who starts up a conversation, gives him directions to Elizabethtown by drawing him a map upon which she conveniently leaves her various telephone numbers. Drew pays no mind, until later when he's gone through the gauntlet of meeting with his distant Kentucky relatives for a wake, some he hasn't seen in years, like his cousin Jessie (Paul Schneider) and his very hyperactive young son. When he gets to his hotel room on a floor booked up by a wedding party and he starts feeling lonely, he starts calling around on his cell and initially gets through to no one, until finally people call him back, three at once. His sister (Judy Greer) calls him to complain about their mother (Susan Sarandon) going off the deep end trying to learn how to cook since their father died, his ex-girlfriend (Jessica Biel) and basically dumps him again, and finally he gets a call from Claire. The two have one of those all-night long conversations and she begins to help him see things in a new light with her upbeat, positive thinking.
Crowe's film is certainly pleasant, but it is also amorphous. It begins sort of as a corporate satire and then morphs into a cultural satire that stereotypically pits 'coastal elites' against rural folks, but then it deviates into romantic comedy and road trip territory. All the while, with a brooding Orlando Bloom as its focus, Crowe has the tragically misused Kirsten Dunst whose sole purpose is really just to be the beautiful, upbeat, angel-faced someone who allows Bloom to grow and move on from his troubles, or as she puts it to embrace the "beautiful melancholy" of all that has occurred. It doesn't get much more saccharine than that. And while Crowe as always gives us a visual extravaganza that has a foundation of brilliantly chosen music from a variety of genres – even if it is heavy on the AAA, Americana and classic rock.
Elizabethtown is the kind of film that you will either love or hate. If you go into it not comparing it to the best of Crowe's work like Jerry Maguire or Almost Famous, then you may forgive the flaws, relax, and enjoy this film, especially around Valentine's Day.


The Video
Elizabethtown arrives on Blu-ray in a Paramount Presents release from a new restoration of a 4K transfer overseen by director Cameron Crowe. The Blu-ray arrives in an AVC 1080p encodement framed at 1.85:1. It's a beautiful looking transfer with a natural thinly layered level of grain from the original 35mm Kodak Vision2 500T 5218 and Eastman EXR 200T 5293 film stocks. It's a nicely textured and detailed image with deep inky blacks and natural flesh tones, excellent contrast, and no immediately apparent issues with DNR or edge enhancement.
The Audio
An English DTS-HD Master Audio 5.1 sound mix is included on the Blu-ray for Elizabethtown. It's a nicely balanced mix that is front-heavy due to this really being a dialogue-driven film apart from Cameron Crowe's signature 'mix tape' style of blending songs seamlessly into his storytelling. On that note, the music is presented well, with punchy sound, clean mids, and musical low end. There is just enough ambience in the surround channels for a natural presentation. It often captures wind or crowd noise such as at the wake for Drew's father. There are some rare moments where the mix opens up a bit more, such as in chapter 14 at the 01:14:27 mark when Claire speaks into the mic in the empty banquet hall and you get the sound of echo through the surround speakers.
The Supplements
Most of the supplements included are previously released, but the Cameron Crowe 'Filmmaker Focus' is worth watching for a contemporary insight into his thoughts on the film and its tropes.
Digital Copy
Filmmaker Focus: Cameron Crowe on Elizabethtown (1080p; 00:06:22)
Deleted and Extended Scenes w/Introduction by Cameron Crowe (1080p; 00:23:49):

Introduction by Director Cameron Crowe
The Shoes they Wear
A Student of Phil
Chuck Moves Back the Reception
Rusty's Learning to Listen Part 8
Chuck and Cindy Are Less than Pleased
It's Only a Funeral
Hanging with Russell in Memphis
Alternate Ending

On the Road to Elizabethtown (1080i; 00:13:48)
The Music of Elizabethtown (1080i; 00:05:32)
"Meet the Crew" Featurette (1080i; 00:02:34)
"Training Wheels" Featurette (1080i; 00:02:20)
Photo Gallery by Neal Preston:

Behind the Scenes
Mercury
Drew Baylor
Mitch, Hollie, Drew, and Heather: The Baylors
Claire Colburn
Drew & Claire
Kentucky
The Memorial
The Funeral
The Road Trip

Trailers and TV Spots:

Bad Day
Drew
30 Seconds in Elizabethtown

The limited-edition packaging includes a slipcover with a foldout of original poster art, and disc case insert with production stills
The Final Assessment
This may not be Cameron Crowe's best film, but it's still a watchable, reasonably enjoyable film that is beautifully restored from a 4K transfer in this new Paramount Presents edition in time for Valentine's Day.
---
If you found this review useful please consider clicking the button below and donating to help keep TheaterByte funded and to allow us to continue posting great content.
---
Elizabethtown is out February 9, 2021 on Blu-ray from Paramount Home Media Distribution in their Paramount Presents line.
---
Rating Certificate: PG-13 (for language and some sexual references)
Studios & Distributors: Paramount Pictures | Cruise/Wagner Productions | Vinyl Films | KMP Film Invest | Paramount Home Entertainment
Director: Cameron Crowe
Written By: Cameron Crowe
Run Time: 123 Mins.
Street Date: 9 February 2021
Aspect Ratio: 1.85:1
Video Format: AVC 1080p
Primary Audio: English DTS-HD MA 5.1
Secondary Audio: English Audio Description
Subtitles: English | English SDH