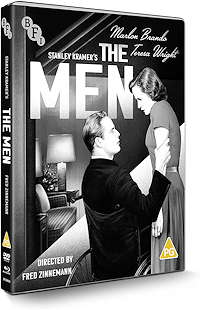 The Men, directed by Fred Zinnemann, is the 1950 melodrama about a paralyzed World War II veteran, Lt. Bud Wilozek, portrayed by Marlon Brando in his big screen debut, trying to come to terms with life without the use of his legs.
The setting is the paraplegic ward of a hospital in Wilozek's hometown, and he is one of a group of disabled veterans being rehabilitated. Wilozek is at first angry and removed from life, not even wanting to do his physical rehab to recover until the doctor "throws him to the wolves" moving him from his private room to the general ward with the other men who don't give him any special treatment. He soon begins to contemplate marriage with his girlfriend Ellen (Teresa Wright) who swears his paraplegia doesn't change her feeling toward him, despite the resistance from her own family.
By the time of its release in 1950 the subject of these paralyzed and wounded World War II veterans had already moved on from them being universally heralded and applauded to outright heroes to these men being the forgotten, sidelined societal burdens that the film so accurately seeks to portray. As character Norm Butler (Jack Webb) says, "We make other people uncomfortable… because we remind them that their own bodies can be broken – just like that." And that's the area The Men resides in. Bud does remind people their bodies can be broken. He reminds Ellen she may be hitching her wagon to a man who may struggle in society to bring home the proverbial bacon. This latter point is a major one in 1950 as women had not yet hit the workforce in a significant way and it was still the men who were expected to take care of the family financially as the women were expected to stay home and take care of the family.
As The Men shows, expectations don't always meet up with reality, and Bud, as sympathetically portrayed by Brando, is a man trying hard to hold on to his 1950s machismo while being wedded to a wheelchair, burdened by the glaring eyes in restaurants, and concerned parents who don't want him marrying their daughter.
The film does suffer a bit from being bit to melodramatic and simplifying some very complex themes and some moments seem to turn on a dime, but there is still very much to like in this feature debut from Brando.
The Video
The Men was "supplied in High Definition to the BFI by Paramount Pictures" and appears on Blu-ray in a 1.37:1 AVC 1080p encodement.  It is a generally acceptable presentation, but it is not by any stretch a reference quality catalogue release. This one suffers from film softness and issues with source damage throughout. It doesn't look particularly clean; one can see issues with sparkle, dirt, and scratches straight through, but it not excessive and the film grain looks natural.
The Audio
An intelligible of somewhat boxy sounding LPCM 2.0 mono track is included. At no point does the dialogue ever clip nor do hiss or pops become an issue.
The Supplements
The BFI do their usual solid package of supplements by including thematically related extras. There are a couple of short films dealing with the disabled veterans and working people being rehabilitated and we get an in-depth commentary and archival interview with screenwriter Carl Foreman.
Audio Commentary by filmmaker and film historian Jim Hemphill.
Return to Action (1080p; 00:18:48) – Bricklayers, lawyers, teachers – disabled men and women are encouraged to retrain for new jobs in this short film produced on behalf of the UK's Ministry of Labour.
The Undefeated (1080p; 00:35:01) – Released in the same month as The Men, Paul Dickson's film charts the progress of a disabled ex-glider pilot through the rehabilitation schemes organized by the UK's Ministry of Pensions.
Interview with Carl Foreman (1080p; 01:26:58) – The Oscar-winning screenwriter, director, and producer interviewed at the National Film Theatre in 1969.
Original Trailer (1080p)
Stills Gallery (1080p)
Reversible sleeve featuring original artwork and a newly commissioned design by Jennifer Dionisio
(First pressing only) Illustrated booklet with new essays by Philip Kemp, Victoria Millington and Scott Harrison; an archival essay from Sight and Sound, notes on the special features and credits
The Final Assessment
A moving melodrama with superb performances from Marlon Brando and Teresa Wright, The Men gets a feature-rich release from the BFI in the UK.
The Men is out on Blu-ray Combo in the UK 16 May 2022 from the BFI
---
Rating Certificate: UK: 15
Studios & Distributors: Stanley Kramer Productions | United Artists | The BFI
Director: Fred Zinnemann
Written By: Carl Foreman
Run Time: 87 Mins.
Street Date: 16 May 2022
Aspect Ratio: 1.37:1
Video Format: AVC 1080p
Primary Audio: English LPCM 2.0 Mono
Subtitles: English SDH