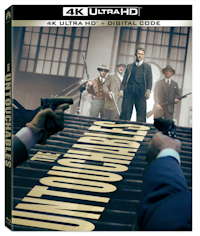 The 1987 gangster film The Untouchables by director Brian De Palma and screenwriter David Mamet put a new twist on the well-worn genre using the story of the battle between G-Man Eliot Ness (Kevin Costner) and mobster Al Capone (Robert De Niro) in Prohibition era Chicago as Ness puts together a group of incorruptible men to take down the gangster.
With corruption in the police department and the local government rampant, Ness first turns to veteran beat cop Jimmy Malone (Sean Connery), whom he meets on one particularly discouraging night as his campaign against the powerful underworld kingpin has taken a bad turn and Ness has become a bit of a laughingstock in the press. Malone turns out to be one of the 'few good men' that Ness is looking for to put together his team that can ultimately take down Capone. He also brings on a hotshot rookie named George Stone (Andy Garcia), and accountant Oscar Wallace (Charles Martin Smith). The men's dogged pursuit of Al Capone and his illegal activities put their own and their family's lives in danger, with Capone finally striking back at Ness violently. Ultimately, it's not the booze they get Capone on but a technicality – tax evasion is the direction they take to bring down the crime boss.
De Palma's film is gritty and stylish, as most of his films are and had been up to that point, but with The Untouchables De Palma reins in his B-movie tendencies to keep this more in the Hollywood mainstream; slick, thrilling, and glamourous. That isn't to say that De Palma doesn't give audiences some fanservice, so to speak. There is the infamous moment where Capone kills a guy with a baseball bat, which is quite vicious and brutal.
The cast and screenplay are also brilliant here. Forget about Costner (sorry Costner fans), but he is just along for the ride. Connery and De Niro are in the driver's seat here. Connery is the perfect, grizzled cop and De Niro is on point as De Niro – dangerous, even a bit funny.
This film is somewhat of a deconstruction of the gangster genre or a reconstruction of the old classics from the Golden Age, and who better to offer such a film up than De Palma who drenches the film in a neo-noir atmosphere which makes it delightful to watch.
The Video
The Untouchables gets a 2.40:1 HEVC 2160p (4K UHD) Dolby Vision encodement on 4K Ultra HD Blu-ray from Paramount. Originally shot on 35mm Eastman 125T 5247 and 400T 5294 film stock, this transfer is definitive in comparison to the previous Blu-ray from Paramount, which I pulled out to compare. The Blu-ray at first looks like it is more detailed, but closer inspection reveals some serious manipulation. Not necessarily edge enhancement, but some sort of sharpening and noise manipulation. One can see it early on when De Niro is getting the shave and talking to reporters. As the towel is removed from his face, a smearing or warping effect occurs on the Blu-ray and the same thing happens with the grain and detail around his sleeve in the background for his left arm, on the viewers right, as he is moving is arm around. This is completely absent on the 4K disc, which is a very good thing. That said, the 4K does have some issues. It is soft and there are some issues with crush. I mean, where are the lapels on the officers' uniforms as Ness talks to them before the stakeout? This sort of issue periodically pops up. It's not terrible, but it is present and overall, the Dolby Vision application is rather bland, dull, and has little 'pop'. I don't mean to make this sound like this is the most awful release ever, because it's not. Perhaps it's just one of those films, like Almost Famous or Bram Stoker's Dracula, that can only ever attain a certain level on home video. It does look natural with just hints of DNR, but nothing like the Blu-ray. This is a step up, but not a knockout punch.
The Audio
The Untouchables gets a new Atmos (Dolby TrueHD 7.1 compatible) remix on this 4K release from Paramount. My Blu-ray copy from the Ultimate Gangsters Collection didn't even have a lossless mix, so this is a big upgrade, and it's a good one. There are a lot of subtle things going on this mix and they're spread around with good balance. There are some moments in the mix where it can almost sound a little too dry, but mostly the sound engineers have done a fantastic job keeping this tasteful and lively with subtle things like chirping birds, a car passing in the background, and so on. And, of course, when it needs to get bombastic, it does, such as the big explosion in the beginning that fills the soundstage and has big low frequencies or the gun battles that place you right in the middle of the action.
The Supplements
The on-disc bonus features have all been previously issued on Blu-ray, but they have been upscaled and, for whatever reason, converted to DV here. A digital copy code is also included.
Digital Copy Code
The Script, The Cast (1080p; DV; 00:18:31)
Production Stories (1080p; DV; 00:17:18)
Re-inventing the Genre (1080p; DV; 00:14:24)
The Classic (1080p; DV; 00:05:39)
Original Featurette: "The Men" (1080p; DV; 00:05:26)
Theatrical Trailer (1080p; DV)
The Final Assessment
The Untouchables is one of the classic gangster films to come out of the 1980s. The 4K release from Paramount is not perfect but is still a reasonable upgrade from the Blu-ray release.
The Untouchables is out on 4K Ultra HD + Digital May 31, 2022 from Paramount
---
Rating Certificate: R
Studios & Distributors: Paramount Pictures | Paramount Home Entertainment
Director: Brian De Palma
Written By: David Mamet | Oscar Fraley | (suggested by book) | Eliot Ness (suggested by book)
Run Time: 119 Mins.
Street Date: 31 May 2022
Aspect Ratio: 2.40:1
Video Format: HEVC 2160p (4K UHD)
HDR Format: Dolby Vision (HDR10 Compatible)
MaxLL: 1000 nits
MaxFALL: 573 nits
Primary Audio: English Dolby Atmos (Dolby TrueHD 7.1 Compatible)
Secondary Audio: Czech DD 2.0 | German DD 2.0 | Spanish (Castilian) DD 5.1 | French DD 5.1 | Spanish (Latino) DD 5.1 | Italian DD 5.1 | Japanese DD 5.1 | Polish DD 2.0 | Russian DD 5.1
Subtitles: English | English SDH | Cantonese | Czech | Danish |German | Spanish (Castilian) | Spanish (Latino) | French | Italian | Japanese | Korean | Mandarin | Dutch | Polish | Portuguese (Brasil) | Portuguese (Portugal) | Russian | Romanian | Simplified Chinese | Slovenian | Finnish | Swedish | Thai