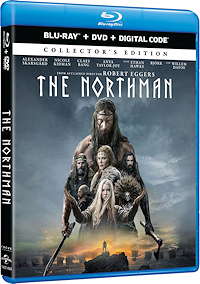 Director/co-writer Robert Eggers (The Lighthouse, The Witch) helms this brooding, surreal, and visceral epic Viking tale of betrayal and revenge.
The Northman, set in the tenth century, follows Amleth (Alexander Skarsgård) the heir to the Icelandic throne, who in his youth witnessed his uncle slay his father (Ethan Hawke) to take the throne and steal away his mother (Nicole Kidman). Fleeing to safety, Amleth embarks on a personal journey of bloodlust to avenge his father's death, save his mother, and take back the land that belongs to him. Years later, now a berserker and going on raids with an army of Vikings, Amleth finds his way back to Iceland after a raid in the land of the Rus when he sneaks onto a Viking slave ship heading for the shepherd's land. The shepherd turns out to be his uncle, now a chieftain in exile after he was thrown out of the land he stole from Amleth's father. On the journey across, Amleth makes the acquaintance with beautiful Slav slave Olga (Anya Taylor-Joy), who will help him carry out his revenge and become his lover.
Eggers mixes Viking and Norse mythology with straight-up brutal action in the usual fashion we have come to expect from his previous films. The film often veers into the surreal and blends reality with the dreamworld as it spins a Wagnerian tragedy set in the world of the simple Viking Amleth who holds on to childhood truths that will ultimately be a disservice to him.
The film is gorgeous from start to finish. Eggers gives us dark, moody scenes, almost horror-inflected supernatural vignettes or at times wide open panoramas of the Icelandic landscape. Tie this visual aesthetic together with the fantastic costumes that very much avoid the silly horned helmets and we get an eye-popping film.
The performances are also superb in this film. Skarsgård seems perfectly cast as the vengeful Viking, but others also step up. Anya Taylor-Joy, who previously worked with Eggers in The Witch, is excellent in her role as the love interest and co-conspirator, while Nicole Kidman also steals her pivotal scene with Skarsgård.
The Northman, like all of Eggers' films to this point, will not be for everyone. His art-over-pop approach to filmmaking is out of left field for audiences primed for the next superhero movie or franchise reboot. However, this is the sort of film that stands up to multiple viewings and leaves you thinking.
The Video
The Northman was shot on 35mm Kodak Vision3 50D 5203, Vision3 250D 5207, and Vision3 200T 5213 film stock with various Arri cameras and Panavision lenses. It uses a 4K digital intermediate with Dolby Vision. Unfortunately, Universal did not send me the 4K Ultra HD disc to review, only the Blu-ray, which comes in a 2.0:1 AVC 1080p HD encodement. This is a great looking Blu-ray that has natural grain and nuanced shadows. One can surely see where this would benefit from the HDR/Dolby Vision in numerous dark scenes with flames and so on. Still, this looks good, offers up lots of detail and textural information, and does not suffer from any issues with noise or other artifacts.
The Audio
The Northman comes with an English/Old Norse Dolby Atmos audio mix that is good – very good. The opening starts with a 'voice of God' effect that puts narration right in your head, atmospheric foley effects and the sounds of the score coming from all around and overhead. The rest of the mix continues as such with fantastic dynamic range, deeply extended low end that kicks in during the scenes with the Viking long boats battling through storms and raiding villages. This is definitely a reference quality Atmos mix.
The Supplements
The Blu-ray comes with multiple 'making of' featurettes and an audio commentary
Movies Anywhere Digital Code
Audio commentary with co-writer/director Robert Eggers
Deleted and Extended Scenes
An Ageless Epic
The Faces of Vikings
Amleth's Journey to Manhood
Shooting the Raid
A Norse Landscape
The Final Assessment
A superb film gets a top-notch Blu-ray release with masterful Atmos mix. The Northman is the sort of film we need more of. Recommended.