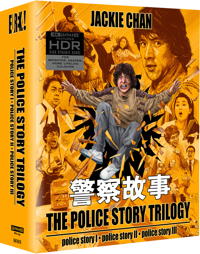 Jackie Chan was the king of Hong Kong martial arts action flicks for a longtime running, and with good reason. The Police Story films are two of the best martial arts action films out of Hong Kong (and out of the 1980s) and set Chan up with the international success that he would keep to this day, parlaying that success into blockbusters like Rush Hour.
In this collection of the newly restored original and sequel, Chan's prowess as a martial arts entertainer is in top form as is his unique ability to combine action, crime drama, and comedy in one accessible, charismatic package. The first film introduces us to the character of Chan Ka Kui (Chan), a by-the-book police officer who becomes a hero when he aids in a big drug bust. Tasked with guarding the key witness in the prosecution's case, the seductive and challenging Selina Fong (Brigitte Lin), Ka Kui is eventually framed for murder by the drug lord and must go rogue to clear his name.
Without giving away any spoilers, it is not too difficult to figure out how it all works out, because Jackie Chan returns as Ka Kui in Police Story 2. This time, the virtuous police officer who gives his commanding officers (and his girlfriend May, played by Maggie Cheung) the fits must help stop a mysterious, extorting bomber while also skirting the violent retribution of the mobsters from the first film.
In Police Story 3: Supercop, which was re-edited and renamed for the US market as simply "Supercop" Jackie Chan reprises his role as Ka Kui. This time he is sent on an undercover mission to Mainland China where he is partnered with Insp. Jessica Yang – Director of INTERPOL (Michelle Yeoh) in order to help bring down an infamous drug smuggler named Chaibat (Kenneth Tsang).
This third installment, coming some seven years after the original Police Story, feels less of a true sequel like the second film in the franchise, and more like a completely new, almost disconnected story. Not that this film is bad – this film is in fact a stronger film than the second film. It feels custom designed to break Jackie Chan into superstardom in the West, which it succeeded in doing. It is an action-packed, location-hopping, almost Bond-esque spy thriller with lots of set pieces, and of course, the signature Jackie Chan death defying stunts mixed with comedy. Michelle Yeoh adds her superb talents to the mix and the banter between the two stars is priceless.
These films are classic Jackie Chan and highlight all the elements that Westerners would come to enjoy in films like the aforementioned Rush Hour or Shanghai Knights, only more concise, less constrained for Hollywood purposes, and Chan is lot fitter and quicker. The stories are more well written than some other early Chan efforts like Hung fan kui, later re-edited, re-dubbed, and reissued in 1995 as Rumble in the Bronx, although it was very obviously filmed in Vancouver.
The Video
Each film is newly restored in 4K from the original camera negatives in Dolby Vision. They come to 4K Ultra HD in 2.35:1 HEVC 2160p encodements. There are naturally incremental improvements from one film to the next given the improvements in production and the differences in age for the sources, but they all look generally good with mostly natural grain structure, outside of some occasional issues on Police Story 1 where there is some noticeable grain reduction and slight smearing, particularly early on in the film. Starting from Police Story 2, the detail, textures, and grain remain quite crisp and consistent from start to finish. The application of Dolby Vision is subtle at best, not necessarily adding lots of brightness or staggering amounts of dynamic range, but there is good specular highlight 'pop' to be seen in some of the neon signage and where there are explosions or any sorts of flames they looks very three-dimensional and have more color to them.
The Audio
Each film in the collection is supplied with the original Cantonese Mono in LPCM 1.0, an English dub in LPCM 1.0, and Cantonese DTS-HD Master Audio 5.1, except Police Story 3 which comes with the Cantonese Mono, Cantonese Stereo Home Video Mix LPCM 2.0, English Mono, and a Cantonese Dolby Atmos mix.
For each film except Police Story 3, I reviewed it with the Cantonese 5.1. With Police Story 3 I reviewed listening to the Dolby Atmos. The 5.1 remixes sound good and well-balanced, but the syncing of the dubs that were standard in Hong Kong cinema at the time still seem a bit off to me and that is distracting. The original mono tracks are strong, clean, and sound quite full given they are 1.0. The Atmos mix for the third film is quite subtle at best, but there are some noticeable overhead sounds and a bit of a wider soundstage than the 5.1 mixes. For the most part, the foley effects are stagnant, without much panning, but like the 5.1 mixes, there is very deep low-end extension for when the explosions start.
The Supplements
Each disc in the set comes with two excellent audio commentaries from some familiar names like Frank Djeng, who is always enjoyable to listen and filled with knowledge on these films, as well as Arne Venema and Mike Leeder who have a great, casual banter together that make them very listenable. Additionally, there are multiple cuts of the films, from export cuts to original Hong Kong Cuts and more (the alternate cuts are all in HD). So, Eureka has come through once again with a must-have collectible set for these classics.
Limited Edition hardcase [4000 copies]
Limited Edition hardcase featuring new artwork by R.P. "Kung Fu Bob" O'Brien
4K (2160p) UHD Blu-ray presentations of all three films across 3 Ultra HD Blu-ray Discs in Dolby Vision (HDR10 compatible)
100-PAGE perfect bound collector's book featuring essays by James Oliver on each film, as well as archival materials, imagery, and ephemera
Worldwide UHD debuts for all three films, and the first time Police Story 3: Supercop has been available on home video in the UK since the VHS era
Police Story 1
Commentary with Frank Djeng and F.J. DeSanto
Commentary with Mike Leeder and Arne Venema
Export cut w/ English Mono or Alternate Cantonese Audio
Alternate and Extended Scenes (1080p; DV; 00:13:48)
Jackie Chan Stunts Promo (1080p; DV; 00:04:41)
Interview with Jackie Chan (1080p/60; DV; 00:19:34)
Original Theatrical Trailer (1080p; DV)
Original Export Trailer (1080p; DV)
4K Restoration Trailer (1080p; DV)
Police Story 2
Commentary with Frank Djeng and F.J. DeSanto
Commentary with Mike Leeder and Arne Venema
Original Hong Kong Theatrical Cut (1080p; DV)

With Cantonese Mono
With English 5.1
With Commentary by Miles Wood and Jude Power

Export Cut (1080p; DV)

With English Mono
With Cantonese Mono

Son of the Incredibly Strange Film Show: Jackie Chan (1080p; DV; 00:41:08)
Interview with Benny Lai (1080p/60; DV; 00:15:41)
Outtakes (1080p; DV; 00:05:15)
Original Hong Kong Trailer (1080p; DV)
Original Export Trailer (1080p; DV)
Police Story 3
Commentary with Franck Djeng and F.J. DeSanto
Commentary with Mike Leeder and Arne Venema
Supercop – US Version (1080p; DV)

With English 5.1
With Alternate Cantonese Audio

John Kreng Interview (1080p; DV; 00:22:35)
The Ultra Violent Jackie Chan Video Games (1080p; DV; 00:11:11)
Police Story Location Guide (1080p; DV; 00:11:21)
Archival Interviews:

Flying High: Jackie Chan (1080p; DV; 00:19:23)
Dancing with Death: Michelle Yeoh (1080p; DV; 00:23:14)
The Stuntmaster General: Stanley Tong (1080p; DV; 00:19:35)
The Fall Guy: Ken Lo (1080p; DV; 00:21:27)
Stanley Tong 2002 Interview (1080p; DV; 00:17:18)
Stanley Tong 2005 Interview (1080p; DV; 00:31:09)

Outtakes (1080p; DV; 00:51:33)
Trailers and Promos:

Hong Kong Theatrical Trailer
Japanese Teaser Trailer
UK English Export Trailer
US Theatrical Teaser
US Theatrical Trailer
US Video Promo
The Final Assessment
Eureka Entertainment provides what may just be the definitive home video release for this Jackie Chan franchise, which also contains some of his best works. If you're a fan of Chan, then this belongs in your collection. This is also the first home video release in the UK for Police Story 3 since VHS, making it an extra special collection. The third film is also being issued separately on Blu-ray.
The Police Story Trilogy is out on 4K Ultra HD in the UK September 26, 2022 from Eureka Entertainment

---
Rating Certificate: UK-15
Studios & Distributors: Golden Harvest Company | Golden Way Films Ltd. | Paragon Films Ltd. | Eureka Entertainment
Directors: Jackie Chan | Chen Chi-Hwa (Police Story) | Stanley Tong (Police Story 3)
Written By: Jackie Chan | Edward Tang | Paul B. Clay (Police Story 2) | Ma Fibe (Police Story 3) | Yee Lee Wai (Police Story 3)
Run Time: 317 Mins.
Street Date: 26 September 2022
Aspect Ratio: 2.35:1
Video Format: HEVC 2160p (4K UHD)
HDR Format: Dolby Vision (HDR10 Compatible)
Primary Audio: Cantonese LPCM 1.0
Secondary Audio: Cantonese DTS-HD MA 5.1 | Cantonese Stereo Home Video Mix LPCM 2.0 (Police Story 3) | Cantonese Dolby Atmos (Police Story 3) | English LPCM 1.0
Subtitles: English