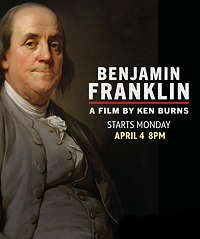 Documentary filmmaker Ken Burns has added yet another noteworthy biography to his already highly regarded body of work. The subject of this series is one of the most famous Americans of all time, Benjamin Franklin, and is presented into two parts—"Join or Die" (1706-1774) and "An American" (1775-1790). Using a combination of black-and-white drawings, painted portraits, and filmed settings, Franklin's life is narrated by Peter Coyote while Mandy Patinkin gives him a voice for the occasional readings and comments he makes along the way. The series also receives occasional commentaries by a group of eminent American historians who voice their opinions on Franklin's life, achievements, and occasional foibles.
The story opens in Boston where Franklin was born to  candle maker and English immigrant Josiah Franklin. Benjamin's formal education ended after two years when  he went to work for his father and later as an apprentice to his brother James who operated a printing company and founded one of the colony's first newspapers.
Young Franklin was an omnivorous reader and this contributed to his ever-expanding knowledge about what was known in the literate world of his times. A life-changing event occurred when he fled his brother's employment and arrived in Philadelphia which would become his new hometown. He was catapulted to fame by becoming a newspaperman and would wield considerable influence in the City of Brotherly Love for the rest of his life.
Burns shows us some of the less flattering sides of this famous man. Franklin was a slave owner and was also briefly involved in the slave trade but late in life became an ardent abolitionist.  He fathered an illegitimate son William but eventually took him in to the house he shared with his common-law wife Deborah Read who bore him a son Francis who died from smallpox and a daughter Sarah. Franklin saw that William had a proper education and the two spent much of the 1750s and 1760s in London, with William returning to America to become the Royal Governor of New Jersey. During his time in London, Franklin lobbied for recognition of the American colonies as independently governed states—a campaign ridiculed in the English Parliament.
Franklin realized that he had to decide whether to remain an English subject or become an American and it was his decision to become the latter that informed the final two decades of his long life.  Gathering war clouds that presaged the American Revolution found Franklin along with other notables like Thomas Jefferson and John Adams crafting the Declaration of Independence. After this historic proclamation on July 4, 1776, the Continental Congress sent Franklin to France to win allies for a war that was decimating a colonial army led by George Washington. Franklin would spend a decade in France as the American ambassador although he  occasionally returned to the Colonies. He moved back to America for good in 1785 and spent the last five years of his life in declining health.
This documentary also highlights a number of Franklin's scientific achievements including the characterization of electricity and charting the Gulf Stream in the Atlantic Ocean. He attained a pre-eminent place in the international intellectual community of his era—not too shabby for a man who had only two years of formal education.
Writer-director Ken Burns does an admirable job in condensing a long life that would have been more than enough for several men instead of only one. Rather than turning Benjamin Franklin into a highlights newsreel, he weaves a remarkably linear story that touches on most of what Franklin accomplished with appropriate emphasis on his role in creating the Republic that most Americans have long since taken for granted. Burns also gives a human perspective on his subject and, through Mandy Patinkins' readings of his writings, Franklin's views on just about every topic under the sun.
I watched this series in both PBS Network and PBS Documentaries on Amazon Prime. Given that a lot of the visual content is in the form of drawings and paintings, there was not much difference between these two formats. At a time when much of American history is being furiously redacted, this PBS series should be required watching for all American families and their children. Benjamin Franklin is a shining example of how to present a part of our remarkable national history. Highest recommendation.
Ken Burns' Benjamin Franklin is now airing on the PBS Network (HD) and PBS Documentaries on Amazon Prime (4K UHD)
---
Rating Certificate: NR
Show Creator: Ken Burns
Original Release Date: 4 April 2022
Network & Streaming Service: PBS | PBS Documentaries on Amazon Prime Video
Episode Run Time: 115 Mins.
Num. Episodes: 2
Studios & Distributors: Florentine Films | WETA | PBS