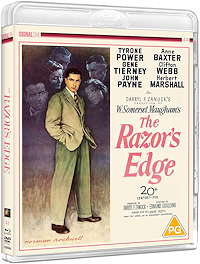 The Razor's Edge is the 1946 film based on the novel by W. Somerset Maugham and starring Tyrone Powell, who returned to the screen after several years away fighting with the marines in World War II with this role. A F. Scott Fitzgerald-esque journey into the world of the post-World War I Lost Generation, Powell plays Larry Darrell, a soldier returning from the war who becomes disillusioned after joining some of his old buddies in Paris. When the woman he loves, the sophisticated Isabel Bradley (Gene Tierney), jilts him to marry for money, Darrell becomes further disillusioned, questioning everything about society. He even leaves the Western world entirely to find himself in India with a guru. When he does return, Isabel tries to work her way back into his life to break up his romance with the alcoholic Sophie MacDonald (Anne Baxter).
The Razor's Edge is a sprawling and lavish film that takes place in what one could almost term a few different segments but come together perfectly under the guiding hand of Edmund Goulding (Nightmare Alley. With the cast's brilliant performances to boot, including an Oscar-winning turn by Gene Tierney, the film is an audacious post-World War II look at a previous era's struggles with finding themselves after the tumult of a world at war.

The Video
The Razor's Edge is brought to Blu-ray in a 1.37:1 AVC 1080p high definition transfer that presents a fine black and white image with a sufficient amount of detail and contrast. The blacks look stable and inky without much noise or grayish washout. Whites look just a tad bleached, but this could be an artistic choice or even an issue with the source. There are some bits of scratches and dirt that can be spied, and the depth of field can break down a bit, looking just a little soft in the backgrounds, but generally this looks crisp given the age.
The Audio
The original monaural audio is included in English LPCM 1.0. The sound is just a little boxy and may require you to bump the sound up a few db higher than you usually do, but generally this it is acceptable with good clarity.
The Supplements
This is pretty barebones, but the audio commentary is enlightening to say the least, so I highly recommend giving it a listen when you have the chance.
Commentary by Anthony Slide and Robert Birchard
Fox Movie-Tone News (1080p; 00:03:06)
The Final Assessment
The Razor's Edge would be remade in 1984 with Bill Murray in the lead role. This 1994 original, however, cannot be topped by that 1980s remake and it is well presented here by Signal One Entertainment. Highly recommended.
The Razor's Edge is out on Dual Format Blu-ray + DVD in the UK 6 June 2022 from Signal One Entertainment

---
Rating Certificate: UK-PG
Studios & Distributors: Twentieth Century Fox | Signal One Entertainment
Director: Edmund Goulding
Written By: Lamar Trotti | (screenplay) | W. Somerset Maugham (from the novel by) | Darryl F. Zanuck (additional scenes)
Run Time: 145 Mins.
Aspect Ratio: 1.37:1
Video Format: AVC 1080p
Primary Audio: English LPCM 1.0
Subtitles: English SDH