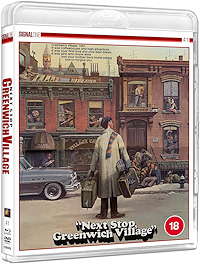 Writer/director Paul Mazursky's semi-autobiographical 1976 film Next Stop, Greenwich Village is a look back at the 1950s, but Mazursky forgoes the nostalgia for a more potent character study and what the '50s were going to bring for the future.
Aspiring actor Larry Lapinsky (Lenny Baker) moves out of his home in Brooklyn with his overbearing mother to live in a $25-a-month apartment in the artsy downtown neighborhood of Greenwich Village. There he begins method acting classes, takes up with a group of bohemian friends, including the suicidal Anita (Lois Smith, a rapscallion poet named Robert (Christopher Walken), and a very out gay black man, Bernstein (Antonio Fargas). Between his classes, auditions, and part-time job at an ahead-of-its-time organic juice bar, Larry also finds himself in a relationship with his unusually liberated girlfriend Sarah (Ellen Greene). His parents begin to drop in on him and his eccentric friends' lives, but Larry eventually tries to balance his Hollywood hopes, his sex life, and his friends who are all coping with their own issues.
Mazursky's film concerns itself more with the inner turmoil of this group of character's career struggles, love lives, and the weight of sexual liberation, a subject that, again, would be even more front and center in 1976 when the film was released. What he avoids is taking Next Stop, Greenwich Village into a pastiche of 1950s nostalgia, although the film certainly does evoke an authentic atmosphere with its production shot on-location in Brooklyn and Greenwich Village.
Next Stop, Greenwich Village (1976)
The Video
Next Stop, Greenwich Village comes to Blu-ray in an AVC 1080p transfer framed at 1.85:1. The original 35mm source is presented beautifully in this transfer from Signal One Entertainment and is the standout of the trio of 20th Century Fox films this was released as a part of by Signal One that included the also reviewed The Razor's Edge and The Paper Chase. This presents an organic film structure and crisp details with lots of shadow detail that only occasionally flattens out a bit and shows some mild crush. Otherwise, the image here has extended depth of field, natural colors, and little visible source damage without any heavy DNR or excessive smoothing noticeable.
The Audio
The original mono mix for Next Stop, Greenwich Village is provided in a very competent and pleasing LPCM 1.0 track that conveys the dialogue, sound effects, and music with good clarity, midrange punch, and little distortion to note.
The Supplements
The audio commentary and video essay are definite musts on this somewhat barebones disc.
Audio Commentary by Director Paul Mazursky and Actress Ellen Greene
Video Essay with Film Critic Mark Searby (1080p; 00:06:16)
Still Gallery (1080p)
Trailer (1080p)
The Final Assessment
This classic from the 1970s deserves rediscovery and this gorgeous transfer from Signal One, appearing for the first time in the UK on Blu-ray, is a fantastic way to do so. Highly recommended.
Next Stop, Greenwich Village is out on Blu-ray + DVD Dual Format in the UK 6 June 2022 from Signal One Entertainment
---
Rating Certificate: UK-18
Studios & Distributors: Twentieth Century Fox | Signal One Entertainment
Director: Paul Mazursky
Written By: Paul Mazursky
Run Time: 111 Mins.
Street Date: 6 June 2022
Aspect Ratio: 1.85:1
Video Format: AVC 1080p
Primary Audio: English LPCM 1.0
Subtitles: English SDH