Estimated reading time: 6 minutes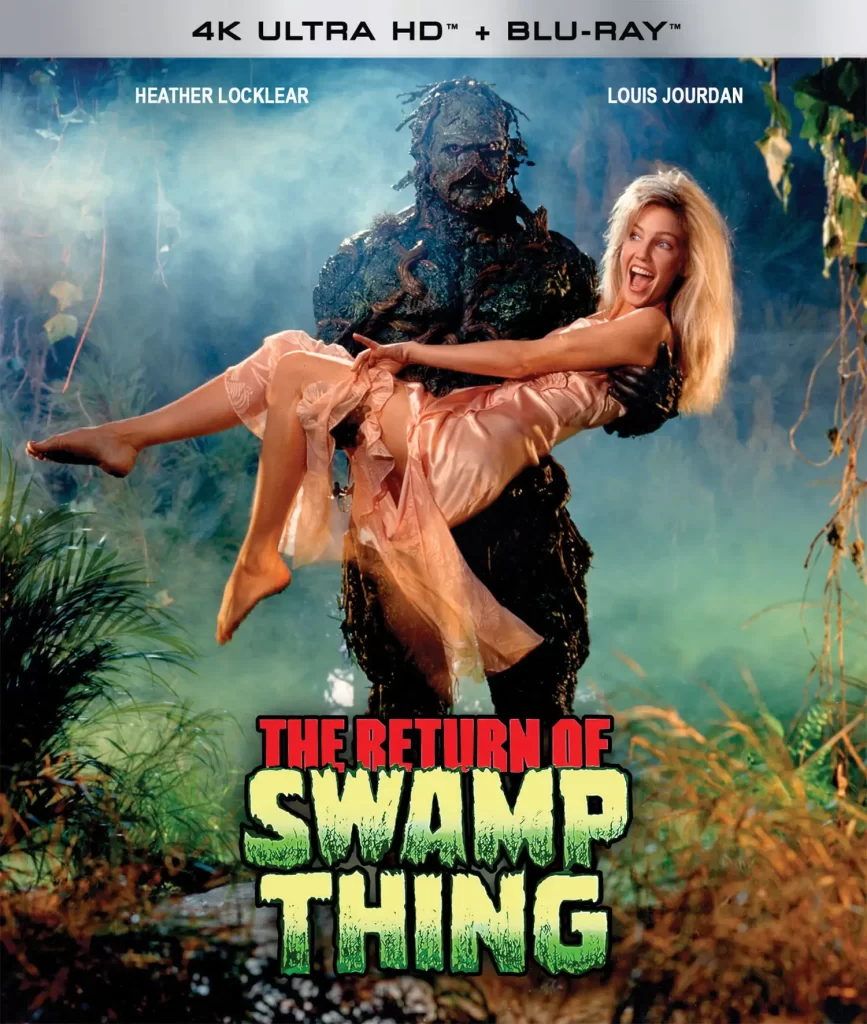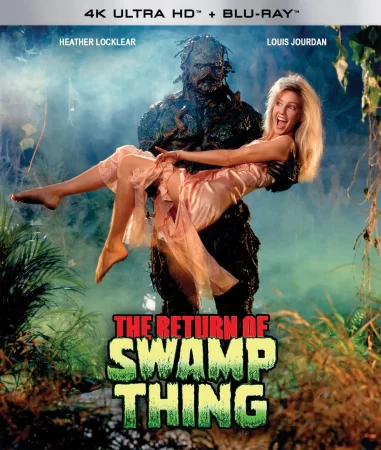 The sequel to the 1982 Wes Craven film featuring the unlikely DC Comics hero, Swamp Thing, The Return of Swamp Thing from cult film director Jim Wynorski (Chopping Mall) gets a slightly larger budget and two big celebrities to star in the film. Heather Locklear (Melrose Place), who was at the time in the middle of a star run on Dynasty and involved with Mötley Crüe's Tommy Lee and French actor Louis Jourdan (Octopussy, Gigi) both star in the film giving it a modicum of respectability, but the cheesy script, bad special effects, and downright bad acting leave the film in the B-movie territory.
Locklear plays the beautiful horticulturist Dr. Abby Arcane who pays a visit to her stepfather Dr. Anton Arcane (Jourdan) to uncover the mystery behind her mother's sudden and violent death. Little does Abby know that her stepfather is a "mad scientist" in the classic sense, doing interspecies experiments on gene splicing to find an immortality serum, and he wants her DNA to help him achieve his goals. When Anton and his sultry assistant Dr. Lana Zurrell (Sarah Douglas) hold Abby captive to these ends, Swamp Thing, who has fallen in love with Abby, must come to her rescue.
The Return of Swamp Thing, unlike the first film directed by Wes Craven, was specifically aimed at a wider audience intended to bring in the kids. One can tell from the one scene, which is arguably the best and funniest scene in the film, where two boys, friends, in a trailer park, having a night of mischief checking out girly magazines encounter one of Anton's creatures and Swamp Thing comes to their recue.
The rest of the film is one of cliché horror spoofs and bad Bond villain posturing. Anton resides in a large fortress surrounded by sexy guards with a sultry assistant and has a laboratory of unsightly failed experiments. Locklear is at least having fun with this material and doesn't seem to be taking any of it seriously at all, I mean, how could she? Is anyone going to believe she would fall for a giant walking and talking cabbage from a swamp?
The Video
The Return of Swamp Thing is a brand new 4K restoration from the original interpositive with Dolby Vision / HDR mastering. The film comes to 4K Ultra HD in a 1.85:1 HEVC 2160p (4K UHD) Dolby Vision encodement. There is only so much detail and crispness one can extract from an interpositive and this scan shows the limitations, 4K or not. It is barely a step up in overall detail from a standard Blu-ray and shows a lot of softness. Even so, the transfer looks organic and filmic. The Dolby Vision color coding is also limited by what can be extracted from the original source, but there is some good 'pop' in the neon green signage and specular highlights of the flashlights used in the swamp. There is also good sheen off the Swamp Thing under moonlight. There is some very slight black crush, however, but it is to be expected in the murkier source.
The Audio
The Return of Swamp Thing has an English DTS-HD Master Audio 5.1 audio mix as well as DTS-HD Master Audio 2.0 Stereo. The original film was released with an Ultra Stereo mix, so the 5.1 mix will get you closest to the authentic experience since it sounds more or less like an upmix given the lack of very discrete sounds in the surrounds.
The Supplements
The Return of Swamp Thing is packed with a lot of interviews, but by far my favorite bonus is the 2018 audio commentary with the director, composer, and editor. It's conversational, laid back, and informational.
On the 4K Disc:
2018 Audio Commentary from Director Jim Wynorski, Composer Chuck Cirino, and Editor Leslie Rosenthal
2003 Audio Commentary from Director Jim Wynorski
Reflections on The Return of Swamp Thing 35 years later by Michael Uslan, producer of both Swamp Thing and The Return of Swamp Thing. (1080p/60; DV; 00:32:07)
The RiffTones – Your Ever-Lovin' Swamp Thing (2022; 1080p; DV; 00:02:39)
On the Blu-ray:
Interview with Composer Chuck Cirino
Interview with Director Jim Wynorski
Original Theatrical Trailer (HD Transfer from original 35mm materials)
Interview with Editor Leslie Rosenthal
Interview with Lightyear Entertainment Executive Arnie Holland
6 Promotional TV Clips
2 Greenpeace Public Service Announcements
2 TV Spots
1989 Promo Reel
Photo Gallery (accompanied by Chuck Cirino's film's score)
The Final Assessment
One can't really take The Return of Swamp Thing seriously, but if B-movie genre comedies are your thing, then you'll enjoy this. It has some fun moments, and the cast are surely enjoying themselves with the silly material. The 4K disc does the best it can with the source it is taken from as well.
---
The Return of Swamp Thing is out on 4K Ultra HD Combo Pack February 7, 2023 from Lightyear Entertainment
---
Rating Certificate: PG-13
Studios & Distributors: Lightyear Entertainment
Director: Jim Wynorski
Written By: Neil Cuthbert | Grant Morris | Len Wein (Swamp Thing created by)
Run Time: 88 Mins.
Street Date: 7 February 2023
Aspect Ratio: 1.85:1
Video Format: HEVC 2160p (4K UHD)
HDR Format: Dolby Vision (HDR10 Compatible)
HDR10 Metadata:
Primary Audio: English DTS-HD MA 5.1
Secondary Audio: English DTS-HD MA 2.0 Stereo
Subtitles: English SDH