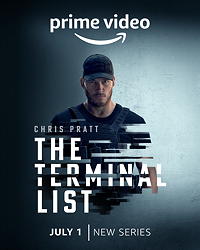 This vengeance-driven eight episode series, opens with Navy Seal Commander James Reece (Chris Pratt) leading an ill-fated mission into Syria to take out the elusive terrorist Kahana.  An explosion kills all of his team except for Ernest "Boozer" Vickers (Jared Shaw) and Reece who begins suffering bad headaches when he returns home to wife Lauren (Riley Keough) and daughter Lucy (Arlo Mertz).  After attending the funerals of his men, including Boozer who allegedly shot himself, Reece receives the Navy Cross from Secretary of Defense Louise Hartley (Jeanne Trippelhorn).  While undergoing a CT scan of his brain, Reece is attacked by a pair of masked sicarios. He kills one and recovers a gun taken from his personal safe but when  he rushes home, Reece finds wife and daughter shot to death.
Reece becomes suspicious that a massive coverup is underway and  begins writing his "terminal list" of those responsible for the deaths of his family on the back of his daughter's drawing of his family. NCIS Detective Josh Holder (Warren Cole)  one of the men who attacked him in the CT room is tracked dawn with help from former Seal Ben Edwards (Taylor Kitsch). Holder confesses to a conspiracy involving Saul Agnon (Sean Gunn) at Capstone Industries owned by the ruthless Steve Horn (Jai Courtney) that sells millions of dollars of medications to all branches of the US Military. Reece shoots Holder to make it look like suicide.
Investigative journalist Katie Buranek (Constance Wu) joins forces with Reece and gets ahold of his CT report showing he has a brain tumor responsible for his tremors, headaches, and visual hallucinations. The tumor was caused by the experimental drug RD-4895, intended to prevent PTSD, that was secretly given to his platoon and the reasons why they were eliminated.   Ben gives Reece drugs to mitigate his symptoms as he tracks down and kills Agnon who put Steve Horn on the "terminal list. Reece next goes to Mexico and kills all the sicarios responsible for  his family's murders.
As Reece pursues his ever-growing list of conspirators there is no telling how high up the chain of command his dogged investigation will lead. But wounded and suffering from the increasing side-effects of his brain tumor, Reece must somehow elude the pursuit of an elite FBI team led by Tony Layun (J.D. Pardo) through rugged mountain terrain before he has crossed all the names off his list.
David DiGilio has crafted an often exciting and ultraviolent tale based on Jack Carr's book of the same title. The occasionally grisly visuals are certainly not for the faint of heart that give the series a well-deserved TV-MA rating. Chris Pratt did extensive training for this role that definitely shows in the numerous combat scenes that populate each episode. Plot twists abound and just when you think you have figured out the ending—which I never saw coming—and where the buck will end for the RD-4895 story, the dramatic tension is well maintained throughout the eight episodes. While I could have used fewer hallucinatory flashbacks of Reece's dead wife and daughter, and some of Reece's narrow escapes strain the limits of credibility, this is still an entertaining watch. Constance Wu does a bang-up job as the persistent journalist who continues her investigation despite the clear and present danger it poses to her very survival and I was pleased by Taylor Kitsch's contribution as his best friend/sidekick role. The nasties portrayed by Jai Courtney as Steve Horn and Nick Chinlund as the corrupt Admiral Gerald Pillar will make you cheer when they get their comeuppance. Make no mistake, this is one of those machismo-laden and testosterone-driven shows that should get the guys to gather in the home theater, stock up on beer and chips, and binge-watch until the eight-hour viewing time is over.
The Terminal List is streaming now in its entirety on Amazon Prime Video
---
Rating Certificate: TV-MA
Show Creator: David DiGilio
Original Release Date: 1 July 2022
Streaming Service: Amazon Prime Video
Episode Run Time: 51-65 Mins.
Num. Eps.: 8