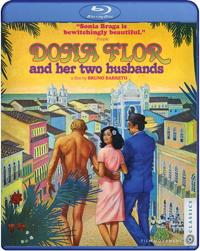 Dona Flor and Her Two Husbands is the 1976 comedy-drama by Brazilian filmmaker Bruno Barreto based on the novel of the same name by Jorge Amado. Starring a sizzling young Sonia Braga in the title role, the film follows Dona Flor. Dona Flor runs a cooking school for local housewives out of her home while her, rapscallion of a husband, Vadinho (José Wilker), spends his time gambling away her money and carousing with women, even right in front of her as we see him fondling and seducing women in the middle of one of her cooking lessons. When Vadinho dies, the result of his wild lifestyle and another night of wanton excesses, Dona Flor finds herself in mourning for a period before searching for a new husband the complete opposite of Vadinho. She eventually settles on Dr. Teodoro Madureira (Mauro Mendonça) a sensible yet boring pharmacist who has more interest in classical music and astronomy than he does in sex. Happy with her more stable, mundane choice in a husband but dissatisfied with her sex life, Dona Flor begins to get visitations from and have sexual trysts from her dead husband Vadinho.
Dona Flor and Her Two Husbands is Ghost before Ghost. A comedic and sexually charged exploration into female liberation that exploded out of the Brazilian film scene, which had been long-established, but was entering a new era of exploration just as the nation itself was on the cusp of emerging from being under a brutal military dictatorship. The performances from both Braga and Wilker coupled with the visual and aural aesthetic that Barreto deploys make this a fascinating film to watch.
Dona Flor and Her Two Husbands was nominated for a Golden Globe for Best Foreign Film and Sonia Braga was nominated for a BAFTA for her role for Outstanding Newcomer even though she had been acting in Brazil for several years prior to this film.
Dona Flor and Her Two Husbands (1976)
The Video
Dona Flor and Her Two Husbands was restored in 4K and brought to Blu-ray for the first time in a 1.66:1 AVC 1080p encodement from Film Movement. This film has a difficult source, so even this new 4K restoration cannot do much to resolve the inherent issues with it. There are issues with tramlines, lens dirt, wavering sharpness in the details, and inconsistent grain levels. It's shame given the international acclaim this film achieved when it was released it wasn't cared for more properly. That said, it looks about as good as it can and no doubt it could be far worse. When it looks good, it looks very natural and I see no major issues with compression noise, although some mild ringing around edges can be seen in some spots.
The Audio
The audio for Dona Flor and Her Two Husbands was originally in mono but here it has been provided with a Portuguese DTS-HD Master Audio 5.1 mix and a Portuguese LPCM 2.0 Stereo mix. The 5.1 is not good, to put it bluntly. It sounds very unnatural, with a lot of the sounds running through the front and surrounds at once at the same levels, such as the sound of birds chirping, which are also mixed and mastered very loudly. In fact, the entire mix is mastered very loudly and lacks dynamic range. The stereo mix sounds more natural even as it still has a bit of an unnaturally wide stereo imaging.
The Supplements
There is a small but good collection of bonus features gathered by Film Movement for this release, not the least of which is the director's commentary and a 'behind the scenes' featurette that has some archival footage.
16-page booklet with new essay on the movie by film producer and costume designer Mary Jane Marcasiano
Commentary by Director Bruno Barreto
Dona Flor Behind the Scenes (1080p; 00:07:51)
Dona Flor Trailer (1080p)
The Final Assessment
A classic of Brazilian film featuring a stunning Sonia Braga and a film that explores female sexuality unapologetically, Dona Flor and Her Two Husbands is brought to Blu-ray fully restored by Film Movement who continue to do justice to important films from around the world. Highly recommended.
Dona Flor and Her Two Husbands is out on Blu-ray July 26, 2022 from Film Movement

---
Rating Certificate: R
Studios & Distributors: Carnaval Unifilm | Coline | Companhia Cinematográfica Serrador | Luiz Carlos Barreto Produções Cinematográficas | Film Movement
Director: Bruno Barreto
Written By: Jorge Amado (novel) | Bruno Barreto | Eduardo Coutinho | Leopoldo Serra
Run Time: 118 Mins.
Street Date: 26 July 2022
Aspect Ratio: 1.66:1
Video Format: AVC 1080p
Primary Audio: Portuguese (Brazilian) DTS-HD MA 5.1
Secondary Audio: Portuguese (Brazilian) LPCM 2.0 Stereo
Subtitles: English