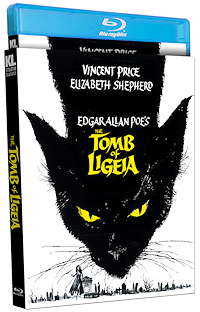 The Tomb of Ligeia is the last of the eight Edgar Allan Poe films for AIP helmed by Roger Corman starring Vincent Price (The Raven, The Last Man on Earth, Theater of Blood). It features atmospheric cinematography from Nicolas Roeg (Walkabout, The Man Who Fell to Earth) and a screenplay by Robert Towne.
In this classically Gothic tale of haunted house terror, Price plays the aptly named Gordon Fell, a man obsessed with his dead wife Ligeia (Elizabeth Shepherd). When she dies in 1821, Fell buries her in a churchyard against the Parson's objections that she cannot be buried there because she is not a Christian. Before they can close her grave, a black cat screeches, startling Gordon, and he sees his wife's eyes open, and causing him to believe his wife is not dead. This also sets up a situation where there is no certificate of death ever established for Ligeia. Some months later, Lady Rowena (also played by Shepherd) is thrown from her horse and lands at the foot of Ligeia's grave. Fell comes across her and offers his help, carrying her back to his gloomy, Gothic mansion. The two fall in love and marry, and Rowena moves into the mansion where she is soon having strange dreams involving a black cat and Fell's dead wife Ligeia. Other strange occurrences unsettle Rowena, like awaking with a dead fox in her bed that vanishes before the butler is brought back to remove it. After an investigation finds that Fell's wife's grave is occupied by a wax figure, Rowena discovers him one night in a secret part of the house cradling Ligeia's corpse and her life is soon in danger as Fell's madness reaches fiery heights.
These Poe collaborations between Corman and Price at AIP were quite low budget films, but Roger Corman was able to imbue them with a sense of space and grandeur. The Tomb of Ligeia, thanks to the cinematography of Nicolas Roeg looks gorgeously atmospheric and the choices Corman makes for some extremely wide-angle lenses really helps to open up the size of sets, which are impeccably designed to look lavishly worn.
Vincent Price, as always, is perfect in this role as the unhinged gentlemen and alongside the absolutely beautiful Elizabeth Shepherd who is the perfect "damsel in distress," The Tomb of Ligeia is an enjoyable, if not absolutely terrifying, bit of Gothic horror that draws one in from start to incredible finish.

The Tomb of Ligeia (1964)
The Video
The Tomb of Ligeia arrives on this Special Edition Blu-ray Disc from KL Studio Classics framed in its OAR of 2.35:1 in an AVC 1080p encodement. The transfer is watchable, but let's just say that the source are likely the same masters Shout! Factory used in their Vincent Price collection releases from several years ago and those were likely done by MGM, which really could have done better on these films. Like Theater of Blood, also reviewed here and recently released by Kino, this film looks quite rough with some dirt and tramlines, sparkle, and scratches. Detail is good, but not the crispest I have ever seen on a catalogue release. The colors look very natural however, with spot on flesh tones and vibrant reds.
The Audio
The Tomb of Ligeia comes with its original monaural audio mix in DTS-HD Master Audio 2.0. There isn't much dynamic range in this mix and the mastering level is quite low, so I had to turn this up about 10 db above normal listening levels. Apart from that, the sound is clear if a little boxy, and hiss and pops are non-existent.
The Supplements
I love the Trailers from Hell featurettes that Kino Lorber includes on their releases. They remind me of cooler versions of the Filmmaker Focus featurettes on the Paramount Presents releases. This one by Joe Dante is a must-watch. They are brief, but to the point and, as the title implies, they're set against the backdrop of the original theatrical trailer of the feature. This release also gets two superb audio commentaries, a new one from film historian Tim Lucas and one from producer/director Roger Corman. Corman's commentary is both conversational and technical while easily understandable by the layperson.
NEW Audio Commentary by Film Historian Tim Lucas
Audio Commentary by Producer/Director Roger Corman
Audio Commentary by Actress Elizabeth Shepherd
Trailers from Hell with Joe Dante (1080p; 00:03:13)
Tomb of Ligeia – Trailer (SD)
The Raven – Trailer
The Comedy of Terrors – Trailer
Master of the World — Trailer
The Last Man on Earth – Trailer
Scream and Scream Again – Trailer
Theater of Blood – Trailer
House of the Long Shadows — Trailer
The Final Assessment
One of the classics of the Corman/Price Poe runs, The Tomb of Ligeia is one that fans of Gothic horror should have in their collection and this KL Studio Classics release, with brand new audio commentary from Tim Lucas, and commentary from Roger Corman is a great release to own. Recommended.
The Tomb of Ligeia (Special Edition) is out on Blu-ray September 7, 2021 from Kino Lorber
---
Rating Certificate: Not Rated
Studios & Distributors: Alta Vista Productions | Anglo-Amalgamated Film Distributors | MGM Home Entertainment | Kino Lorber
Director: Roger Corman
Written By: Edgar Allan Poe | (short story) |Robert Towne (screenplay) | Paul Mayersberg (uncredited)
Run Time: 82 Mins.
Street Date: 7 September 2021
Aspect Ratio: 2.35:1
Video Format: AVC 1080p
Primary Audio: English DTS-HD MA 2.0 Mono
Subtitles: English SDH