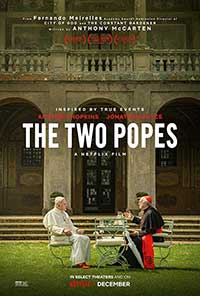 The Two Popes begins with Argentinian Cardinal Jorge Bergoglio (Jonathan Pryce) learning of Pope John Paul II's death. Bergoglio, now a candidate to replace the dead Pope, was a popular advocate for church reform while his rival, German Cardinal John Ratzinger (Anthony Hopkins), was a  conservative hardliner. The two men were polar opposites in other ways: Ratzinger was a man of refined tastes who loves classical music and the pageantry of the Church while Bergoglio is a simple man whose passions are tango and "futbol."  When Ratzinger is finally chosen and becomes Pope Benedict XVI, the electoral process reveals striking political divisions within the College of Cardinals.
When Bergoglio returns home, flashbacks tell the story of the young Jorge (Juan Minujin) as he enters the priesthood, rises up the ranks, and ultimately survives the vicissitudes of corrupt Argentinian governments.
Several years after Pope Benedict's installation, Cardinal Bergoglio mails his retirement papers to the Vatican although it is rare for a Cardinal in good health to retire before the age of 75. He receives an unexpected "invitation" from Pope Benedict to "review" his request and the two men begin to meet at Castel Gandolfo, the Pope's summer residence. The timing of their face-to-face sessions is fortuitous as a scandal has broken out after the Pope's personal butler leaked a series of very sensitive Vatican documents to the Italian press.
The Pope confides to Bergoglio that, due to numerous health reasons, he is planning on resigning, something that no Pope had done for seven centuries. What ensues is a  gradual rapprochement between these very different holy men that grows into a lasting friendship as they seek a common ground that will decide the future directions for the Catholic Church. Whether or not the content of these very private meetings actually transpired as it was portrayed is less important than the display of humanity intrinsic to the two men's exchanges that we are privy to in this film.
[envira-album id="121563″]
The Two Popes may be the best film that I have seen so far this year. It gets tour de force performances by two veteran actors—octogenarian Hopkins and septuagenarian Pryce—who are still very much at the top of their respective games. Screenwriter Anthony McCarten has already produced brilliant scripts like The Theory of Everything.  His present screenplay blends historical events into a compelling tale seasoned with some very welcome light-hearted moments like Bergoglio giving Pope Benedict a private tango lesson or the Cardinals marching down the Vatican aisle to ABBA's  "Dancing Queen," a tune Bergoglio was whistling while then-Cardinal Ratzinger was washing his hands in the Vatican bathroom.
Critically acclaimed Brazilian film director Fernando Meirelles (City of God) skillfully weaves documentary footage of the era into the actual film itself and paces a storyline nearly devoid of action to perfection. The cinematography of Cesar Charlone who has often worked with Meirelles captures the magnificence of the Vatican in stark contrast to the harsh Argentinian living conditions experienced by the young Jorge Bergoglio, as his camera crews deliver some stunning location shots in Rome, Lazio, and Buenos Aires.
Continuing Netflix's recent marketing strategy, The Two Popes made its rounds of film festivals and enjoyed a limited theatrical screening before its streaming debut on December 20, 2019. A must-see film for everyone, regardless of race, religion or creed, and a true high water mark for this production company. Highest recommendation.
The Two Popes is streaming now on Netflix
[youtube https://www.youtube.com/watch?v=T5OhkFY1PQE&w=864&h=486]
---
The Film: 4.5/5
Rating Certificate: PG-13 (Thematic content and some disturbing violent images)
Country: UK | Italy | Argentina | USA
Language: English | Spanish | Italian | Latin
Run Time: 125 Mins.
Aspect Ratio: 1.85:1 (1.37:1 some scenes)
Director: Fernando Mireilles
Writer: Anthony McCarten
Release Date: 20 December 2019