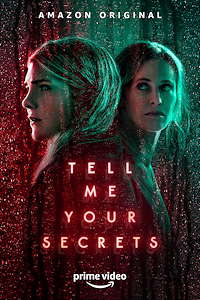 Amazon Prime Video has come up with a dark, make that very dark, series with a title, Tell Me Your Secrets, clearly suggesting that nothing will be what it first appears to be.  Karen Miller (Lily Rabe) has just been released from a Texas maximum security prison where she served time for aiding her lover Christopher "Kit" Parker (Xavier Samuel), a convicted serial killer who murdered women by bashing in their skulls, hands, and feet.l.  Karen gets relocated to a witness protection program in St. James, Louisiana and receives a new identity as Emma Hall. Her counselor is Peter Guillory (Enrique Murciano), a psychiatrist who lost his license for an improper relationship with a young woman (whom he later married), Lisa (Ashley Madekwe), while she was staying at the local St. Jerome foster childcare center. Karen has considerable memory loss about the time that she spent with Kit and is now living in an abandoned bayou house that has a shameful past history. As a part of her recovery, Karen sends Kit a farewell letter only to find out that, after reading it, he killed himself.
Mary Barlow (Amy Brenneman) is separated from her husband Saul (Charles Esten) who has taken up residence in a trailer home parked in their backyard.  Mary is the director of a foundation dedicated to helping families cope with missing children, an undertaking prompted by the disappearance of her own daughter Theresa (Stella Baker) seven years earlier.  Mary has never given up hope of finding Theresa, but a surveillance picture taken in a Reno, Nevada convenience store shows her in the company of Kit Parker.  Desperate to find her daughter, Mary hires a convicted rapist John Tyler (Hamish Linklater) to track down Karen whom she thinks was involved with her missing daughter.


Tell Me Your Secrets (TV) (2021- )
Along the way, we find out that Karen had Kit's baby in Minnesota a few years earlier. When the pair reunite, they are immediately arrested, and the baby girl Freya) gets put into foster care. We also discover that St. James is run by Bodie Lord (Richard Thomas) who runs a covert egg-retrieval program using the young girls at St. Jerome's house as his  "patients" who inject themselves with fertility drugs. His daughter Rose (Chiara Aurelia) is being prepared by her hyper-religious mother Diana (Katherine Willis) to be the queen of the local saint's day but when Rose meets Karen who is now working in a beauty salon, she develops a crush on the older woman.
The plot has a series of twists and turns over its ten episodes with its primary focus on Mary, Karen, John, and Peter. Backstories abound and before the final curtain drops, or is it the final curtain for this show (?), we have already been given enough hanging storylines to suggest that there might need to be a second season.
Tell Me Your Secrets is a very violent show with some scenes that will make many viewers cringe. The themes of child abuse, human trafficking, and brutal murders will also be off-putting to those who are easily shocked. Lily Rabe's Karen is the only sympathetic character in the cast as she suffers the heartbreak of having her child taken away and her life ruined by crimes that she did not commit. Her real-life partner Hamish Linklater receives the most complex character as a rapist who is trying to atone for his crimes but, as Mary Barlow's unlikely private investigator, he unravels at the seams and becomes another of the show's many monsters. Although Richard Thomas's Bodie Lord is the most important person in this small community, he gets so little screen time that we barely get to know him. The biggest problem with this ten-episode series is a script that goes in too many different directions. There are plot sidebars like Mary Barlow's affair with the much younger Adam that, like the relationship between Karen and policeman Tom Johnston (Marque Richardson), is clearly going nowhere. The only reason that I can muster up for watching this show is Lily Rabe's portrayal of a complex, damaged woman who, against all odds, is trying to rebuild her life. Otherwise, this is one that could be easily skipped.
---
If you found this review useful please consider clicking the button below and donating to help keep TheaterByte funded and to allow us to continue posting great content.
---
Tell Me Your Secrets is streaming now on Amazon Prime Video
---
Rating Certificate: TV-14
Show Creator: Harriet Warner
Original Release Date: 19 February 2021
Streaming Service: Prime Video
Ep. Run Time: 40-50 Mins.
No. Eps.: 10
Studios & Distributors: To Be Continued | Made Up Stories | Studio T | Prime Video