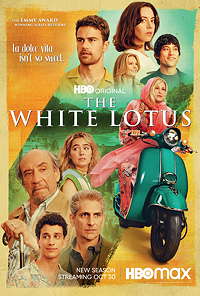 They're baaack—well, not exactly. Season 2 of HBO's The White Lotus features a mostly new cast with the lone Season 1 returnees being Tanya McQuoid (Jennifer Coolidge) and her new husband Greg Hunt (Jon Gries).The White Lotus hotel in this seven-episode series is set in in picturesque Sicily rather than in Maui, and "borrows" another Four Seasons property, the San Domenico Palace, in Taormina.
As in Season 1, a dead body appears in the first episode as it is fished out of the ocean instead of already in a casket being loaded onto an airplane. Soon, more  bodies of yet-to-be-identified White Lotus guests are recovered off a beach near the hotel. The scene shifts back seven days where irascible hotel manager Valentina (Sabrina Impacciatore) greets a group of new guests that includes Portia (Haley Lu Richardson), Tanya's assistant,  the Di Grasso family—Bert (F. Murray Abraham), his son Dominic (Michael Imperioli), and grandson Albie (Adam DiMarco)—and two young married couples—Cameron and Daphne Sullivan (Theo James and Meghann Fahy) and Cameron's old college friend  Ethan Spiller (Will Sharpe) and his wife Harper (Aubrey Plaza).
Greg and Tanya's shaky marriage is further strained by Portia's presence on what was supposed to be a romantic trip for two.  Although she is "confined" to her room, Portia later gets out and meets Albie, a recent Stanford graduate traveling with his widowed grandfather and philandering father in search of their family's roots. Cameron and Ethan are both wealthy but polar opposites—the former is pompous and the latter self-effacing—while their wives are also a sharp contrast—Daphne is a husband-worshiping mother with a healthy sex life while Harper is a cynical lawyer whose libido is always out of sync with her husband's sexual urges.
Dominic makes sex worker Lucia (Simona Tabasco) and her friend and aspiring singer Mia (Beatrice Granno) his personal guests at the White Lotus and finishes the evening frolicking with them in his suite's pool.  Tanya cajoles her husband into taking her on a romantic Vespa ride around town, followed by an intimate dinner.  However, their evening's mood is shattered when Greg informs Tanya that he has suddenly been recalled to Denver on  business.  Later, we see Harper trying to become more intimate with Ethan while Tanya overhears Greg talking on the phone to a clandestine lover.
As The White Lotus approaches its mid-point, there are further revelations into the relationships of its principal characters. Tanya becomes more depressed when a tarot card reader tells her that Greg loves another woman. In spite of Albie's  efforts to get closer to Portia, she has eyes for a handsome stranger in the hotel pool. For a ladies' night out, Daphne rents a room with Harper in a historic palazzo at Noto. Both women consume "edibles" and Daphne admits that Cameron has been unfaithful and his investment business partners are crooks. Meanwhile, during a night of heavy drinking Cameron has sex with Lucia while the Ethan resists Mia's wiles. We briefly see the introduction of a new character Quentin (Tom Hollander) who will play a role in what ensues.
Season 2 of this highly successful mini-series focuses on carnal pleasures as the unsubtle opening credits are filled with erotic paintings and statuary from a bygone era. Its casting is as strong as its predecessor and another top-notch script from show creator Mike White receives breath-taking views of the ocean and the ancient ruins of Taormina from veteran cinematographer Xavier Grobet. With four episodes remaining, the suspense will mount, relationships will sizzle or fizzle, and viewers will eventually find out which White Lotus guests end up in body bags. HBO Max appears to have another success on its hands, and I eagerly await the new episodes that will be airing weekly through December 11, 2022. Highly recommended.
The White Lotus: Season 2 is streaming now on HBO Max
---
Show Creator: Mike White
Original Release Date: 30 October 2022
Streaming Service: HBO Max
Ep. Run Time: 60 Mins.
Num. Eps.: 7
Studios & Distributors: Rip Cord Productions | Home Box Office | HBO Max
Rating Certificate: TV-MA