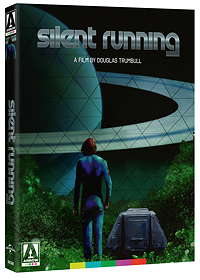 Douglas Trumbull, the special effects genius behind Stanley Kubrick's 1968 science fiction classic 2001: A Space Odyssey struck out on his own as a director in 1971 with this environmentally-themed, science fiction special effects extravaganza featuring Bruce Dern in a riveting, basically solo performance, Silent Running. Using the retired US Navy Aircraft carrier Valley Forge as a set and forging a new host of dazzling visual effects, including three robot drones, Huey, Dewey, and Louie, the look and themes of Trumbull's film would go on to influence such pop-culture icons as George Lucas' Star Wars and Disney•Pixar's Wall•E.
Set in the distant future, the Earth has been ravaged and plant life can no longer grow on the planet. Astronauts have been sent into space with the remaining specimens on large freighters with enormous bio-domes to orbit the Earth and keep whatever plant life they can alive until they can return home with it one day. Freeman Lowell (Dern) is one such astronaut, a botanist, serving upon the Valley Forge, tending his garden and awaiting the call to return to Earth and repopulate the planet. But when the order comes in to destroy the domes instead, the freighter now being much more valuable to Earth to carry cargo than plant life specimens, Lowell takes matters into his own hands. He launches a singular and violent revolt against the order that will find him wandering alone on his ship into the vast unknown reaches of space with no one but his three robot drones to keep him company.
The film not only speaks to environmental concerns, but also marks the journey of Lowell from determined and resolute revolutionary to solitary and remorseful, with his only friends becoming two anthropomorphic robot drones he must actually program to do the things that humans would normally do. His journey symbolizes humankind's ever-expanding distance from our natural origins, and how it isolates us; though we may in fact be surrounded, we are yet alone. It's truly brilliant on so many levels.
It's worth noting that Silent Running had a screenplay co-written by Michael Cimino (The Deer Hunter) and Steven Bochco (Hill Street Blues) and contains musical performances by Joan Baez.
The Video
Silent Running is a brand new 4K restoration by Arrow Films from the original camera negative. It arrives on 4K Ultra HD in a 1.85:1 HEVC 2160p (4K UHD) Dolby Vision encodement looking absolutely stunning. Not only is there now a very fine layer of grain that looks completely organic and crisp, supplying very of high frequency information, but the application of Dolby Vision offers an array of color tones from bright yellow flowers, the vivid blues of Bruce Dern's uniform, and the inky black void of space. Specular highlights have excellent 'pop' on the control panels, the stars in space, or even the sheen reflecting off of chairs or beads of sweat on faces.
The Audio
The original mono soundtrack is presented in DTS-HD Master Audio 1.0. It sounds clean, has very little hiss or clipping, and presents the score and songs of Joan Baez with good dynamics. Dialogue also comes through well.
The Supplements
Whenever I spot Kim Newman's name on a bonus feature, I know I am in for some good entertainment. It just so happens that in addition to all the rest of the excellent bonus materials Arrow includes, Newman and Barry Forshaw provide a top-notch audio commentary that should be listened to.
FIRST PRESSING ONLY: Illustrated collector's booklet featuring writing on the film by Barry Forshaw and Peter Tonguette
Reversible sleeve featuring original and newly commissioned artwork by Arik Roper
Audio Commentary by Kim Newman and Barry Forshaw
Audio Commentary by Douglas Trumbull and Bruce Dern
Isolated Music and Effects Track
No Turning Back (1080p; DV; 00:13:53) – An interview with film music historian Jeff Bond on the film's score, recorded exclusively for Arrow Films in August 2020.
First Run (1080p; DV; 00:14:02) – An exclusive visual essay by writer and filmmaker Jon Spira, exploring the evolution of Silent Running's screenplay.
Archival Special Features:

The Making of Silent Running (1080p/60; DV; 00:49:17)
Silent Running by Douglas Trumbull (1080p/60; DV; 00:30:09)
Douglas Trumbull: Then and Now (1080p/60; DV; 00:04:51)
A Conversation with Bruce Dern (1080p/60; DV; 00:10:57)

Theatrical Trailer (1080p; DV)
Behind-the-Scenes Gallery (1080p; DV)
The Final Assessment
An impactful sci-fi classic that has far-reaching influences, Silent Running is looking and sounding better than ever in this new restoration and comes highly recommended.
Silent Running (Special Edition) is out on 4K Ultra HD December 13, 2022, from Arrow Video
---
Rating Certificate: G
Studios & Distributors: Universal Pictures | Trumbull/Gruskoff Productions | Arrow Video
Director: Douglas Trumbull
Written By: Deric Washburn | Michael Cimino | Steven Bochco
Run Time: 90 Mins.
Street Date: 13 December 2022
Aspect Ratio: 1.85:1
Video Format: HEVC 2160p (4K UHD)
HDR Format: Dolby Vision (HDR10 Compatible)
Primary Audio: English DTS-HD MA 1.0
Subtitles: English SDH